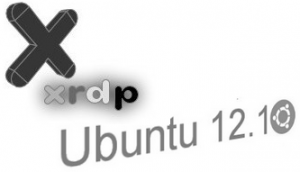 Hello World,
I've been asked by some people to explain how to configure xRDP in ubuntu 12.10 in order to be able to perform remote desktop connection into it.    If you follow us for  some time now, you know that we have covered this topic already multiple times.  If you have
Up to Ubuntu 12.04, it was possible to "easily" perform a remote desktop from a Windows machine and still being able to have a working Unity desktop interface.  The workaround was to use the Ubuntu 2D desktop interface.  Ubuntu 2D  was the fallback solution for users with no 3D graphic card installed on their computer.
Because Ubuntu has drastically re-architect their Desktop interface (i.e. Unity) in 12.10, the Unity interface will not be available anymore through the remote desktop.  In Ubuntu 12.10, the ubuntu 2D desktop interface does not exists anymore.   With the latest version of Ubuntu, everybody is using the same Unity interface even if your computer does not have a 3D capable graphic card.  Unity will be using hardware acceleration settings in order to display your Unity desktop interface.
This little change introduces limitations in the way you can use xRDP with Ubuntu 12.10.  You will still be able to use xrpd solution in ubuntu 12.10 but you will need to configure the software in a way to use another fallback desktop interface (gnome-fallback).  XRDP software cannot work with the Unity interface.
If you still need to perform rdp connection to your ubuntu machine, keep reading as we will explain how to do this…..
Install and Configure xrdp for Ubuntu 12.10
Step 1 – Download and install the xrdp package
Normally, you would open your Ubuntu Software Center and you would look for the xrdp package.  In my case, the package was not available by default.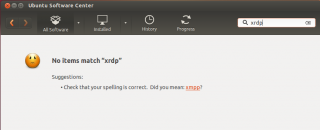 Click on picture for better resolution
So, I had to google for the package and landed up on the following web page where the package software can be installed. In this page, click on the button APT Install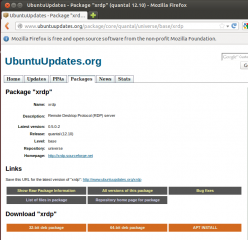 Click on picture for better resolution
The Launch application dialog box will open.  Ensure that the Ubuntu Software center is selected and Press OK
The Ubuntu Center software should be opening and you should now be able to perform the installation.
Press The install button.  You will be prompted for credentials in order to perform the installation
When the installation is done.  You should already be able to perform a remote desktop connection to your Ubuntu Machine.  However, you will see only a empty desktop (as described in this post)
Step 2 – Configuring xRDP in order to have access to a Desktop Interface
In our scenario, the gnome fallback desktop interface will be the Unity replacement. So, in the Ubuntu Software Center, we will first instal the gnome fallback desktop.   In Ubuntu Center Software, search for Gnome fallback and you should see the pakages.  click on it, click on the install button and you should be good to go.
Step 3 – Configuring xRDP to use gnome fallback desktop
Finally, you need to tell xrdp software to use the gnome fallback desktop.  To configure this, you will simply go to your home folder, ensure that the hidden files are visible (press Ctrl+H to view hidden files).  In this directory, you will create a file called .xsession
Edit the file and enter the following text  
gnome-session --session=gnome-fallback
You should restart the service ( from a command line sudo service xrdp restart) or simply restart the computer to have  the changes applied
Step 4 – Configure the xrpd Keyboard
When you pass the credentials in the xRDP login box, the default keyboard layout is set to english.  When you establish the connection, your remote session will also use the english keyboard layout.  If you want to use another keyboard layout, you will need to configure the xrdp software to use the appropriate keyboard.  We have described the procedure in this post, in the section "solving the keyboard problem"
Update : March 2013
If, after you have configured your xrdp keyboard and  you can still not use special keys combination (Alt+Gr, @,€,…)  when remoting to your desktop, have a look at this post, this might help you in fixing the issue.
Step 5 – Connect to your Ubuntu 12.10 computer via RDP protocol
At this stage, you should be able to perform a remote desktop connection and see the gnome desktop interface.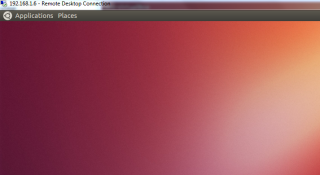 Click on picture for better resolution
There is still a small issue with this workaround.  If you click on the right top corner and try to locate the logout or shutdown button, you do not see any options….
This is annoying.  Again, you will need to implement a small workaround in order to logout from your session.  you can use the command line in order to logout from your session.
open terminal console, and type the following  gnome-session-quit
The logout dialog box will be displayed.  Click on logout or wait 60 seconds and your done
That's it
Final Notes
As we have seen, yes, we can still use xrdp solution to remote desktop into an ubuntu machine. However, it's not anymore the ideal solution.   I'm really disappointed with this solution.  Now, that we have a nice and fancy Desktop interface (i.e. Unity), you cannot use it with xrpd.
It would be really cool to have a new version of xrdp where support for Unity interface would be included.  It's maybe time for Ubuntu to have their own RDP server solution with support for Unity.  This would be a killer feature in mixed environment where Windows and linux coexists more or less happily.
That's it for today
Till next Time
See ya