I know I do not post much lately but I have really a lot of work to do. I'm working for different customers and on totally different projects.  Not easy to keep on.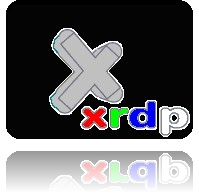 So, today, I'll post something a little bit different.  I'll quickly explain how to make a remote desktop connection from a Windows computer to an Ubuntu machine.  There are plenty of solution that allows you to do that.  You probably know VNC, tightVNC or the free version of the NoMachine NX Server.  The NX Server software is quite popular because it can handle multiple protocol and installation is really not diffcult.
A piece of software that I like to use is the open source implementation of  remote desktop called Xrdp .  Xrdp does not really make a remote desktop connection. It will rather use the VNC technology to present to the user a X Windows Desktop to the User.  I like the idea of going to a Windows workstation and being able to make a remote desktop connection to the Ubuntu servers available within the infrastructure without performing any additional software installation (on the windows side).   However, you still need to install the Xrdp software on your Ubuntu machine. The latest version of Ubuntu (I'm talking about Ubuntu 10.10) makes the installation of this piece of software really easy.  
Installing Xrdp
In previous version of Ubuntu (or other linux distribution), you needed to perform additional configuration to have Xrdp working.  Some version had issues with the VNCServer and had to be replaced by the tightVncserver.  Now, you can simply download the Xrdp package and make remote desktop connection out of the box.  This is a real improvement because this will probably help people in implementing some linux machines on their network. Using Xrdp, you can easily manage from one management workstation (probably a Windows box) linux and Windows servers.  Isn't it cool ?
To install Xrdp on your Ubuntu machine (the easy way), perform the following actions
I'm assuming that you have already a computer running Ubuntu 10.10 Operating System and that you have an internet connection

Open the Ubuntu Software Center (by clicking the Ubuntu Menu on the top left >Select Ubuntu Center Software)

In the Search box, you simply type Xrdp and you will get a list of software that matches your query

In my screenshot, the first line matches my query.  Click on the button Install  r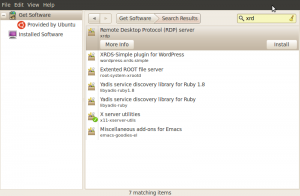 wait that the package install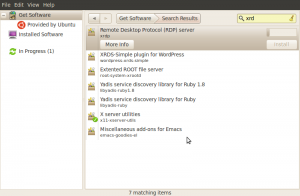 Click to Enlarge
When it's done, you can click on more information to see which version of the package has been downloaded and installed.  When the process is completed, you can simply close the Ubuntu Software Center and you are done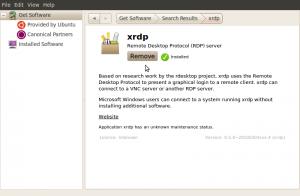 As you can see, that is really easy.  At this point, you do not need to configure anything.  Your Linux machine is ready to accept remote desktop connection from any windows machines. You can try to perform a remote desktop connection from your Windows XP or Windows Vista to your Linux machine.
Note : If you are using Windows 7, please read further and check the section Windows 7 – The Special Case
Testing your Xrdp Server
You simply start your mstsc.exe (or remote desktop connection software) and specify the name (or ip address of your linux box)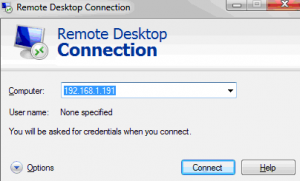 When you perform the connection, you will see the following black screen asking you for some credentials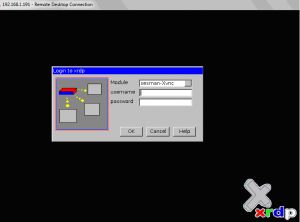 Simply enter you user account and password. You will see a dialog box displaying some information about the connection being made.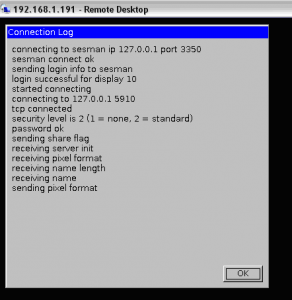 Don't do anything ! the dialog box will close automatically and you will be presented with the Linux Desktop inside your remote desktop client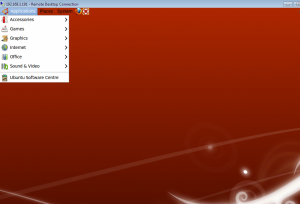 Windows 7 – The Special Case
If you are using Windows 7, you might encounter the following issue….
When lauching your remote desktop client, you will get to the Xrdp login Screen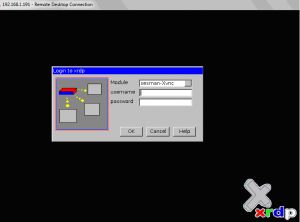 BUT  as soon as you click on Ok  an ugly message will popup and your remote desktop connection will end up.  The message will be something like "Because of a protocol error, this session will be disconnected. Please try connecting …again".

The good news is that there is a easy fix.  The Xrdp package currently available in the Ubuntu Software repository is based on the version 0.4.2 something.  If you want to be able to remote desktop from any Windows machines including Windows 7, you will need to download the Xrdp package versio 0.5. something.  The package can be downloaded here. When the package is downloaded to your computer, the correct application will open automatically and will perform the installation. 
To check that the correct version has been installed, you can open the Ubuntu Software Center and search for Xrdp package.  If you click on the More Info  button, you can ensure that the version of the package is changed to 0.5.x.x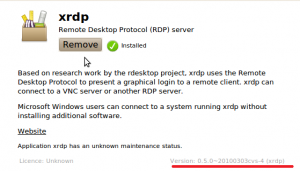 I would recommend to restart your linux machine. This will ensure that the services needed by the Xrdp will be updated and will be running after the reboot.  After that, you can try to perform your remote desktop connection from your Windows 7  and the remote connection will be functional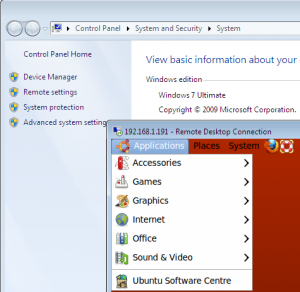 Final Words 
By using  built-in remote desktop client and with very few changes on the Linux machines, you can see that it's possible to have a quite good coexistence between Windows and Linux computers.  Let's hope that the release of the Service Pack 1 of Windows 7 won't break the functionality.
That's it for this post. Till next time
See ya