Hello World,
We are again speaking about Remote Desktop services in Windows 2012 R2. The journey is almost complete for this first serie. In my current assignment, we had to develop a concept where applications would be centralized and would have been offered as remoteapp applications. This was an interesting project. During this project, a lot of users (and managers) were complaining about the fact that you needed to login to the web page in order to access the applications offered.
So, the customer asked us if it was possible to have a Single Sign on (SSO) experience by enabling Windows Integrated authentication (WIA) capability. We had to look a little bit about that and we quickly found out that this case scenario was foreseen by Microsoft. By modifying the IIS configuration and some web config file, we could easily achieve our goal.
This post will walk you through the process of enabling Windows Authentication Integration mechanism with RDS.
Step by Step Process
Assumptions
In this post, we assume that you have followed the steps described in the previous posts related to RDS
The scenario described hereafter make sense when you have corporate users that needs to access your RemoteApp service. We assume that the users haved logged on into their corporate workstation (i.e. part of the Active Directory Domain) and that these users will be able to access their remoteapp application without being prompted for credentials or redirected to a login web page.
Step 1 – Configure IIS to support Windows Authentication method
We will first need to configure the IIS server to support the Windows Authentication method. To perform this configuration change, you will execute the following steps
Login into the Remote Web Access server (RWeb)
Open the run command or search command and type inetmgr.msc
The Internet Information services console open
In the left menu, expand sites and select the RDWeb Site
in the mid pane, click on authentication icon.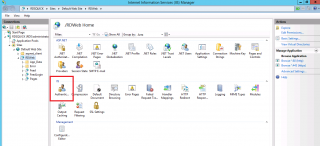 Click on Picture for better Resolution
In the authentication page, you will see something like this. Notice that the windows authentication option is set to disabled.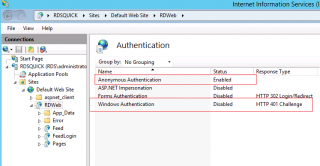 Click on Picture for better Resolution
In order to enable Windows Authentication protocol, you have to disable the anonymous access and enable the Windows Authentication protocol. You configuration should look like the screenshot below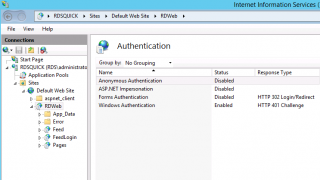 Click on Picture for better Resolution
Step 2 – Modify the Web.config file for RDWeb
Now, we have to say to the web application that the Windows Authentication protocol can be used. In order to do that, we will need to login into the Remote Web Access server and we will need to modify the following web.config file located at %SystemDrive%\Windows\Web\RDWeb\Pages\Web.config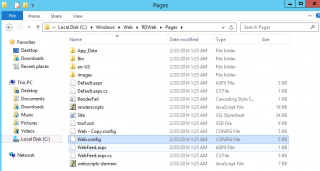 Click on Picture for better Resolution
Edit this file with notepad and locate the section outlined in the screenshot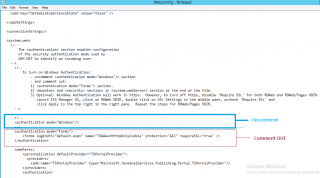 Click on Picture for better Resolution
You will need to uncomment the section
<authentication mode="Windows"/>
and comment the section
<!- –
<authentication mode="Forms">
<forms loginUrl="default.aspx" name="TSWAAuthHttpOnlyCookie" protection="All" requireSSL="true" />
</authentication>

– ->
It's not finish yet. In this web config file, you will still need to comment out another section. In the file, locate the section <System.WebServer>. As shown in the screenshot below, you will need to comment out the section beneath the <System.WebServer> tag.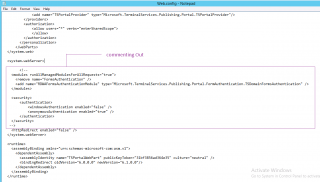 Click on Picture for better Resolution
If you do not comment this section, when trying to access the Remoteapp login page, you will see an error message similar to the following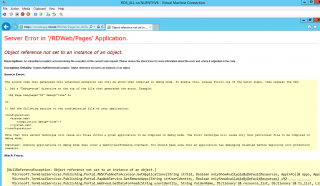 Click on Picture for better Resolution
Step 3 – Modify the login page
We need to perform an additonal modification on the default login page in order to have a fully working Windows Integrated authentication mechanism. When using the form-based authentication, you can specify if the computer is a public computer or a private computer. If we are using the WIA mechanism, the form is not visible and you can specify this option anymore. By modifying the code of the login page, we can set the private computer option as default.
To perform this, edit the file located at %systemDrive%\Windows\Web\RDWeb\Pages\en-us\Default.aspx.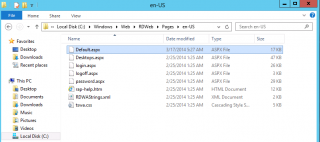 Click on Picture for better Resolution
In the file search for the word bPrivateMode (see screenshot below).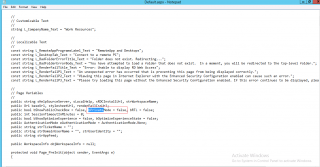 Click on Picture for better Resolution
The default value is set to False. You have to change the value to True. This line should look like
public bool bShowPublicCheckBox = false, bPrivateMode = true, bRTL = false;
Step 4 – Configure Internet Explorer for WIA Protocol
There is a final step that should be performed at the browser level. If you try to access your remoteapp web page and you are still prompted for credentials, this might mean that the web site you are trying to access is not listed as Local Intranet Zones.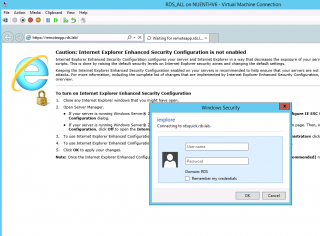 Click on Picture for Better Resolution
You have to be sure that the url of the remotapp server is configured to be part of the Local Intranet Zone. You can configure this option manually or you can use a GPO that would set this option automatically for you
Final Notes
Voila ! We have accomplished our goal. Now, when a user connect to the remoteapp url, he will have a direct access to the applications that have been published to him. Moreover, the user will be able to start the remoteapp and no more credentials would be requested. Isn't it cool ?
Till Next Time
See ya
Réferences : http://www.miru.ch/single-sign-on-in-rds-2012-demystified/