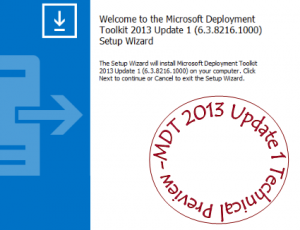 Hello World;
As you can imagine, we are quite busy lately with a lot of projects coming along the road.  I will not complaint because not so long ago I was about to have no work left.  Luckily, some customers came back to us and offered us some real challenging projects.
As Windows 10 is around the corner, I have been asked to check if MDT could deploy Windows 10 on various devices.  I will not go into details in this post… It will be actually more an announcement post that a technical description of the new MDT 2013 Update 1 Preview..
Let's do this…..
MDT 2013 and Windows 10 deployment
Windows 10 is about to be released and a lot of posts and articles have been already written about the new features of this operating system coming in summer.  Microsoft is gaining attraction again with all the announcement the've made lately.
A lot of organizations are still running Windows 7 (instead of Windows 8 or 8.1).   Windows 10 seems more appealing to IT managers and user community.  So, we have been asked to prepare possible migration/Deployment of Windows 10 through the organization.
Initially, we have tried to deploy the preview version of Windows 10 using MDT 2013.  After some times, it will failed miserably.  This is due to the fact that MDT 2013 is not yet supporting deployment of Windows 10. In other words; MDT 2013 will call the DISM.EXE tool included in Windows 8.1 and this version of the tool is not working with Windows 10.
If you google a little bit, you can quickly find a workaround that has been implemented.  The idea is basically to use the DISM.EXE tool that comes with Windows 10.  (for more info about the tweak, have a look at https://blog.westmonroepartners.com/make-the-microsoft-deployment-toolkit-mdt-2013-able-to-deploy-windows-10-windows-server-vnext-and-hyper-v-server-vnext-technical-preview/)
This trick is not supported by Microsoft.  Use it at your own risk !!
MDT 2013 Update 1 Preview supports Windows 10
Microsoft has finally made available a MDT 2013 Preview version that supports the deployment of Windows 10.  Because this is a preview, Microsoft is recommending not to use it in production.  You can obtain the MDT 2013 Update 1 Preview via the Microsoft connect web site.  You will need to login into it and you will be able to download the MDT Package.
Having downloaded and installed this package will not be enough.  You will also need to download the ADK for Windows 10 Technical Preview (check this link – the ADK is located almost at the bottom of this web page).
When you have completed the download, you can start installing them and perform your initial tests.
If you have an existing MDT 2013 instance, you can easily upgrade your installation.   Do not forget.  You will need to install the ADK For Windows 10 and the MDT 2013 Update 1 Preview and then upgrade your MDT share to have it working.
You can also perform a clean installation in your lab and see what has changed since the last version….
New Stuff ?
If you are used to work with MDT previous versions,  you will find you way quite quickly.  There is not much changes in the way of operating the MDT interface.  However, the Windows Image System Manager is not there anymore and has been replaced by the new Windows Imaging and Configuration Designer. The tool will allow you to create unattended files and customize your installation process
We will start having a look at all these new technologies in our coming posts……
Final Notes
As you can see; technology is going faster and faster.  New features are coming and new deployment challenges will popup in the next coming months….
Play with the preview version and share your findings with us….
As soon as we have time; we will start writing up some technical posts about MDT 2013 Update 1 and the new WICD tool found in ADK
Till next time
See ya