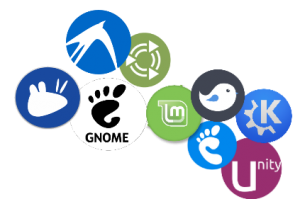 Hello World,
Today, we will start a new series of posts related to xRDP and Linux operating Systems.
In our previous posts, the focus was on Ubuntu Operating System. For some years now, we have demonstrated how to use xRDP on a Ubuntu system using a plethora of choices for Desktop Environment (xfce,kde,mate,lxde,…).
In August 2016, we have demonstrated that it was possible to use xRDP in conjunction with Unity Desktop interface. This capability was requested and expected by a lot of people and finally with the release of Ubuntu 16.04, it's possible to achieve this (even if the solution might not be 100 % fully functional)
Ubuntu & other flavors…
Since we have published the how to about having Unity Desktop and xRDP working, we have received a lot of positive feedback but also a lot of requests. However, not everybody is using the plain Ubuntu Operating System. A lot of people are using a derivative version of Ubuntu (Kubuntu, Xubuntu,Linux Mint, Ubuntu Gnome…).
The main requests we have received is related to make xRDP working with Linux Mint. Some requests were also related to have xRDP installed on a Kubuntu flavor and make it works…
We have decided to publish (when time permit) instructions on how to install and configure xRDP on various Ubuntu flavors. Obviously, we cannot cover all the flavors and Linux Operating System. We will first have a look at the Ubuntu Flavors and derivatives Operating systems. The following flavors will be covered :
Final Notes
As you can see, we will be busy working on different Ubuntu flavors and we will be focusing only on a specific topic : xRDP and remote desktop session. The installation process should be quite similar between the different versions which should simplify our work. Through these posts, we want to provide the best installation instructions for xRDP based on your favorite Ubuntu flavor…
This is it for today…This is just the beginning of the journey….
Till Next time
See ya