Hello World,
Again, a short post about some issues with RDS 2012 R2 infrastructure and remoteapp web page.
The situation
Today, we will tackle the warning message you receive on your workstation when you trying to login via the remote Web Access login page.  So, you might receive a message similar to this….
Another user of your computer is currently using this connection. This user must be disconnected before you can log on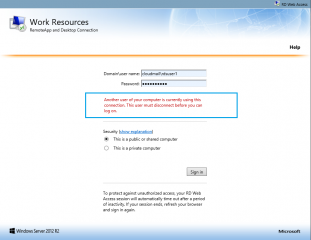 Click on Picture for Better Resolution
No panic ! This is really easy to understand what's happening and easy to fix…..
Let's assume that you are testing your remoteapp web interface and you are using two different user accounts to assess that the configuration is performed accordingly.  If you login with the first user and simply close the browser (you didn't click on the signout link), a underlying connection is still open with this set of credentials.  If you try to use the other user, when you pass the credentials, you will receive the message mention above.
This situation could also open on a kiosk computer where multiple users could connect to the remoteapp. If one of the users do not quit the session properly (signout link), the following user would have the same issue.
The Fix
To fix this minor issue, a user simply needs to kill the existing connection to the RDS infrastructure.  How to you do that ?  Simple, you go on the right bottom corner of your screen, you click on the small arrow and you should see a remote desktop icon. Right-click on this icon and select the option Disconnect all sessions.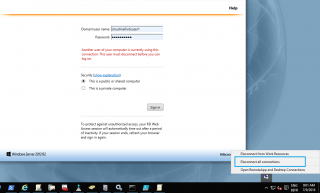 Click on Picture for Better Resolution
Once you have performed this action, you can try to login into the web page and normally, you will be going through
Final Notes
Voila ! As I said, a short post. Now, when you see this message, you know what to do and you should communicate this information to your user community if this error is recurring too often within your organization
Till next time
See ya