Hello World,
If you want to perform your ESX 4.0 installation from a USB Drive, you have to know that's possible. In my previous post, i described how to do this for ESX 3.x version. With ESX 4.0, the procedure is quite simpler and really similar to the way you do it with ESX 3.x version
Step 1 : Download the ESX 4.0 ISO file from VMWare site ( you need to register)
Step 2 : Download the unetbootin.exe utility. The utility is a self-executable, there is no installation required
Step 3 : Ensure that your USB Stick is formatted in FAT or FAT32 (not NTFS)
Step 4 : Double-click on the unetbootin.exe file and the following screen should be displayed. Specify the location of your ESX ISO File and ensure that you have selected the correct usb drive (at the bottom of the page)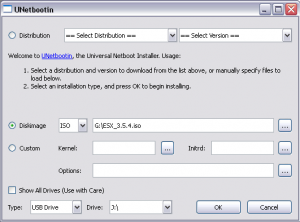 Step 5 : Press OK and your USB DRIVE will be created
Step 6 : Update your syslinux.cfg file (located on the root of your USB Drive)
label ubnentry0
menu label Install ESX in graphical mode
kernel /isolinux/vmlinuz
append initrd=/isolinux/initrd.img vmkopts=debugLogToSerial:1 mem=512M quiet askmedia usb
And that's it !!
Note : There is another way to perform such action. Have a look at http://blog.laspina.ca/ubiquitous/creating-usb-based-boot-media-for-esx-4-installs
From now on, you should be able to boot from your USB Drive and perform an attented installation of you ESX server
Tilk next time see ta