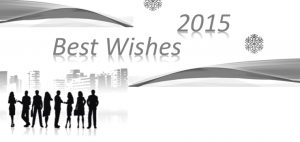 Hello World,
This is the moment of the year where some greetings are always welcomed !
We would like to wish to all of you our best wishes for this new year 2015.
We wish you the best for this new year.
For us, the year 2014 was a quite challenging and difficult year.  We have met a lot of challenges and we have been capable to go through all of them.  But still the economical situation does not make it easy.  We do not know what to expect for the coming year and we hope that we will have some exciting projects coming during this year.
In 2014, we have seen that the information provided through our blog was helping people and we have been pleased to provide (at our small level) some help and advices to our readers and customers.  We have seen that more and more people got interest in some of our posts.  Again, in 2014, the most popular posts were related to xrdp and ubuntu topic.    Last year, we have seen that people were really interested in have different desktop environment working with xrdp.  We have described how to use lxde, xfce and mate desktop to use in conjunction with xrdp.
Another topic that have seen some interest was the remote desktop services and more specifically the Remoteapp.  We have been working more and more on consolidation and centralization projects where we have encountered RDS technology.
In 2015, I think that we will keep working on these consolidation projects. This means that we will probably post more information about RDS.  We are expecting to have also more interest from our customers about desktop deployment or more specifically how to provide a better service related to the desktop environment. So, we are also expecting to write some posts related to MDT 2013 technology.  We will keep an eye on Ubuntu technologies and products in 2015 and we hope to see new things (Ubuntu Tablet, Ubuntu phone,…).
That's it for this post  !
Best whishes to all for Year 2015
Till next time
See ya