Hello World,
As you probably know, Exchange 2010 SP1 Beta is publicly available since june 2010.  I wanted to test some of the new features available with this service pack. So, I started preparing my Windows 2008 R2 virtual machines by installing the requested pre-requisites (using one of the scripts mentioned in this post ).
So, I thought I was ready to rollout the Exchange 2010 SP1 (beta) software on my computer. Just from the installation experience, I was pleasently suprised by the improvement brought by this service pack.  Finally, Microsoft has updated the setup routine and you do not need to bother anymore about the prerequistes components.  Look at the screenshot below. With this new release, the setup routine will perform the job for you. Absolutely fantastic !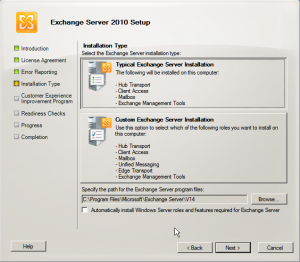 So, after noticing this welcome change, I proceeded with my installation. As usual, I didn't install all the Windows updates required by the Exchange software and the setup routine stopped.  Pfff.. disappointing.  So, I downloaded the windows updates and Filter pack, perform the installation and was ready to click on the retry button on the Exchange Setup Wizard.  And Again, I had a nice suprise because the setup would just continue. I didn't need to restart my installation from the beginning.
In conclusion, I'm waiting for the final release of Exchange 2010 SP1.I'm lovin it.  This minor changes in the Setup procedure make (to me)  a big difference.  Finally, Exchange 2010 got a mature setup procedure.  Now, the only thing we need to automate is the windows updates…. bah a batch file will do for now
Till next time
See ya