Hello World,
This post will be provide a show case on installing Ubuntu 20.04.1 on a physical machine. The post will not describe the usual step by step instructions on how to install Ubuntu Operating system. This post aims to show that it's possible to have perform most of the work using Ubuntu Operating system. Moreover, this post wants to demonstrate that it's possible to have a really nice looking computer and that Ubuntu can be a real alternative…
So let's go !
Our Customization Settings
Hardware specs
Usually, we have projects where we install Ubuntu on virtual machines and grant access through xRDP software. We also have installed Ubuntu on physical machines but this is not (yet) the norm. In our organization, we are currently using (on physical machines) mainly Ubuntu 18.04.5 on quite descent hardware which make Ubuntu workable and pleasant to use (see our initial investigation at Ubuntu – Transitioning from Windows Vista to Ubuntu – Part I).
To perform this installation, we have been using an aging computer model. The physical box is a Acer Aspire AX3900.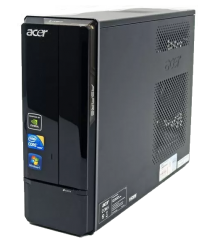 Click the Picture for better Resolution
The computer might be a little bit old but still has decent hardware specifications which are
Intel core i3
6 GB Ram
1 TB Disk
GT320 nVidia graphic card
We have also decided to use a recent 24 inch DELL Monitor to provide a comfortable working experience
Software specs
Since Ubuntu 20.04 has been released for some time now, it kind of make sense to use the latest Ubuntu LTS release version. The Service Release (SR) 1 has been officially released for Ubuntu 20.04. So, we have downloaded the Ubuntu 20.04.1 image and performed the installation of the Operating system. Again, we will not explain here how to perform the installation. The point is that we have not encountered any issues installing Ubuntu on this specific hardware. All devices have been recognized accordingly.
After a successful installation of Ubuntu 20.04.1, you will be presented with the recognizable purple background login screen used by Canonical.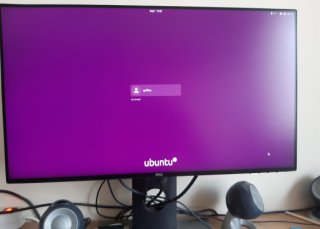 Click the Picture for better Resolution
Our Customization
Out-of-the-box installation of Ubuntu works fine and the look'n feel has been drastically improved in the recent years. However, if you want to personalize a little bit more your Ubuntu machine, it would probably make it even more pleasantly looking and appealing. To customize you Ubuntu operating system, the first setting that come in mind is to customize the desktop background…
Desktop Wallpaper
We have selected an appealing wallpaper image and we have set it on our new Ubuntu 20.04 machine.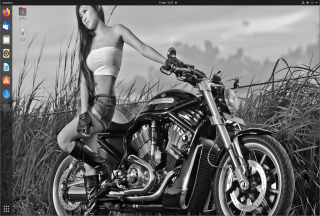 Click the Picture for better Resolution
In Ubuntu 20.04.1, when you change the desktop background, it changes automatically the lock screen picture as well. if you lock your screen, you should see as background image the background image you have selected with blur effect. The following picture shows you the outcome results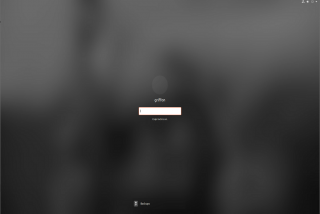 Click the Picture for better Resolution
Dark Theme
The other change used to customize Ubuntu Operating system is to change the Theme. You can decide to either stick with out-of-the-box options within Ubuntu Operating system or you can also go wild and download totally other different themes for Ubuntu. We have decided to keep it simple and use built-in options. We have selected the dark theme because it's kind of a popular option nowadays
Click the Picture for better Resolution
Custom Login Screen
Since we have developed a little script that can be used to change the login background screen (see the post – Ubuntu 20.04 – Change-Gdm-Background script Version 3.0 – Released), we have decided to use it and to demonstrate how customizing the login screen can make your Ubuntu desktop really sexy… To have a certain consistency, we have decided to use the same image that was used for the desktop background customization. The end result look amazing….:-)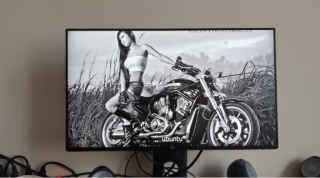 Click the Picture for better Resolution
Remote Desktop Support (xRDP)
Since we are providing the xrdp-installer script ( xRDP – Easy install xRDP on Ubuntu 16.04,18.04,19.10 & 20.04 (Script Version 1.2)), we have also decided to install and configure the xRDP software that allow to perform remote connection to your Ubuntu customized Operating system. The installation of the xRP software through the script went flawless. However, because the nvidia graphic card is present on the system, we were not able to connect to the machine through RDP protocol. This is a known issue (nvidia support and xRDP not playing nicely toegether). So, the overcome the problem, we had to remove the nvidia drivers and use the Xorg drivers. Performing this change, we were able to connect through rdp protocol
Since we have run our installation script, we can see that the xRDP login screen is showing a purple background image with a customized login box…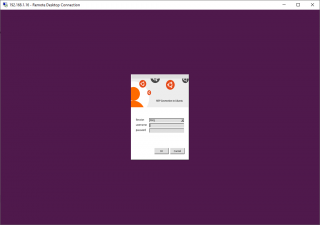 Click the Picture for better Resolution
To provide even more consistency, we have decided to change the purple background in xRDP login screen with the Desktop wallpaper image. The end result looks like the picture below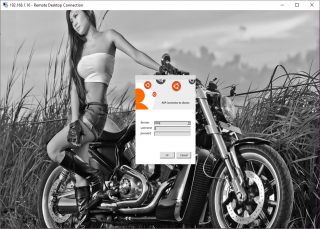 Click the Picture for better Resolution
You can see that when remotely logged in, we have the same look'n feel that we would have if logged on locally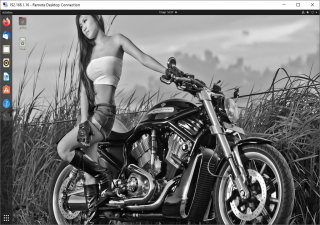 Click the Picture for better Resolution
We can probably perform more customization but we are quite happy with the current setup and we can use this as a show case with our users,friends and customers
Final Notes
This is it for this post !
We had fun installing Ubuntu 20.04.1 on a physical machine and we have been able to customize it to make it even more appealing. We wanted to demonstrate that Ubuntu 20.04.1 can be installed on decent physical machine and have it a really pleasant working experience…Out of the box, Ubuntu 20.04 is already looking good with its identifiable purple background. However, as you have seen, it possible to go the extra mile in customization using simple tricks and some easy to use scripts. We have been using this installation as show case in our office and it had really some great feedback as some people have asked us to perform similar customization on their Ubuntu desktop they have at home :-).
This was a quick post and we hope that we will have a little bit more time soon so we can publish some more technical information
Till next time
See ya