Hello World,
This post will be about moving away from Windows operating system and use as a replacement solution Ubuntu operating system.  This post is not about which operating system is better than the other.   People are free to choose which operating system they want to use.
This post is more about investigating and assessing the usage of an Ubuntu Operating system within a small/medium enterprise or at home.  Moving away from Windows will definitely have an impact on the way the user will need to perform some tasks and new ways of working needs to be acquired.
Going through a "real" transition scenario, the idea is to see how an Ubuntu machine can be integrated in the existing Windows based network and see what are the possible challenges and issues that the introduction of an Ubuntu machine can cause.
"Real" Case Scenario
Within our company, we had a Windows Vista machine still running.   We decided to replace this Windows Vista machine by a new computer and to install the Ubuntu Operating System on it.  This is exactly what we wanted to test. Can an Ubuntu computer be used by a end user within our company ? Can the end user perform all the tasks needed by the business using the Ubuntu machine ?
The decision to replace the Windows Vista was quite obvious for us.  Indeed, the support for this operating system is coming to an end.  The Internet explorer version installed on Vista are out of support as well. The hardware is almost 10 years old.  All good reasons to replace this machine by a new sexy solution.
We needed to make Ubuntu new computer something sexy and innovative in order to have the support from the users who would be working with the new operating system.  Instead of re-using the aging Vista Computer, the decision has been taken to buy a new computer.
When ordering the new pc, the standard approach would have been to look for desktop tower or even a mini-tower desktop model.  However, the decision was made to go for a mini pc (intel nuc type) because it has a small foot print and look sexy and intriguing at the same time.  The specs for this mini pc are the following
8 Gb of RAM
1TB of Hard disk
i5 dual core CPU
We wanted to have a decent machine in order to offer a pleasant and smooth user experience while running Ubuntu operating System.  We have been running Ubuntu on old machine and performance were not that great. This is why we decided for such specs.
Transition from Vista to Ubuntu
Installing Ubuntu was quite straight forward and no issues has been encountered during the deployment of the operating system. At the end of the process, we ended up with a perfectly fine, up and running Ubuntu machine (see screenshot below while performing and finalizing the installation).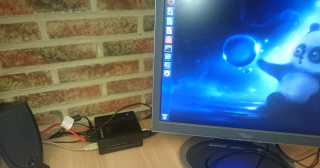 Click on picture for Better Resolution
However, installing the operating system was really the easy part of the transition process.  During the transition process, we encountered some challenges and some pleasant surprises as well.  For example, installing the printers was surprisingly easy. The network printer devices were detected automatically during the installation and the drivers have been installed automatically as well.
One of the challenge was the Office Suite Product. Ubuntu comes with LibreOffice which is "compatible" with Microsoft Office. After some tweaking of the LibreOffice applications (save all the file using the Microsoft format by default), users were able to work and get used to the new LibreOffice interface.   The other problem we have encountered was related to MS Access based applications. Natively, you cannot run MS Access apps on a Linux machine. Two possible workarounds (there might be other solutions as well) have been identified in our case:
using remote desktop services and publish the MS Access application
re-write the application
We have basically rewritten two ms access applications and converted them as web based applications (using php technology)
Another big challenge was related to Ubuntu machine accessing and consuming services from a remote Terminal server. Even do Linux provides some rdp clients to connect to a remote desktop server, these rdp clients are far from being 100 % equivalent of the Microsoft one.  We were about to give up on having Ubuntu installed because we couldn't redirect printers and have the job printed out on the device.  At the end, we found a workaround and have it working.
For some weeks, we have kept the old Vista machine running next to the new Ubuntu computer.  If a user  couldn't perform a task on the Ubuntu machine, the user would perform a remote desktop to the Vista machine (from Ubuntu) and perform the required actions.  This strategy helped us identifying some possible issues and to tweak Ubuntu as required.
Final Notes
So, yes, it's possible to have Ubuntu workstations running within your infrastructure.  However, the solution is not a 100% compatible match with Windows solutions and infrastructure.  In our case, the fact that most of the services are consumed from the Cloud or are web based make the underlying operating system less important and make Ubuntu a viable solution. Note also that our real case scenario is so far not too complex as we do not integrate with Active Directory and do not "care" for centralized management so far.
We really had a big challenge in having the Ubuntu workstation using the remote application running on a Windows 2008 R2 Server (which we do not control).  At the end, we found a workaround but again this demonstrate the fact that transitioning from Ubuntu does not provide the exact same feature of a Windows infrastructure.
This post provided a quick overview of the scenario and the initial actions that have been performed in order to transition from Windows to Ubuntu.  This post could be seen as a starting point of a post series about impact of transitioning to Ubuntu Operating system.
In some coming posts, we will explore a little bit further the tweaks that have been implemented within the Ubuntu operating system in order to provide a similar experience and similar functionalities as a Windows computer.
Till next time
See ya