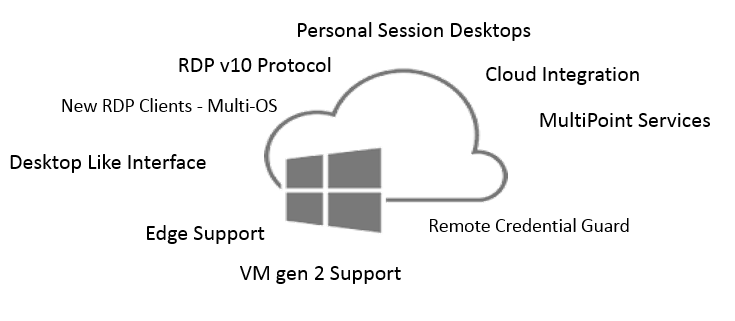 Hello World,
It has been some time since we posted information about Windows operating system. As you probably know, Windows 2016 Server has been released for some time now and it's maybe time to have a look at what this new release is bringing to the world. As we tend to be busy with a lot of Remote Desktop Services Projects lately, we will have a quick look on RDS 2016 new features (if any) and see if there are any important changes in the way of working with this cool technology.
Let's do this….
Overview
Windows 2016 has been released some time ago and it's seems that this new OS version has been widely accepted and considered rock solid release. Remote Desktop Services (RDS) 2016 is bringing a bunch of new features, improvements and better cloud integration. However, the general look and feel, the concepts, RDS roles… have not changed dramatically between Windows 2012 R2 and Windows 2016 Editions. Still we can see that some new features or improvements have been introduced which can be useful in future deployments…. We will quickly check the following features….
Desktop-Like interface

RDPv 10 Protocol

VM Generation 2 Support

Remote Credential Guard

New RDP Client & cross platform Client

Edge Support

Cloud integration & Connection broker improvements

Personal Session Desktops

MultiPoint Services optional Feature in Windows 2016

GPU Acceleration improvements within Virtual Machines
Desktop-Like Interface
Remote Desktop Services can be used to provide RemoteApp access or Remote Desktop Sessions (i.e. Full Desktop Access). In Remote Desktops Sessions scenario, the main complaint/problems in Windows 2012 R2 was related to the Desktop interface. There was a major difference between the User Desktop interface (Windows 7/ Windows 8) and the desktop GUI available on Windows 2012 R2 servers.
In Windows 2016, the Desktop interface looks really similar to the one in Windows 10. Windows 10 deployment and usage is increasing and users are become more and more familiar with the new Desktop Interface. Deploying a Windows 2016 RDS infrastructure will definitely improve the user experience as they will be connecting to an environment that will have the same look 'n feel as their Desktop interface. Transitioning from a standard Desktop infrastructure to a remote session based scenario would be better accepted by the users' community.

Click on Picture for Better Resolution
RDP v10 Protocol included in Windows 2016 Server
Each windows version come up with improved remote Desktop client version where the Remote Desktop protocol (RDP) has been improved. This is the case with Windows 10/2016. The protocol take into account bigger screen with higher definition and provide better compression and rendering capabilities.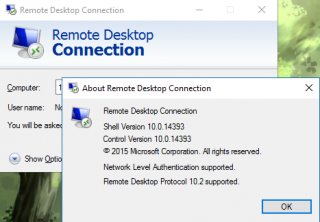 Click on Picture for Better Resolution
All in all this version should provide better remoting desktop experience.
VM Generation 2 Support
VM Generation 2 support will bring improvement in VDI Scenarios but also in some RDS Deployment scenarios. Windows 2016 operating system make it possible to create VM Templates as Generation 2 and deploy them as pooled or personal VM through the RDS infrastructure.
Another scenario where this feature could be beneficial is when you virtualize your Remote desktop Server Roles (more specifically RDSH). In Windows 2016, it's possible to add RemoteFX adapter within a VM generation 2. This was not the case previously. Also, in Windows 2012 R2, the remotefx vgpu in VM generation 1 was only supported for Client OS and no Server OS. I think that this limitation has been removed in Windows 2016 Servers.
Remote Credential Guard
Windows 2016 brings also new features such as Remote Credential Guard (a more flexible version of RestrictAdmin mode) which protects the credentials during the login process into an RDS server. We will not touch this topic for now. We might want to come back with a more detailed info about this new security feature.
New RDP Client & cross-platform support
A new RDP Client version is available on Windows 2016 and Windows 10. You can choose from the classic mstsc.exe client or try the new Remote Desktop App solution. If you want to use the Windows App , you will need to login with your microsoft account. I hate this… If an app is free, why should i login with my Microsoft account to get it….
The good things is also the fact that new RDP client for other platform such as Android and iOS have been made available as well which increase the potential number of scenario where Remote Desktop Services could be used independently from the client or operating system in use.
Edge Support for Remote Desktop Services
I almost never use the Edge Browser. It might be a really good browser but it's not super popular within working environment. Apparently, it's possible to use the remoteapp feature in conjunction with Edge browser. This is a new feature indeed but I'm not sure if people will really use it.
Cloud integration & Connection Broker improvements
In Windows 2012 R2, connection broker had some performance issues during "logons storms" activities (i.e. a lot of login activities at the same time). Since then, a hotfix has been released for Windows 2012 R2. Connection broker being a central role within the RDS Farm, Microsoft has improved concurrent logon request in RDS 2016. Now, the RD Connection broker should be able to handle over 10 000 concurrent logon requests.
To achieve High Availability (HA) for the connection Broker role, in RDS 2012 R2, you would need to have 2 Connection broker and an high available SQL Configuration (either a classic SQL Cluster or through AlwaysOn SQL feature). With RDS 2016, because of the better integration with the cloud, it's possible to store the SQL database in the cloud.
Actually, it's even possible to deploy a full RDS FARM in Azure cloud if you would like too. The good thing here is that the deployment has been simplified. You can quickly get your RDS infrastructure up and running….
Personal Session Desktops
In Windows 2012 R2 RDS implementation, when selecting the deployment scenario option, you could choose to deploy either a session-based infrastructure or a VDI infrastructure. If you deploy Windows 2016 RDS infrastructure, the same screenshot will be displayed.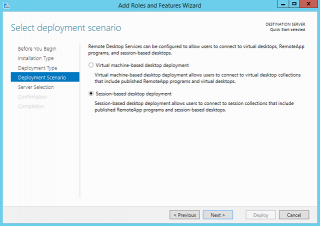 Click on Picture for Better Resolution
However, under the hood, Windows 2016 provide a new type of collection called Personal Session Desktops. As you can see, no information or configuration options are available within the GUI. This means that all configuration will be done through PowerShell.
Now, what's a Personal Session desktop collection? In a few words, the Personal session desktop collection is basically a number of Remote Desktop Session Host (RDSH) instances that are assigned in 1:1 relationship with specific users. Personal session desktop concept is equivalent to assign personal dedicated VDI machines running Windows 2016 server where a designated user will be granted access to. The Personal Session Desktop feature can be configured in order to grant local Admin right as well to the designated user.
This new option has been introduced because of the limitation of the SPLA (service provider license agreement) where no VDI running windows client operating system could be offered. The workaround here is to use the Windows Server version and Service providers can then offer Personal Desktop solution to their customer.
As you can see from the screenshot above, there is no options to select or configure Personal Session Desktops through the GUI. As you would have expected all the configuration is done through PowerShell. Moreover, Personal Session desktops will not be visible through the RDMS Console but they can be listed in the RD web access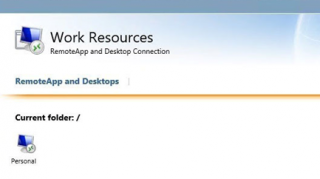 Click on Picture for Better Resolution
Integration of MultiPoint Services in the RDS infrastructure
To deploy a new RDS Farm, a user basically will start the Add/Remove Wizard and during the installation process, in the Select Deployment Type page, you can specify the deployment scenario to be used. When deploying a RDS 2012 R2 infrastructure, only two types are available (as shown below)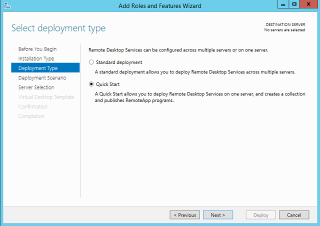 Click on Picture for Better Resolution
When deploying a RDS 2012 R2 infrastructure, as you can see in the screenshot below a third option has been added: Multipoint Services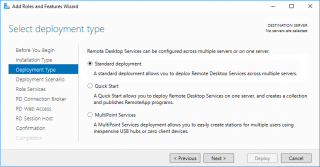 Click on Picture for Better Resolution
Multipoint services was a remote desktop solution developed for Educational environment and was separate product. This standalone product has been included in the RDS 2016 family as an optional role to be installed.
The Multipoint service role is basically a software solution that can run on a single server and where multiple users can access resources through zero client connected through USB Hubs or through LAN via RDP protocol if thin or thick client are used. The multipoint service will rely on some RDS component such as RD Session Host and RD Licensing Server. The multipoint service infrastructure ship with its own management tool (Dashboard) in order to simplify management of the infrastructure.
Improved GPU acceleration Capabilities in RDS 2016
The RemoteFX options is available since Windows 2008 R2 but has been improved. For example, it was only supported on VM Generation 1. Now, this feature can be used on VM Generation 2. Other improvements have been made and make the solution appealing to RDS deployment where GPU capable hardware would be available.
Windows 2016 Server offers improved GPU acceleration capabilities which can be used by your RDS infrastructure. GPU acceleration is becoming an important element any RDS deployment project as user expectations have changed with time. A user wants to have a smooth and responsive experience will using Remote Desktop Services not only for super heavy graphical applications but also for standard office applications. Windows 2016 and RDS has taken this factor into account and offer two different ways to include GPU acceleration features for Virtual Desktops.
The first option is RemoteFX vGPU feature where the physical GPU can be shared between multiple Virtual Machines. RemoteFX vGPU feature will enable hardware acceleration in a windows virtual machine which will improve the remote desktop performance and user experience. The RemoteFX vGPU is basically a virtual GPU adapter that would be made available within the virtual machine.

Click on Picture for Better Resolution
The new feature that RDS 2016 can take advantage of is the Discrete Device Assignment (DDA). Instead of passing a virtual adapter, the DDA feature will allow you to pass the physical GPU on the Hyper-V host into a virtual machine. The benefit here is that native capabilities of the GPU card can be used. DDA can be used in super heavy graphical application scenarios….
As time permit, the RemoteFX Topic might be covered in more details in our future posts….
Final Notes
This post has provided a quick overview of some improvements that have been made in Windows 2016 and more specifically RDS 2016. At the surface, RDS technology has not changed that much. We still have the same RDS Roles, same RDS management console available. However, if you start digging a little bit more, all the small and medium changes that have been introduced might impact the way you will deploy your next RDS infrastructure.
In the coming weeks, we will try to investigate a little bit further how these changes can affect RDS 2016 deployment….I think that we will focus more on the personal Desktop session topic and possibly the remoteFX features…
Till next time
See ya