Hello World,
As you can imagine, I was lately quite busy with some projects using Hyper-V,RDS,MDT,ADFS,Exchange software solutions. This work is quite time consuming and I have to say that I didn't had much time to blog a lot lately. I know that Windows 10 is about to be released and that Microsoft is making a lot of announcement but we will not discuss about that today.
We are back to one of our favourite topic i.e. Remote Desktop Services. In this post, and possible in one or two other posts, we will be discussing about an issue that some users might encounter while trying to connect to the RemoteApp infrastructure.
Let's see which issue and how to fix it…..
The Problem – Access is denied
Recently, we have been heavily involved in RemoteApp and RDS projects. Within our customers premises, we have been able to introduce new ways of working through the use of RemoteApp technology. End-users love this way of working because they can access their applications from anywhere and from almost any devices within the company.
As more and more users are utilizing the remoteapp infrastructure, more and more small issues are popping up. One of the issues encountered by a end-user was that he was receiving an Access denied message while trying to connect to a Remote Desktop Session to a server.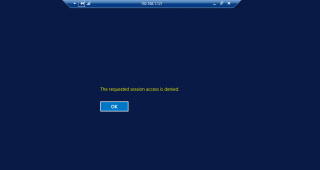 Click on picture for better resolution
The solution
It took use a good 30 min before finding the solution to this simple problem. We had to go and visit the user which would demonstrate how he was performing the remote desktop session connection and showing us the error message he was getting. Immediately after the demonstration of the user, we understood what was the problem. The end-user was an advanced user and knew about the mstsc switches. When trying to connect to the Remote Desktop Session, the user was issuing the following command to start the mstsc client
mstsc /admin
Using such switch is when a user with administrative privilege rights need to indeed administer the Remote Desktop Session Host server. A standard user has no administrative rights on a RDSH server and thus the remote connection would be refused. This make really sense if you think about it…
So we have asked this user to connect using the standard mstsc client with no switches and the user was finally able to login with no strange access denied message. To make this even easier for the user, we have decided to publish the mstsc client on the RemoteApp web access server, so no risk to connect pass switches to the RDP client.
Final Notes
Remote Desktop Services and RemoteApp technology are really easy to understand by End-users community. 99 % of the time they will be able to connect with no issue to the RemoteApp or RDS server. However, you might still have this 1% issue due mainly to users trying to connect in a wrongly manner into your infrastructure.
This is it for this post. In the next one, we will see what a use with administrative rights needs to do in order to get access to the remote Desktop session server. Even delegated administrators time to time are struggling with new ways of working ….
Till next Time
See ya