Hello World,
In this post, I have mentioned that was possible to resize the VHD Disk size using the VHDResizer. The tool is quite straightforward and allows you to perform one of the following operations :
Increase the Size of your VHD Disk

Shrink the size of your VHD Disk

Convert a Fixed Disk to Dynamic or the other way around
If you google, you will find plenty of information about how to use it. I'll briefly explain how to use it.
HowTo use VHDResizer
First, you need to download the utility from here
Extract the content from zip file and double-click on vhdresizer.exe (really easy)
From start menu, browse to your programs and launch the vhdresizer tool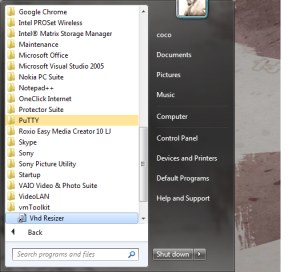 4. You will be presented with this window. You can either browse and select the VHD file you want to modify or press cancel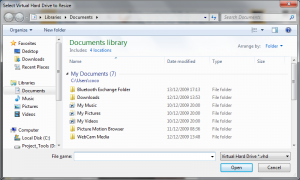 5. The VHDResizer Utility is started. As you can see, it's quite straightforward.
Specify source vhd file,

create a new destination vhd file,

specify the type of disks (Dynamic or fixed)

specify the new size of your disk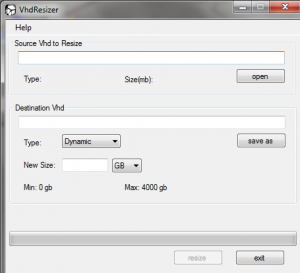 When you are ready press resize
NOTES
If you shrink the size of the disk, you do not have to perform any post-actions. However, if you decide to increase the size of the disk, you will see that in disk manager console, the partition size has changed. You will need to extend the disk within your operating system.
You have multiple options to perform this operation. You can use of the following method
Reboot your machine and use GParted (This might be time consuming !!)

If you have Windows 7 or windows 2008 R2, simply attach the vhd and using the disk manager console, extend the volume as required (fast)

If your virtual machine is a windows 7 or Windows 2008 R2, start your VM and use the Disk manager console to extend the volume (fast)

If your virtual machine is a windows XP or Windows 2003, you can use the EXTPART.EXE utility to extend on the fly the size of your partition or you can boot in WINPE mode and using DiskPart.exe utility you can increase the size of your partition (Fast)
That's it for this post. In other posts, I'll show you how you can use all the above techniques to increase the size of your VM partiton
till then
See ya