Updated :
With Proxmox VE 2.0, turnkey are officially supported. If you are using Proxmox VE 2.0, this article does not apply to you. Instead, go to the following link which explains what you need to do to have turnkey appliance integrated with Proxmox VE.
Hello World,
I've been quite busy lately and did not get the chance to work a lot on the blog. I still have to re-install my test lab and perform a bunch of tests on the Proxmox VE 2.0 beta xx version. It's coming… slowly… but it's coming…..
Today, I was searching for some information about Proxmox VE and noticed that the TurnKey Linux web site was announcing availability of some appliance templates that could be used within Proxmox VE. In the proxmox forum, there was a request to have this kind of cooperation between Turnkey Linux and Proxmox VE. I think this can be beneficial for both communities. This will increase visibility of both communities and users will be able to access more appliances.
Get Turnkey Appliance on your Proxmox VE server(s)
Based on information found on the turnkey, I was able to get access to the Turnkey appliance from my Proxmox VE 1.9 infrastructure. This link explains what you need to do in order to get access to these additional appliance templates. We have summarized the steps here..
Step 1 – Open a ssh session to your Proxmox VE server (or do it locally from the console)
Step 2 – Go the the following directory and make a copy of the APLInfo (appliance info) file by executing the following commands
cd /usr/share/perl5/PVE
mv APLInfo.pm APLInfo.pm.bak
Step 3 – use the wget command in order to download the new APLInfo.pm file
We have appended the –no-check-certificate because if you don't you will get a warning message stating that the system was enable to make a secure connection. The no-check-certificate simply bypass the certificate checks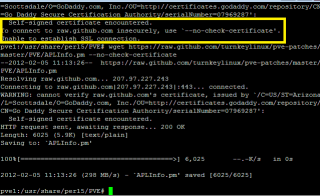 Click on image for better resolution
Step 4 – simply update your appliance list by typing the following command
If everything went fine, you should see that in the Appliance templates section, you have an additional section called Turnkeylinux.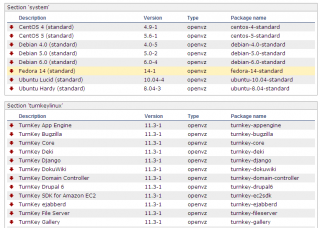 Click on image for better resolution
From here, you can try to create an new OpenVZ virtual machine using these templates. I haven't created yet any Virtual machines using the Turnkey appliance but as soon as I have time I might jump into it and I'll then blog on it
Final Words
I've never worked with Turnkey appliance before but I think that since they are made available within my proxmox ve infrastructure, I might want to give it a try. I hope that in the future Proxmox and Turnkey team will work closely together in order to provide a solid list of ready to use Virtual Appliances.
Till Next time
See ya
source : http://www.turnkeylinux.org/blog/openvz-proxmox