January 13, 2023 –

BugFix has been released !!!

The script version 1.4. & 1.4. 5a are outdated and have been replaced by a newer version. Do Not use Version 1.4.5 of the script.

Please Check the Download page for latest (working) version
Hello World,
As you can image from the title, multiple issues have been detected with the latest version of the xrdp-installer-script (i.e. 1.4.5). These issues are related to the changes that have been introduced in the most recent operating systems (like Ubuntu 22.10) and Debian. The standard installation method should be working as expected. Problems can/will occur when using the custom installation mode option. We are working on providing an updated version of the script in order to tackle these small issues.
We want to thank Hiero, one of our most active readers. Hiero took the time to test the latest version of the script and detected the issues. He also went a step forward by suggesting some possible improvements. We really appreciate the time and efforts is spending on helping us building an even better xrdp-installer script.
Overview
Few weeks ago, we released a maintenance release of the famous xrdp-installer-script. The latest version of the script is set to 1.4.5. Version 1.4.5 is fixing a specific issue encountered by Linux Mint Users. Indeed, Sound redirection option was not working as expected on Linux Mint (for more information see this post ). xrdp-installer-script-1.4.5 has fixed this issue. However, before making this version of the script the default download version, we have been waiting for some feedback before proceeding.
So, the good news is that the maintenance release indeed fixed the sound issue for Linux Mint User. The "bad" news is that some changes in latest version of Ubuntu (or Ubuntu derivatives) and Debian Operating system has introduced some other issues.
Ubuntu 22.10 Fuse package conflict
Ubuntu 22.10 ships by default fuse3 package. This is a recent changes as previous version of the OS were using fuse package. xRDP software when compiling from source needs to have a fuse package available. The xrdp-installer-script 1.4.5 (and previous version as well) is installing the fuse package by default. However, the fuse package conflicts with the newer version of the fuse (fuse3). If you install fuse package on Ubuntu 22.10 (rather than fuse3), this will cause the removal of several packages (such as ubuntu-desktop, xdg-desktop-portal…) which are all used to provide you a nice and shiny Desktop interface.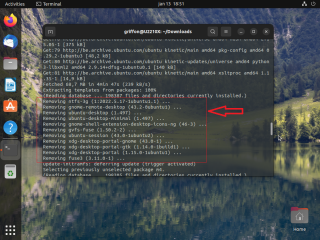 Click on Picture for better Resolution
We have run the script (version 1.4.5) against Ubuntu 22.10. The script ran successfully. However, when the machine rebooted, there was no more GUI available. In some cases, the machine was not even bootable…
To fix this issue, we have updated the script in order to install libfuse-dev instead of fuse package and this fixed the issue… (Again, this information has been provided by Hiero. He tested the script and identified the problem and even proposed the possible workaround)
Important Note
On January 13, 2023, we have updated the script version 1.4.5 to take into account this specific fuse issue. We have provided a quick and dirty update and we have released a bugfix script version set to 1.4.5a.
To download this Emergency BugFix script, you have multiple options. You can from a Terminal issue the following command
wget https://www.c-nergy.be/downloads/xRDP/xrdp-installer-1.4.5a.zip
You can also simply use your browser and click on the link to download the script :
Use it only against Ubuntu 22.10 and if necessary… A new release version will be released really soon… So Please, look for the next version of the script (i.e. version 1.4.6)
Custom install fails on latest Debian OS
It seems also that on the latest version of Debian, the custom installation mode is not working anymore. The script is using a piece of software called checkinstall. This tool is used to create software Debian package (.deb packages). It seems that Debian needs to have specific arguments provided in order to successfully execute the command. We have not been working on this specific issue yet. A new release of the script will fix this issue
Other Minor issues
Some other minor issues have been detected and some suggestions have been provided as well by some other readers. The next release of the script will try to include these bug fixes and small proposed improvements…
Final Notes
This is it for this post !
This is a short post but we think it was important to let you know that some issues have been detected. We have already fixed one of the most important one (the fuse/fuse3 package) and you can today safely run the script version xrdp-installer-1.4.5a against your Ubuntu 22.10 machine (if really needed).
We are working in providing all the fixes needed in the upcoming release (version 1.4.6) which should be made available quite soon
Till next time
Stay Tuned