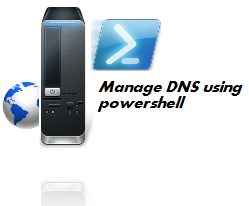 Hello World,
Based on some comments and feedback received on the post about backing up DNS Zones, we have decided to publish a new version of the script.  The logic remains the same. The main difference with the previous one is that we are using better the powershell capabilities.
Special thanks to Jeffrey Hicks .
This version of the script integrates the comments, advices and recommendations he made on the previous version of the script.
The Improved Backup DNS Script
You can use this script as a starting point for your own purposes and integrate it in your own scripts or backup/restore strategy.
The Script is quite simple to understand.  In the first section, we define some variables, In the next section, we using wmiobject to get DNS information and we export this information into a csv file using export-csv powershell cmdlet. Finally, we using the dnscmd.exe command to export zones information into text file and store them in the location you have defined.
That's it
#——————————————————————————————–#
# Script_Name : DNS_Backup.ps1
# Description : backup all DNS Zones defined on a Windows 2008 DNS Server
# Requirements : Windows 2008/R2 + DNS Management console Installed
# Version : 0.4 – Intergrated comments from Jeffrey Hicks
# Date : October 2011
# Created by Griffon
#——————————————————————————————-#
#– DEFINE VARIABLE——#

# Get Name of the server with env variable
$DNSSERVER=get-content env:computername
#—Define folder where to store backup  —–#
$BkfFolder="c:\windows\system32\dns\backup"
#—Define file name where to store Dns Settings
$StrFile=Join-Path $BkfFolder "input.csv"
#—-Check if folder exists. if exists, delete contents–#
if (-not(test-path $BkfFolder)) {
new-item $BkfFolder -Type Directory | Out-Null
} else {
Remove-Item $BkfFolder"\*" -recurse
}
#—- GET DNS SETTINGS USING WMI OBJECT ——–#
#– Line wrapped should be only one line –#
$List = get-WmiObject -ComputerName $DNSSERVER
-Namespace root\MicrosoftDNS -Class MicrosoftDNS_Zone
#—-Export information into input.csv file —#
#– Line wrapped should be only one line –#
$list | Select Name,ZoneType,AllowUpdate,@{Name="MasterServers";Expression={$_.MasterServers}},
DsIntegrated | Export-csv $strFile -NoTypeInformation
#— Call Dnscmd.exe to export dns zones
$list | foreach {
$path="backup\"+$_.name
$cmd="dnscmd {0} /ZoneExport {1} {2}" -f $DNSSERVER,$_.Name,$path
Invoke-Expression $cmd
}
# End of Script
#——————————————————————————————-#
Final Words
Using the comments from some our readers, we were able to create a better powershell script. If you are a little bit patient, I might publish the restore DNS script quite soon (meaning this week)
Till then
See ya