Hello World;
This should be really a short post for today ! As you probably know, Ubuntu 22.04 will be the next LTS release that will be made available in April 2022, 21. Since we are working on the next version of the xRDP-installer script, we have installed and tested the Ubuntu 22.04 version for some weeks now. At this stage, the Ubuntu 22.04 is still not finalized and we are still working with Development version.
Since a lot of people wrote already a lot about Ubuntu 22.04 features and what to expect in this coming LTS release, we will try not to repeat this information. What we will do is quickly going through the small changes that we have noticed already with this new release. Again, since we are working with a Development version, things might change with the Final Build version
Overview
Ubuntu 22.04 will be released in April 21, 2022 and it will be the next LTS Release that Canonical will be publishing. Nowadays, Ubuntu is pretty stable and probably a lot of people will find Ubuntu 22.04 release not really exciting since no real major feature will be made available. However, there is a lot to like about Ubuntu 22.04. The Gnome Desktop has become mainstream and a lot of improvements have been made (i.e. performance and usability). Ubuntu 22.04 offers a familiar working interface and Canonical has definitely improved the look's feel of their Operating Systems for Desktop.
New Installer
A lot of people, blogs, article were speaking about the new installer that would be shipping with Ubuntu 22.04. We have downloaded the latest build and have performed a brand new installation. At this stage, we have not seen this famous New Installer based on Flutter. If we look at the information made available in GitHub, this new installer is still planned to ship with Ubuntu 22.04. If this is the case, we are looking forward to test it… but so far it seems this new installer is still not included in the daily build image…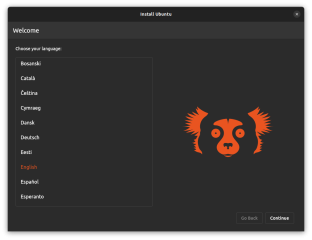 Click on Picture for Better Resolution
New Logo
A new logo has been made available as well for this LTS release. You can see the visual in the screenshot below.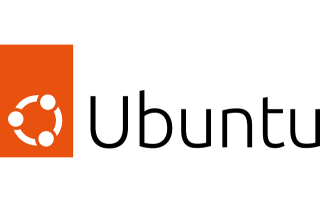 Click on Picture for Better Resolution
The Boot screen has been updated accordingly and the new logo is also displayed during the boot process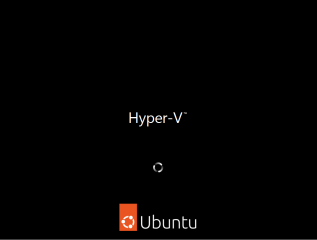 Click on Picture for Better Resolution
The About page is also showing the new logo…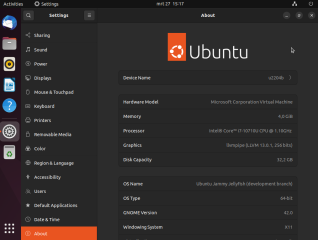 Click on Picture for Better Resolution
Interestingly, this new logo has introduced a slight change in the login screen as well. The new login background color is not anymore a purple/aubergine color but a dark grey color as you can see in the screenshot below. This change in color might be due to the fact that the new logo might not fit well with some solid colors…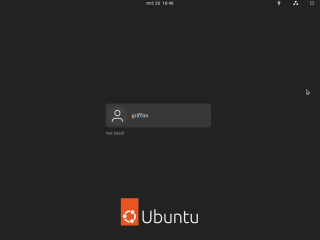 Click on Picture for Better Resolution
As you can see above, this is the new login screen color scheme we have currently when using Ubuntu 22.04 (development branch). This is quite a big change compared to previous versions. Indeed, the purple color at login screen was making Ubuntu identifiable immediately.
Ubuntu 22.04 & GDM Login Screen Changer script
We have released a small script in the past that enable you to change the login script background look'n feel of your Ubuntu machine. The latest version of the script (3.3) seems to work against Ubuntu 22.04 release. The script needs to be updated in order to include Ubuntu 22.04 support but all in all the utility is still working. In the future, this tool might not be needed anymore as it seems that possibly Gnome apps might cover this specific action as well….
The script will allow you to specify either a solid color or choose your favourite image and it will be visible on your login screen. The image below shows the usage of solid color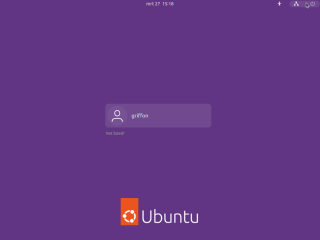 Click on Picture for Better Resolution
Using our small Utility script, it is also possible to set a image in the login page as shown hereafter….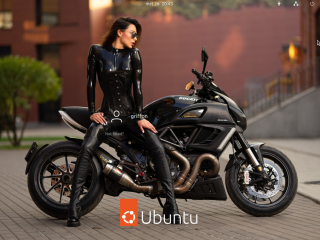 Click on Picture for Better Resolution
Ubuntu 22.04 & xRDP software
Ubuntu 22.04 is shipping with xRDP package version 0.9.17 which is quite recent. The latest version of the xRDP package made available by the package maintainer is 0.9.18. As a reminder, xRDP package is a software that allow users to perform remote desktop connection to Linux machine using RDP protocol.
We are publishing and releasing on regular basis a script (latest version of the script available at https://www.c-nergy.be/products.html) that ease the installation of the xRDP package on Ubuntu machines and perform post-configuration actions that ensure that the look'n feel look really similar while remotely connected to your Ubuntu machine. Each time a new Ubuntu release is published, we are spending quite some time in updating the script and ensuring that the new release is not breaking the installation nor impact the functionalities.
We are still working in updating the xrdp-installer script to make it work with Ubuntu 22.04. We had to bring some minor changes to make it work accordingly against Ubuntu 22.04. Possibly, the next iteration of the script will be available few days after the release of Ubuntu 22.04. The next release might be a really minor release that would simply add support to Ubuntu 22.04 or might introduce a new feature. As we have really no time to work on the script at the moment, the minor release will be probably release first and then an update will follow after a few weeks
Ubuntu 22.04 & Look'n Feel
Ubuntu 22.04 is introducing some new features that can help you changing the visual aspect of your Desktop. These are probably small improvements but they are bringing some refinement that people like to use and speak about. First of all, there is a new option for the Power settings in the menu. Finally, we can configure the battery settings and hoping to have more autonomy when using Ubuntu on a Laptop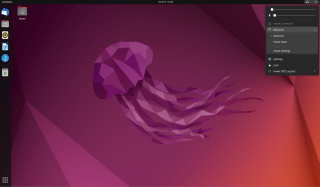 Click on Picture for Better Resolution
There is also (finally) an addition in the power off/ logout menu the addition of the logout button…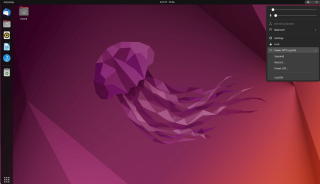 Click on Picture for Better Resolution
Finally, one of the feature that most people are talking about is the light and dark mode but also the possibility to add some color accents to your Desktop Interface. Changing color there will also change colors in the nautilus interface. Again, this is probably not the most important feature but it makes Ubuntu flexible and desirable….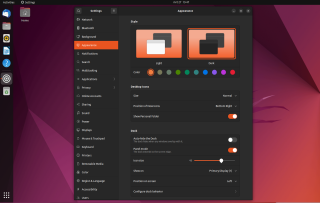 Click on Picture for Better Resolution
Firefox Snap Package
A final comment about coming release of Ubuntu 22.04 is about Firefox. Indeed, Ubuntu will ship by default the Snap package version of Firefox. Some people are not happy with this change because snaps tends to be bigger in size and there is a small performance delay. We still to have a look to it. Possibly, some side effect might show up in the next months that would need to be tacked by Canonical. Note however that, if you are really against Firefox as Snap, you can always uninstall it and install the traditional package version
Should you Upgrade ?
In our case, most of the workstations machine will be migrated to Ubuntu 22.04 in the coming 6 months. Some machines/servers will need to stay on Ubuntu 20.04 because of some applications compatibility issues. Some applications are custom developed and are using PHP software. Ubuntu 22.04 is shipping with PHP 8.1 which might breaks applications. Some other well known application like NextCloud or Passbolt are not yet ready to support PHP 8.1. Work is probably ongoing but the no official announcements have been made to include support for Ubuntu 22.04 and PHP 8.1. So, as long as, solid assessment is not done in our organization, Ubuntu 20.04 will still be around for some time….
So, our recommendation would be to assess your environments and which applications are really critical in your infrastructure. Based on that information, you could decide to move to Ubuntu 22.04. Usually, it's also recommended to wait for the point release 1 before mass deploying Ubuntu 22.04. Finally, remember that Ubuntu 20.04 is an LTS and will be supported for the coming years as well (till April 2030) so there is no need to hurry.
Final Notes
This is it for this post !
Ubuntu 22.04 is coming soon which does not bring really impressive improvements and features but brings really nice refinement and improvements. Release after release, Canonical is offering a more than capable operating system solution that can replace mainstream Operating Systems like Windows or RedHat or Oracle. Ubuntu has really become a stable, rock solid distribution that has attracted interest from companies like Dell and Lenovo.
All in all, Ubuntu 22.04 seems to provide really a more than pleasant experience in term of visual Aspects and performance. We have also tested the xRDP software and we have the feeling than remote desktop session is also delivering better performance.
In the coming weeks, we will release the next iteration of the xrdp-installer script that will support Ubuntu 22.04… So, stay tuned
Till next time
See ya