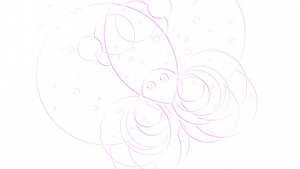 Hello World,
Ubuntu 18.10 is about to be released and it's time to have a quick look at possible changes included in this new release. The coming version is Ubuntu 18.10 and will be an interim release. This post will provides a quick overview of what to expect with this new release but we will also quickly describe the release cycle used by Canonical.
So, let's do this….
Version & Release type
Since Ubuntu 18.10 is coming shortly, our team has performed an installation of the beta version to check for any noticeable changes. For this release, there will be only one and unique beta version available for testing purposes. After that, the final release will be available around October 18, 2018.
Release Type
Canonical releases new version of their Operating system on a regular base (everything 6 months). More specifically, Canonical will release a Long Term service (LTS) release every two years and an interim release every 6 months (between two LTS releases). Release type is important to consider. A LTS release will be supported longer for the next 5 years by Canonical while a interim release will be supported for 9 months. Ubuntu 18.10 will be supported for the next 9 months.
If you are using Ubuntu system on production systems, you should carefully consider the move to interim releases given the limited support provided. In our company, we have recently upgraded from Ubuntu 16.04.x to Ubuntu 18.04.1 version. No Upgrade to Ubuntu 18.04 systems will be performed in our production environment. The next upgrade should occur in 2020 when the next LTS release of Ubuntu will be made available.
The following illustrations shows the current and future releases and their support

Click on picture for better Resolution
Credits : Image from https://www.ubuntu.com/about/release-cycle
Versioning
The versioning scheme of Ubuntu is kind of simple and it seems that Microsoft has been inspired by this method to define Windows 10 build numbers as well 🙂 ). So, as you have noticed, each Ubuntu release versioning is based on year and month of the release to identify which version of Ubuntu to use. To illustrate the concept, Ubuntu 16.04 is basically indicating that the release was made available in Year 2016 (16) and month of April (04).
Because the next interim Ubuntu release will be available on October 18, 2018, the name/version of this release will be Ubuntu 18.10. Quite simple indeed and easy to follow up and identify Ubuntu releases.
Why do we touch release version and release cycle ? Because we are using Ubuntu within our organization, we need to include Ubuntu support in our processes. This means that release type and release cycle becomes important to us as we need to provide support for the Ubuntu infrastructure. On the other hand, in some previous posts, we have mentioned that our famous Std-xrdp-install.sh script will be also following more strictly Ubuntu release cycle. So, understanding the Ubuntu release cycle helps understanding the release cycle for our Std-xrdp-install script.
Ubuntu 18.10 Beta 1 – First Impression
Installation Wizard Changes
The Ubiquity installer for Ubuntu Desktop has not changed dramatically. Some times ago, there was some speculations about seeing a brand new installer for Ubuntu desktop (based on Unity design). This change is not yet there (and might never come). On the other hand, there is a small subtle change in the Installer. It's basically a visual change. When we have performed the installation, we have immediately noticed that the colour scheme is a little bit different than previous installers. The brown colour is darker and the progress bar at the bottom are blue-ish. All in all, the installation went really smooth and the new colour scheme provides the feeling of a modern layout….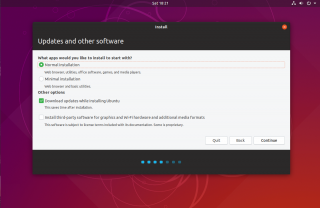 Click on picture for better Resolution
Login screen changes
We didn't read much about Ubuntu 18.10 before performing the installation. So, we had a little surprise when the login screen appeared. Canonical has changed a little bit the visual of the login screen. From the one tone color, the login screen is using gradient approach to provide a more brighter login screen.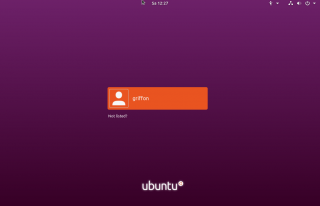 Click on picture for better Resolution
After selecting the user that will be login, the new color scheme is again displayed in the login screen. Ok, the login button is green now… Not sure that would have been the color we would have chosen but it's still visually pleasant.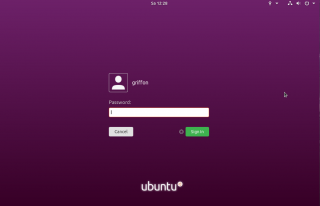 Click on picture for better Resolution
Modern Ubuntu Theme (Yaru)
Ubuntu 18.04 was supposed to receive a new modern theme that would replace the aging Ambiance theme. Community was put to contribution and they delivered a theme that provided indeed a more dynamic look n feel to Ubuntu. This community theme was not included as default in Ubuntu 18.04 because considered not ready for prime time. Ubuntu 18.10 ships and use as default the new Yaru theme.
The screenshot below shows the new look n feel of Ubuntu 18.10. New icons sets (based on Suru icons sets) are present for most of the applications (not all) which makes Ubuntu looks sexy. The screenshot shows also the new wallpaper and the new color scheme. These are visual changes that tends to make Ubuntu more appealing to users. Nowadays, the visual aspects are as important as Operating system functionalities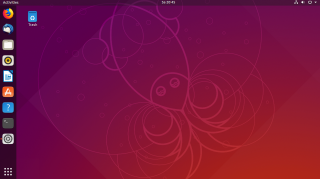 Click on picture for better Resolution
By default, there is no tool installed to customize and change operating system look n feel. After installing the tweak software, we have discovered that
Ambiance theme has been removed completely
Yaru theme is indeed default
a Dark version (Yaru-dark) exists as well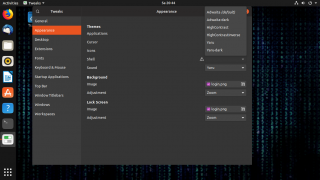 Click on picture for better Resolution
The theme is really aesthetically pleasing. The window border, shape an colors are really making an impression of clean design and clean interface. The following screenshot shows you the update dialog box where again the blue line progress bar is presented. This small change make the user experience different from the old Ambiance theme…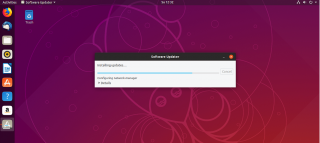 Click on picture for better Resolution
There are some visual aspects that we do not like in this new theme. More specifically, when you need to elevate rights, you are prompted with the following visual login dialog box. The light grey background to us is not as appealing as the one used in Ubuntu 18.04. The dark grey background for the elevation box and the power off options provides a more sexy feeling. The light grey background reminds us old visual styling and credential boxes used in previous version of Ubuntu.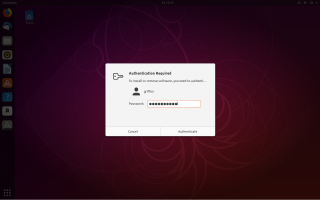 Click on picture for better Resolution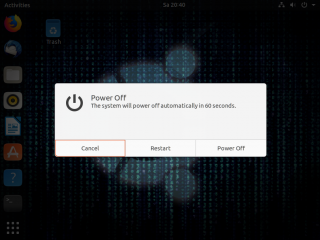 Click on picture for better Resolution
Manual installation of xRDP software
This screenshot shows that we are using Ubuntu 18.10 beta version. This is based on the description field where development branch is mentioned. So, we have decided to quickly perform a manual xrdp installation and see if the behavior is the same as in the previous version of Ubuntu.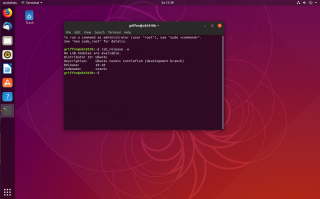 Click on picture for better Resolution
In this screenshot, we can see that the installation process for xRDP is exactly the same as the previous version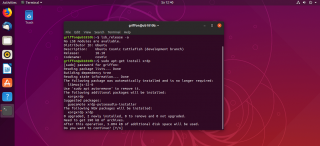 Click on picture for better Resolution
After successful installation of xRDP, we can check which version is currently in used in this version. xRDP package version in Ubuntu 18.10 is 0.9.6 while Ubuntu 18.04 provides version 0.9.5
Click on picture for better Resolution
To quickly check the behavior of xrdp in ubuntu 18.10, we have made a quick remote desktop connection to it. So, as in previous versions, a user cannot be logged on at the same time locally on Ubuntu and perform a remote connection. The connection will be dropped automatically. Based on the screenshot below, we can see that a default installation does not configure the polkit exceptions, that the theme is not set correctly within the remote session and that the dock bar is not present either.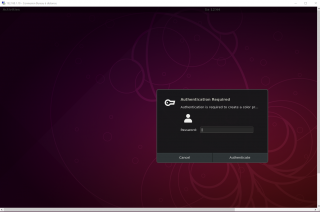 Click on picture for better Resolution
All these small issues are known and for some time now, we have provided a small script to perform xRDP installation and overcome each of these small issues. Obviously, a new version of the script needs to be released in order to provide support to Ubuntu 18.04 and Ubuntu 18.10. The script might be available some weeks after the final release of Ubuntu 18.10. We have already detected a number of changes that needs to be incorporated in the Std-Install-Xrdp script…… But this will come later
Background Login Page Modifications
In the past, we have provided a small script that could be used to customize the background image displayed on the login screen. The script is really basic but offer a convenient way to customize the picture with something more appealing (script can be found here). The current version of the script has obviously some limitations. It can be run only once and is not working on Ubuntu 18.10. This is expected as a new theme and a new login screen is available in this version. This means that a new version of the script is needed in order to "automate" the login screen customization action. As shown in the screenshot below, changing the background image is still possible in Ubuntu 18.10 but the approach needs to be updated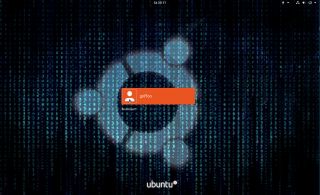 Click on picture for better Resolution
If time permit, we might develop a new version of the script that will provide support to Ubuntu 17.10 up to Ubuntu 18.10. Another option would be to use an existing utility that could perform the same operation through a GUI interface. We will need to check if the utility is supported on Ubuntu 18.10 and if such operation can be performed…
Final Notes
All in all, the small changes made in Ubuntu 18.10 makes this release interesting but no more. The changes from Ubuntu 17.10 to Ubuntu 18.04 were major changes (new desktop, new login manager, new dock bar,….). This interim release is improving an already rock solid operating system and it's probably preparing the way through the next LTS release due in 2020. Look n feel and visual aspects has been improved and offer a modern look to Ubuntu.
If you are running Ubuntu 18.04 (or previous supported versions) in production already, you can decide to stick to it or move to Ubuntu 18.10. However, do not forget that Ubuntu 18.10 will be supported for only 9 months. This means that after that, you will need to upgrade to the next interim release (as a rollback to Ubuntu 18.04 might not be realistic). So, if you are moving the new release, be aware that you will need to stick to the Ubuntu release cycle till Ubuntu 20.04 LTS release…This could be challenging for some organizations.
This is it for this post ! However, we are already working on the next post about xRDP and Ubuntu 18.10. Indeed, we will need to update the existing scripts in order to include support for Ubuntu 18.10.
Till next time
See ya