Hello World,
What a journey for the team behind Ubuntu 18.04…. This release has been a lot o challenges before reaching the public and being made available. Canonical must have had a really hard time with this Ubuntu release as multiple problems/challenge came along the way. As far as I can remember, I've never seen such a journey for an Ubuntu Release…
Let's recap the facts…
Major Issues that might have delayed this release…
Memory Leak in Gnome Desktop
The first challenge was related to the gnome memory leak bug that was discovered and talked about around internet. A lot of people would have been hesitant to move to the LTS release if such a bug would be still available. Canonical and Gnome team have made a really good job there. Ubuntu asked volunteers to test and validate the patches developed by the Gnome team in order to ensure that the memory leak could be fixed for the release date. One or two day before the release, some web sites announced that the bug was fixed and that the root cause was discovered. It was actually not really a memory leak but more about the way gnome was handling objects deletion where the deletion was not properly releasing the memory.. (You can find more technical details on this location
Bug in live session discovered just before release data
With this one, Canonical almost missed the release date for Ubuntu 18.04. On April 26, 2018, plenty of blogs and news web site had already published the information that the Ubuntu 18.04 LTS was arrived and ready for download. People going the the download page discovered that the download was actually not available and that Ubuntu put a disclaimer that Ubuntu 18.04 was not ready for production
Just before releasing time, a bug has been discovered and Ubuntu developers team has beat the clock to still make Ubuntu available on time…..
So, Ubuntu 18.04 LTS has finally arrived…
To install or not to install ?
We have downloaded the freshly made available Ubuntu 18.04 iso image and installed it as a virtual machine to start testing and validating this new release. Based on customer feedback and our management, so far, there will be no Ubuntu 18.04 deployed in production in the coming days/weeks. In corporate organizations, people prefer to wait a little bit before deploying new stuff. As Ubuntu 18.04 has been meeting some noticeable challenges which have been relayed extensively on the web and press, organizations are not yet confident that this release is ready for prime time. Some new bugs or issues might still popup in the coming weeks and it would be indeed a wise approach to let enthusiast Ubuntu users to find them….
The other factor that could delay deployment of Ubuntu 18.04 is the transition from Unity to Gnome Desktop. Ubuntu 16.04 is an LTS release and will be supported over the coming years. Ubuntu 16.04 is shipping with Unity Desktop and users usually does not like changes. Some organizations are really happy with this release and they do not need to train their users about new GDM login and new gnome desktop interface.
Some companies might still perform the move to Ubuntu 18.04 but will install (or switch back to Unity if system is upgraded) Unity Desktop interface. In our company, we are using Ubuntu 16.04 and we will be waiting for the next release update point to see if we would move forward or not. The action plan would be probably upgrade the system to Ubuntu 18.04 and move to the Gnome Desktop interface… Unity Desktop will be a thing from the past and it's time to move forward….
Meet the new Welcome to Ubuntu Wizard
Welcome to Ubuntu Wizard….
We have performed a quick installation of the new Ubuntu 18.04 LTS . The setup installation is similar to previous versions. Since Ubuntu 17.10, Ubuntu is based on GDM Login display server and when your system has booted, you should see the familiar Gnome Login page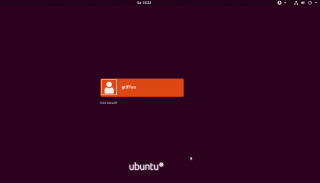 click on Picture for better resolution
However, because of the move from Unity to Gnome Desktop, there is a new Welcome to Ubuntu wizard that start the first time you login… As you can see in the screenshot below, the Welcome to Ubuntu Wizard already notifies the users that changes have been introduced.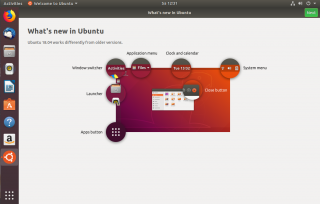 click on Picture for better resolution
If you press next, you will be presented a page about the Live Patch service. Live Patch features offers the possibility to apply updates on your Ubuntu with no need to restart the compute ensuring high availability of the machine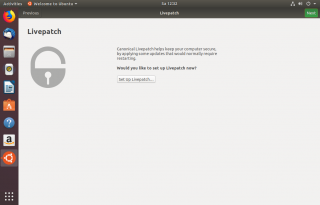 click on Picture for better resolution
If you click on the Setup Live Patch button, you will be prompted for a user account. Actually, to use this service, you need to have a Ubuntu One Account.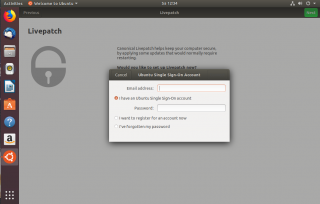 click on Picture for better resolution
The other limitation of the GUI for Live patching is that Ubuntu would allow this feature for maximum 3 computers for free. If you need more or if you are interested in this feature, you will need to subscribe to some paid services. This feature can be really useful for servers where high availability is needed. On the desktop side, this might be less important….
If you press next, you will arrive to the page where Canonical is actually asking you if they can collect some data on your computer. The choice is entirely up to you… You can decline the offer, you can see a first report and decide if you want to continue sharing data with Canonical or not….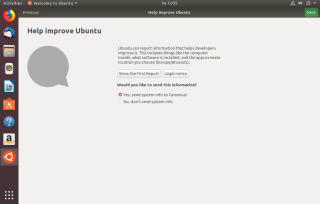 click on Picture for better resolution
The final page of the Wizard brings you to a page displaying some of the additional software that can be installed via the Software Center.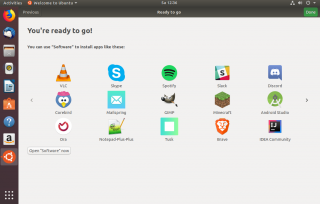 click on Picture for better resolution
After closing the Wizard, the new desktop wallpaper for this release (Bionic Beaver) and you can start using and customizing your new Ubuntu machine….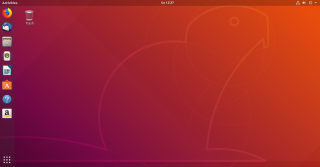 click on Picture for better resolution
Final Notes
This is it for this post ! At this stage, we have a ready to use Ubuntu 18.04 machine and we can start our testing and validation activities. The next post to be release pretty soon will be about xRDP. xRDP provide remote desktop connection capabilities and we will need to check that this new release of Ubuntu is still supporting xRDP software solution. We are not expecting tremendous changes since Ubuntu 17.10. So, we can assume that the procedures, installation guide and the scripts made available in the past should be still working…
So, Stay tuned for more info on Ubuntu 18.04…
Till next time
See ya