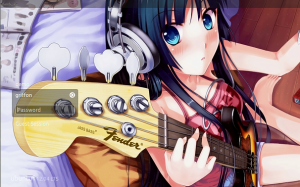 Hello World,
As you probably know, Ubuntu 12.04 has been released on April 26, 2012. I've decided to install this version of some of my computer at home. I have to admit that I'm quite impressed by the quality of this version. Ubuntu Team is making a great job in making Linux user friendly.
Before we begin…
One of the first thing I like to do with new Operating system is customizing the login screen. This allow me to personalize my own computer or to provide a corporate identity within a company network when working for some customers (yes; some companies are using linux in their corporate LAN infrastructure).
Now; I have to say that Ubuntu 12.04 allow you to implement this change in the most easiest way…I was really pleasantly surprised. The other good surprise I had is that with this version I've been able to install it without any problems on an laptop where the Graphic card was not recognized correctly with the previous versions….
On the other hand, It came to me as a surprise that this version would not install on computers that does not support PAE (Physical Address Extension) feature. By default, a 32-bit CPU can see only 4 GB of memory. Using PAE, you can overcome this limitation. This means that if you have quite old hardware, you will not be able to install ubuntu12.04 on it….well not without some workarounds….see here)
Getting Started….
First, you have to install the latest version of ubuntu. You can download the version 12.04 here. The Installation process is really similar to the one we have described in this post. We assume that you have a machine that as PAE feature available so you should be able to perform the installation without problems.
Changing the login background image automatically….
If you have a recent hardware and you have installed the Ubuntu 12.04 on it. You are almost ready to proceed. Normally, you do not need to download and install any additional software to change the background image on the login screen… Guess What ? The change is done automatically as soon as you change the desktop background image…. This is so cool….
Have a look at this video……
Update : Additional information
Something I didn't explained…. If you share you computer with other users, these users can set their own desktop background image as well. If this is the case, you will not have anymore a single background login image but multiple. When you select the user account that needs to log into your machine, you will see the background this specifically user has chosen.
No Panic – There are some workarounds in order to force a single login background image….This would be for the next post….(and it's almost ready)
Final Notes
Some time ago, I was complaining about the fact that Linux was not providing any sexy desktop solutions. Nowadays, you have to admit that the Linux community is effectively providing nice desktop interface. You can choose your favorite flavor with Ubuntu : Unity, Gnome Shell and you can even install the LinuxMint gnome version called cinnamon… Plus, customizing your linux is becoming a breeze
Till next time
See ya