Hello World,
Today, we will provide a short post about Ubuntu and upgrade notification popup box. In one of our previous posts, we have already mentioned that we were waiting for the upgrade notification message to upgrade our Ubuntu 18.04 machines. While working and patching our Ubuntu machines, we finally received the long awaited notification message.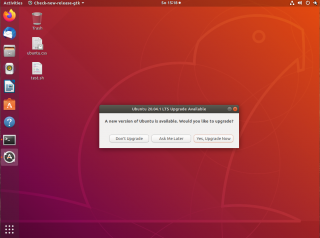 Click Picture for better Resolution
Upgrade Notification is here !
Overview
Finally, the upgrade to update 20.04 notification message is displayed to users running previous versions of Ubuntu (i.e. 18.04) and you can decide to upgrade it right away and benefit from the latest features of Ubuntu 20.04.1. The upgrade notification for Ubuntu 20.04 has been delayed more than previous versions. This delay was intended apparently to ensure that the upgrade would be super solid and reliable.
Now, if you check on a regular base for updates on your Ubuntu 18.04, you should either see the upgrade message (as shown above) or after completing your routine updates, you will be informed that a new version is available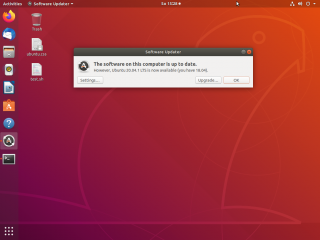 Click Picture for better Resolution
This notification popup is important in corporate environment as this would means that Ubuntu 20.04.1 is really ready for prime time and that the upgrade will be supported "officially" by Canonical.
Upgrading or re-install ?

As each organization and/or individuals are different, you have multiple choices in order to move to Ubuntu 20.04.1. A lot of people would prefer to re-install from scratch the operating system. On the other hand, for some organizations, this would mean massive reconfiguration and re-installation of software. Thus, upgrade approach is probably a really valid option and actually used quite often out there.
If you go for the upgrade process, please note that the process is not fully unattended. Time to time, the upgrade wizard might display some popups where the user has to mentioned its choice…
Known issues ?

On most of the machines where we have performed the upgrade, we have not encountered any issues. On some Ubuntu 18.04 machines, we have noticed that the message notification is displayed but when clicking on the upgrade button, nothing was happening. The message dialog box will simply disappear and nothing would happen. To fix this issue, we have run the following command
sudo apt-get update && sudo apt-get upgrade
After running this command, the message box was again displayed and when clicking the upgrade button, the process finally started…..
Final Notes
Voila ! This is it for this post !
You can now officially upgrade from Ubuntu 18.04.x to Ubuntu 20.04.x as the upgrade notification popup is finally here ! So, if you are still running Ubuntu 18.04.x, you will probably see the upgrade notification popup. It's up to you to decide if you want to upgrade or not your current operating system. We have decided to move to Ubuntu 20.04 because of the new features available via the gnome Desktop. We really like the new GDM login process and lock screen improvements…
Till next time
See ya