Hello World,
In this recent post, we have seen how to perform a standard installation of Ubuntu 12.10 (beta version).  We have seen that the installation process didn't change from the previous version. The Setup wizard is really easy to use and quite straight forward.
Ubuntu 12.10 comes with nice little improvements such as the Unity Preview and the Unity WebApp preview.   Because I'm using the beta version, these features are not available yet by default when performing the installation. These features will be available by default in the final version
Note : Do not use this on production system. The beta version are considered still unstable.
Installing the Unity Preview
The final release will be available on October 18th, 2012. However, I couldn't resist to already try and test these new features.  I was really interested in the Unity Preview.  Ubuntu team is really doing a great job on the look'n feel. This should attract more users.  This new feature let me guess (and I hope to see it quite soon) that Ubuntu is becoming tablet ready.
In order to install and play with the unity preview, you will need to install some additional packages from "non-stable" ubuntu repositories. The process is relatively simple. We will be using the command line to perform the installation of the package.  Let's go !
First, you will need to add the repository source  that contains the Unity Preview package. To perform this operation, you simply type the following command :
sudo add-apt-repository ppa:unity-team/staging
As shown on the screenshot, you will prompted for a password. Type in your password.

Click on picture for better resolution
During the process, you get prompted if you want to proceed with the addition. Press Enter.

Click on picture for better resolution
At this stage, you can start updating your system by issuing the two following commands

Click on picture for better resolution
 and then

Click on picture for better resolution
The final step in the process is to reboot your system in order to have the changed applied. When the system is restarted, you can start using the unity previews from the Dash. To see the preview, you simply right-click on an icon presented in the Dash.  For illustration purposes, you can see that I've checked the Music Folder  and the chromium web browser previews.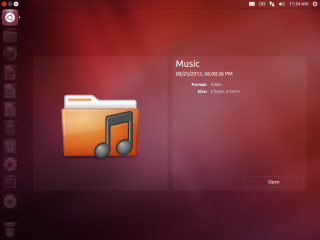 Click on picture for better resolution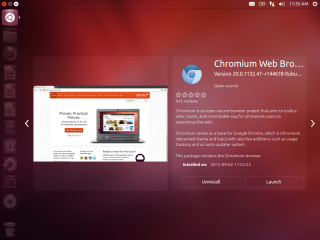 Click on picture for better resolution
From a preview, you can perform different actions (depending which element you are previewing). From a preview, you can open a folder, launch an application, add an application, uninstall applications,get more information…
Installing the Unity WebApp
Another feature that has been introduced in Ubuntu 12.10 is the Unity Webapp.  This feature will provide a stronger integration of web applications and web sites into the unity interface. Note that only a few web site (33 I think) can be converted into a unity webapp application.  This means that you will be able to use feature such as app menu, HUD, messaging menu, sound menu… to interact with these applications and with no need to use the browser.
To install this feature, you will again need to add a non-stable repository source and perform the installation of the required packages.  To perform this, you will first issue the following command
sudo add-apt-repository ppa:webapps/preview
sudo apt-get update
sudo apt-get install unity-webapps-preview 
Do not forget to logoff/logon or simply reboot your machine
I was not able to add webapps from firefox. I was only able to add the apps from chromium web browser (and not for all the applications).  Applications/websites such as facebook, twitter, youtube,gmail, cnn, bcc,.. can be converted into a webapp for Ubuntu.
I didn't play much with this feature yet.  The concept seems interesting. I might come back to you with more information and testing about this feature…
Final Notes
Ubuntu 12.10 is at the corner of the street and it seems that the coming release will provide again a more pleasent user experience.  I hope that these new feature will attract more users to Ubuntu.  Since release 10.xx, Ubuntu is really taking advantage of the integration between the desktop and the Web in a transparent way for the users.
The only thing missing now is a Ubuntu based tablet.
Till next time
See ya