Hello World,
As you are probably aware, Canonical has released its short term release (STR) version Ubuntu 23.10, codename Lunar Lobster, on April 20, 2023.
This release does not seems to bring major changes. Ubuntu 23.04 is still introducing some changes such as the latest Gnome Shell, a new installer that bring a new and refreshing experience and the standard latest version of the software. Canonical is also moving forward with their Snap technology. The Snap solution is becoming more and more omnipresent and all Ubuntu flavors now ship with Snap by default (and does not or cannot) ship with alternatives like Flatpak.
Since a lot of people wrote already a lot about Ubuntu 23.04 features, we will try not to repeat this information. We have seen a lot of posts relaying this information and a lot of posts describing all the new things that Ubuntu 23.04 brings. However, we have not seen a lot of people or posts mentioning a series of problems that affect this release.
In this post, we will describe some of the issues we have encountered and that final release of Ubuntu 23.04 seems to still be affected by the problems. So, let's go !
Overview
Ubuntu 23.04 has been released in April 20, 2023 and it's time for us to check what's has changed and how these changes might affect our famous xrdp-installer script. Indeed, each time a new Ubuntu release is out, we are trying to update our xrdp-installer script to include support for the new release but we also test and validate the script to ensure that the new version does not break the installation process. Ubuntu 23.04, being a STR (short term release), we are not expecting major changes that would prevent the xrdp-installer script to run and allow you to perform remote desktop connections.
However, Ubuntu 23.04 seems to be affected by a number of issues/bugs that are still not resolved which has prevent us to release in time the next version of our xrdp-installer script.
Detected Issues in Ubuntu 23.04
Ubuntu 23.04 has been affected by a number of issues & bugs that we have reported. Some of these issues have been solved, some seems to still be present even in the final release of Ubuntu 23.04. The problem seems to be specific to virtualization software. Indeed, when installing Ubuntu 23.04 as a virtual machine, a number of issues showed up. On the other hand, deploying this release on the physical machine seems to work as expected.
New Installer fails (fixed)
In a previous post (Ubuntu – Cannot Install Ubuntu 23.04 Daily Build – Possible Bug), we have described a detected bug. Using the Ubuntu 23.04 beta version, it was not possible to perform a successful installation of Ubuntu within a virtual machine. We had the issue when using MS Hyper-V and ESXI hypervisor solution. We have reported the bug and since then, the installation problem seems to be fixed. Indeed, we have been able to perform the installation till the end with no more errors.
No access to the GUI (issue still ongoing)
Installing Ubuntu 23.04 on a virtual machine (Hyper-v) will go through the new installer and will ask you to reboot. However, when the machine has rebooted, you will notice that you will not be able to use the mouse and you will have no way to login to the machine via the GUI. If you reboot again the machine, you might get lucky as we are and you will see that the mouse is made available and you can start the login process via the Gnome Login manager page.
However, as soon as you logged on, the Desktop GUI will freeze and you will not be able to use your Ubuntu 23.04. You might see multiple symptoms. Either you have no Dock bar available and you see a black line at the bottom of the screen. Time to time, we had the Dock bar loaded but the same black line at the bottom. The mouse is not responsive and there is no way to work with the operating system.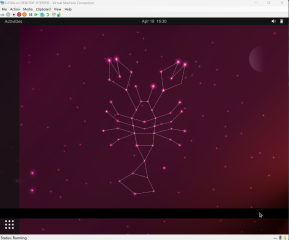 Click on picture for better Resolution
This is kind of a problem since a lot of infrastructure where we are working are using Virtualization software. At this stage, Ubuntu 23.04 seems not to be an option for these environments. We had issues with Hyper-v as well as esxi software solution. The fact that Ubuntu 23.04 is a STR release kind of minimize the issue but it would have been better to fix the issue before releasing a final version of the operating system.
New Stuff in Ubuntu 23.04 !
New Installer looks nice
The most visible new feature is the new flutter installer which bring some nice refinement to the operating system. Finally, after waiting for quite a few months, this new installer is available and look really nice. The new installer keeps the same installation experience (same information to be provided) but the visual aspect is really nice and make the operating system shine.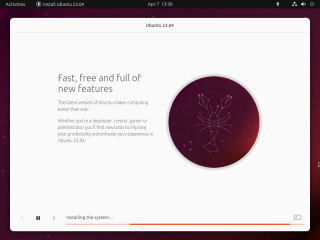 Click on picture for better Resolution
As mentioned in our previous post, the only thing that seems to miss is the repair option.
Gnome 44, Quick Toggle, system settings, nautilus,…. refinenemts
Nowadays, Ubuntu distribution released are mainly integrating and tweaking Gnome Shell Desktop and updates the software made available. Since Canonical has moved to Gnome Shell Desktop, Ubuntu is benefiting of the new features shipping with Gnome shell. This is again the case for Ubuntu 23.04. We have the latest version of Gnome Shell (i.e. version 44). This version is quite smooth and integrate some small refinements like new feature in Nautilus, small refinement in the Quick Toogle, some improved pages in the system settings…
Since we have not been able to install Ubuntu 23.04 in our virtual infrastructure, we have not really checked all these refinements.
PipeWire is default (an will stay)
Ubuntu 23.04 ships like Ubuntu 22.10 is shipping with Pipewire Sound server. We can expect that the next LTS release (Ubuntu 24.04) will ship with this new kid in town. We have been working with PipeWire in Ubuntu 22.10 and we have to say that indeed we have seen some improvements in the way the software handle bluetooth devices.
xRDP is using PulseAudio package in order to provide sound redirection capability. xRDP does not seems to support Pipewire yet and at this stage the team behind the xrdp software is not really working on updating their software to support PulseAudio. However, some discussions have started and maybe they might provides some more information about their decisions and a a possible roadmap….
Snap Packages & Performance
Canonical is slowing increasing the presence of Snap packages within their Operating System. In some previous releases, we have seen that the Snap technology was creating some performance issues (i.e. firefox) and we hope that the Snap technology and Snap packages has been improved. All Ubuntu flavors now needs to ship with Snap software solution by default. Ubuntu distributions that used to ship with Flatpak for example have replaced it with Snap Technology. However, you can still manually install and enable your favorite package software solution.
Free Ubuntu Pro Support
Ubuntu 23.04 still include the option to subscribe to Ubuntu Pro. The Ubuntu Pro offering basically allow anyone to obtain security patches for Ubuntu release up to 10 years. This offering is available starting from Ubuntu 16.04 and above. The offering also covers only Ubuntu LTS version obviously. Ubuntu Pro, the extended security maintenance compliance subscription, will be free for everyone up to five machines.
Ubuntu 23.04 & GDM Login Screen Changer script
We have released a small script in the past that enable you to change the login script background look's feel of your Ubuntu machine. The latest version of the script (3.4) seems to work against Ubuntu 22.10 release. The script needs to be updated in order to include Ubuntu 23.04 support. Since we had some issues testing Ubuntu 23.04 in our Virtual infrastructure, we had no chances to look and test the GDM script utility.
As mentioned in a previous post, the script might become deprecated in the future since
there seems to be an effort to create a gnome apps that would perform Gnome Desktop customization, including the change of the background image at the login screen…
There are number of other scripts available on internet that have been developed to allow you to change background image at Login screen
We might release a new version in the coming weeks…
Ubuntu 23.04 & xRDP software
Ubuntu 23.10 is shipping with xRDP package version 0.9.21.1 (one of the latest available from the xRDP Team). As a reminder, xRDP package is a software that allow users to perform remote desktop connection to Linux machine using RDP protocol.

click on picture for better resolution
We are publishing and releasing on regular basis a script (latest version of the script available at https://www.c-nergy.be/products.html) that ease the installation of the xRDP package on Ubuntu machines and perform post-configuration actions that ensure that the look'n feel look really similar while remotely connected to your Ubuntu machine. Each time a new Ubuntu release is published, we are spending quite some time in updating the script and ensuring that the new release is not breaking the installation nor impact the functionalities.
We are still working in updating the xrdp-installer script to make it work with Ubuntu 23.04. The next version of the xrdp-installer script will be more a maintenance release that will include support for Ubuntu 23.04. Since Ubuntu 23.04 is using Pipewire, sound redirection through xrdp session will not work on Ubuntu 23.04. Indeed, remember that xrdp packages are expecting as sound server PulseAudio and not Pipewire.
We will try to release the new release in the coming weeks… this maintenance release.
A little bit later, we will try to update the script and include support for the PipeWire Sound server and xRDP…
Should you Upgrade ?
This is up to you and should be based on your infrastructure and based on your own assessment. In Enterprise infrastructure, we have seen that Ubuntu 20.04 is still the most important OS deployed. Ubuntu 22.04 didn't got the expected momentum (due to probably firefox issue). The other consideration before moving to new release is application support. If your infrastructure is heavily relying on Virtualization technology, we would recommend you to first perform some tests and see if the Ubuntu 23.04 release is useable or not…
If you want to deploy Ubuntu 23.04, remember that this is a short term release (9 months support) which means that you will need to update to the next release (kind of a rolling release). We will probably install one or two Ubuntu 22.10 in our network but nowadays I have to say that LTS releases is our focus mainly because of application compatibility and support….
Final Notes
This is it for this post !
Ubuntu 23.04 has been released on April 20, 2023 which does not bring really impressive improvements and features but brings really nice refinement and improvements. However, this release is still showing some issues when trying to deploy Ubuntu 23.04 inside a virtual machine (Hyper-V). At this stage, (and because of this issue), we will not invest a lot of time in this release. In the coming weeks, we will provide a maintenance release of the xrdp-installer script to include support Ubuntu 23.04.
Stay tuned
Till next time
See ya