Hello World,
It has been some times since we didn't published some posts on this wonderful blog ! As you can imagine, it's because we have been working quite intensively in a really difficult project. The complexity was partially technical and mostly political. It's always difficult to achieve the target goal when different entities goes different directions. But enough speaking about work ! Time to see the topic of the day.
Actually, this post will be quite short and straight forward. As Ubuntu 18.04 is about to be released in April 2018 (so quite soon), information about what to expect started to popping up in the news and different technical blogs. Going through all these information and announcements, Ubuntu 18.04 might become a really exciting release after all. We have already performed an installation of Ubuntu 18.04 alpha 2 and indeed this release seems promising…
So, let's see what could we expect from this new release ?
Ubuntu 18.04 LTS
Ubuntu 18.04 will be the next long term support release which means that Canonical will provide support for this release for the next 5 years. Ubuntu 16.10,17.04 and 17.10 are standard releases and are covered by a 9 months support approach.
Picture from : https://www.ubuntu.com/info/release-end-of-life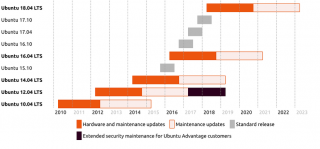 Click on Picture for Better Resolution
Compared to the previous LTS release (i.e. Ubuntu 16.04), Ubuntu 18.04 is bringing a lot of changes even do the look n feel is being maintained in order to ease the transition between Ubuntu 16.04 and Ubuntu 18.04. There are some many news and info about the new Ubuntu 18.04 that will definitely attracted user attention. In our company we are using Ubuntu 16.04 and because we think that there is a bunch of features and settings that has improved with time, we will be definitely upgrade our current base install to Ubuntu 18.04.
Unity vs Gnome Desktop
Ubuntu 16.04 LTS is using Unity as default Desktop environment and Ubuntu 18.04 is shipping with the Gnome Desktop environment. If you have been playing around with Ubuntu 17.10, you can have already a good idea of what to expect in Ubuntu 18.04. Canonical has made a good job in order to ease the transition from Unity to Gnome Desktop interface even if they are definitely not the same. Canonical has developed a custom dock for Gnome that provide a similar look'n feel to the Ubuntu 17.10 and later Desktop interfaces.
Unity Desktop on Ubuntu 16.04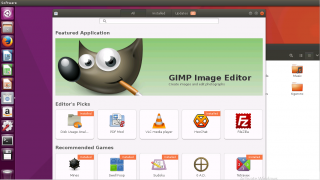 Click on picture for better Resolution
Gnome Desktop on Ubuntu 18.04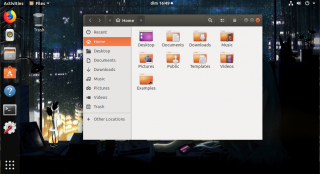 Click on picture for better Resolution
The switch of Desktop interface brings some questions from users and customers. What will happen if Ubuntu 16.04 is upgraded to Ubuntu 18.04 ? Is the Unity Desktop will be still available or Gnome Desktop will be set as default ? The last information we had was that the Unity interface would be available for users performing the upgrade but after the upgrade the user will need to manually choose the Unity Desktop option at the login page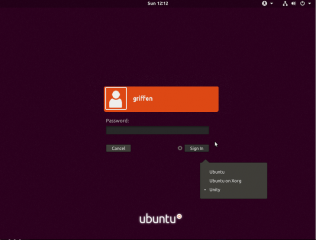 Click on picture for better Resolution
Xorg is back as Default Display Manager
In Ubuntu 17.10, Wayland was the default Display manager. However, in Ubuntu 18.04, Xorg will be the default display manager. We have been working with both of them and we didn't encountered many issues. However, it's true that Xorg is compatible with more applications and because Ubuntu 18.04 is a LTS release, it make sense to keep it as default. The Wayland option would be still available but not set as default.
It's a good news that Ubuntu 18.04 is going back to Xorg as a default. If you are following us since a long time, you would know that we like to write about xRDP or VNC Software solutions. xRDP is basically a remote desktop connection solution for linux which allow a windows (or linux user) to perform a remote connection to a Linux machine. xRDP is basically an Xorg application. The fact that canonical is moving back to Xorg will ensure that the xRDP software and solution can be used in the coming years to remotely connect to Ubuntu machines…
xRDP version
Ubuntu 16.04 still ship with an older version of the xRDP package which has limited capabilities (version 0-6.x). Ubuntu 17.10 ships with the version xRDP 0.9.1-x. Ubuntu 18.04 is shipping the latest official version of xRDP package i.e. 0.9.5. Latest xRDP version seems to be the most stable version by far and provide features such as drive redirection, clipboard and dedicated xorgxrdp backend component which replaces the need for a VNC server software. The latest version also support the latest desktop environment. xRDP version 0.9.5 is capable of connection to your remote Linux machine and connect to your Unity Desktop or gnome 3 desktop or any other desktop with minimal to no configuration tweaks.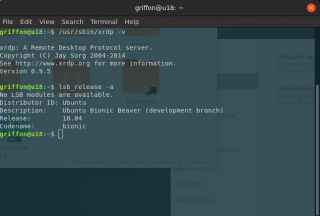 Click on Picture for Better Resolution
New Theme Expected ?
Ubuntu has shipped the ambiance theme for some time now and Canonical is looking to refresh the default theme used by Ubuntu 18.04 in order to bring a more modern look'n feel. A survey has been made and a community theme has been made available already. This theme is based on the Adwaita theme and is also using known icon set (I think it's Suru icon pack). I think that this is a welcome change and a new theme with a more modern interface would be beneficial and might attract even more users to Ubuntu. Note that, if you do not like the new default theme, you can always install another alternate theme that you might like. Multiple ready to use themes are available to install on top of your Gnome Desktop Interface.
Current Default Ubuntu Theme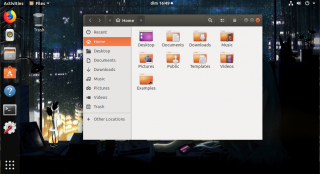 Click on Picture for Better Resolution
Community New Ubuntu Theme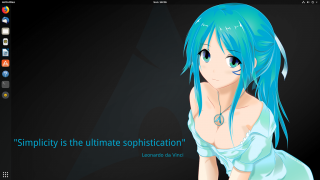 Click on picture for better Resolution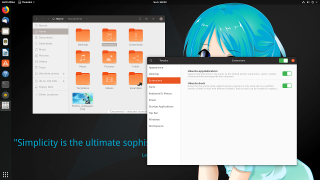 Click on Picture for Better Resolution
Minimal Setup Option
Apparently, an additional option would be available during the setup of Ubuntu called minimal setup. As the name implies, the minimal setup option will perform an installation with a minimum number of packages and software. This option would speed up the installation process and might provide users the option to install their favorites packages instead of removing the default packages of Ubuntu distro and install their favorites one. The Ubuntu 18.04 alpha 2 was not including this option yet so we were not able to check this option and see if there is a real added value to this option.
Snaps Apps pre-installed ?
Ubuntu and Canonical are pushing this new software packaging solution called Snaps. Snaps is basically a new way to ship software packages and distribute them. The advantage of such technology is that you only need one snap package to have a working installation and can be used across different linux versions. Snap is developped by Ubuntu but similar technologies also exist in Linux world. Flatpak or Appimage exists and try to reach exactly the same purpose
We never really worked with Snaps application so we do not know if this is a positive thing or not. Based on some readings, Snaps is a move to the right direction but it seems that this technology has some drawbacks (size of the package, bad integration with the Desktop, security issues under Xorg,…)
At the moment of writing, it's still not clear if snaps pre-installed application would be available on Ubuntu 18.04 or this would be a use choice. We hope that Canonical will decide to not push for Snaps and let the user choose about which applications format to use. The final decision will be known when Ubuntu 18.04 will be released, I guess :-/
Canonical to collect Data
Canonical is willing to collect more data about Ubuntu usage and might touch the privacy sphere. In previous Ubuntu version, privacy issues and concerns were already raised. Apparently, Canonical has learned from this experience. Users will be able to turn on or off this option. So, as a user, you will be able to decide if you want to send some information of your system to Canonical.
Some people says that Windows is already doing this, that social networks are collecting more and more information about us,so why Canonical wouldn't do that ? Honestly, I do not know what to think about this. As long as the information collected are really limited to system information and that users can check the collected data, it should be ok. On the other hand, I do not like that nowadays, every company needs to collect some sort of information from your computer. Plus, I'm not sure what Canonical can deduct from collecting basic information of a computer….
Final Notes
This is it for this post ! As mentioned, Ubuntu 18.04 seems to be a really interesting release. The release seems rock solid and stable. After the shock of discontinued Unity Interface, the gnome desktop seems to be a usable desktop which look modern and this could attract even more users. One thing we would like to see in the coming releases is to have a GUI installer on the Server Edition. The current installer is working good but as Canonical/Ubuntu is trying to become a more sexy distribution, adding a GUI Installer on the Server Edition would be a interesting move. After all, Windows server also provide a GUI Interface to perform the installation….
In the coming weeks, we will be again busy for two three weeks on another heavy project. We will published some "old" posts related to SCOM software and we are preparing some posts about Ubuntu 18.04 and xRDP.
Till next time
See ya