Recently, I've received a request to provide some additional information about VLAN configuration and ProxMox VE.  Because I have a limited hardware here and because I'm currently travelling, I'll try to provide with this post a basic configuration walkthrough. The scenario hasn't been fully tested but this should be working.
This post will be a little bit fussy because it's really a kind of "quick and dirty post"
Note : In this post, we do not cover the configuration of your switch. The switch should support Vland and you might need to create Trunks as well
So,…Let's start….
The Scenario
The following drawing provides a quick overview of the infrastructure that will be used to perform our tests.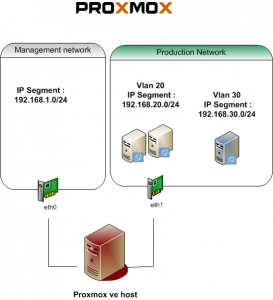 Click to enlarge picture
In our scenario, we will have to configure a ProxMox VE host equipped with 2 network Cards (eth0 and eth1).  One of the network card will be dedicated to the the "management network".  The management network will be simply the network where the Proxmox VE Host will be located.
The remaining network card will be dedicated to the virtual machines traffic (see drawing above). We will call this network "Production network". The production network will be configured with 2 different VLANs (Vlan 20 and Vlan 30). We will be using the following ip scheme for this example.
Management network : 192.168.1.0/24
VLAN 20 network: 192.168.20.0/24
VLAN 30 network : 192.168.30.0/24
Initial Setup
As a first step, you will simply perform the installation of your Proxmox VE as usual.  You can use the following links to perform the initial setup of your Proxmox VE
After your initial configuration, Go to the system Configuration (in the left menu, click system).  You should see something similar to the following screenshot below.  This is basically how your network interfaces have been configured so far by the Proxmox Ve setup.

Click to enlarge picture
If you have some experience with Proxmox Ve, you know that one of the network card will be used to create the network bridge (vmbr0). The network brige can be compared to the "virtual switch" concept that's used by VMware Products.   We will not change this configuration.  We assume that the IP address you have set for your proxmox ve host is located in the Management network Lan.
Because your system has an additional network interface, this one is listed as well in the system configuration>network page.   At this stage, this network card has no IP address and is not really used by the Proxmox VE host.
Network Bridges & Vlans
It's time to create 2 additional network bridges that will be used to split the network traffic between the VLAN's.  You can create the VLAN's and the network bridges through the Web Interface. You have to know that ProxMox VE (and Linux) uses a specific notation on the network interface when implementing VLAN's.  In our example, we need to create 2 Vlans (Vlan 20 and Vlan 30) that will be attached to the network interface eth1. To indicate the Proxmox Ve host  that we will be using VLAN's we will need to use the following notation
eth1.20 (on the ethernet device1, we will be using Vlan 20)

eth1.30 (on the ethernet device2, we will be using VLAN 30)
Let's create the network bride vmbr20 (used to connect to VLAN 20).
In the web interface, click on system link in the left menu.  You will land in the system configuration page > network Settings. Clikc on the arrow next to the Inteface Configuration section and from the drop down menu select "Create Bridge Devices" (see screenshot below)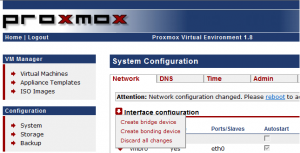 Click to enlarge picture
In the "Create Bridge Device" page, in the Bridge name, you can type a representative name. In our example, we will be using vmbr20.
Do not put any ip addresses.
Finally, in the bridge ports, enter the ethernet interface that will be connected to the network bridge.  In our case, because we are implementing Vlan 20, we will insert the information eth1.20

Click to enlarge picture
To create your VLAN 30, you will perform the same operation as above but you will enter the following information
bridge name : vmbr30

IP address : none (or 0.0.0.0)

bridge ports : eth1.30
At the end of the configuration, you should have something like this in your System Configuration page >Interface Configuration

Click to enlarge picture
Note: after changing the vmbr configuration, you will need to reboot your proxmox ve host
Connect the VM's to the correct Vlans
In my mini test infrastructure, I have created 2 virtual machines : one will be connected to the VLAN 20 and the other to the VLAN 30.   To have a virtual machine connected to the appropriate VLAN, you simply need to ensure that the network interface of the virtual machine is connected to the correct network bride.  The following screenshots shows the configuration of my two virtual machines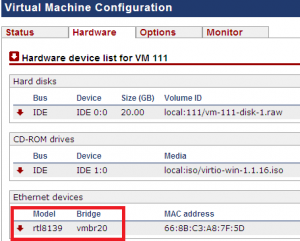 Click to enlarge picture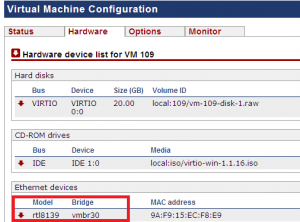 Click to enlarge picture
Test your configuration
At this stage, your ProxMox VE host configuration should be ready.  You still need to configure your switch with the VLAN information and trunking ports (if needed).  This is not the purpose of this post. If you have no switch configured, you will notice that virtual machines in VLAN 20 will not be able to ping (or connect) to virtual machines located on the VLAN 30 or even to the management network.  If you need to route traffic between vlans and you do not have a vlan capable switch, you can always create a virtual machine (with multiple networks interface) and configure it to act as a router.
If you perform some basic tests, (ping between vlans), you should have traffic passing through the different Vlans.
Final Words
I hope that this post has demonstrate how you could implement VLAN configuration with Proxmox VE. As you have seen, you can configure your Proxmox VE host to support VLAN by simply using the Web Gui Interfaces. For more advanced scenario, you might want to edit the /etc/network/interfaces file and update it accordingly. Again, I would like to outline that I didn't fully check and test this configuration because I do not have the adequate equipment right now (I'm traveling and I'm in a room hotel with basically 1 laptop…) but based on the information found in the Proxmox VE web site, this configuration should be working.
Finally, note also that if you are using a vlan capable switch you might need to configure it to have it working with your Proxmox VE Vlan configuration (creating VLAN and Port Trunking at the switch level)
Now, It's your turn to test it. (and let me know if it's working)
Till next time
See ya