Hello World,
Today, we will start a new series of post about the Remote Desktop Services in Windows 2012 R2 (RDS). A lot of people know about it or have heard about RDS. However, I have noticed that only a few people (at least in my current job assignment), knows about the changes introduced since Windows 2012.
Overview Remote Desktop Services
Remote Desktop Services (aka Terminal Services) is not a new technology or concepts. It existed already in Windows NT 4.0. However, with the spread of virtualization concepts and technologies, Microsoft has made interesting changes in its Remote desktop services solution and the way it's selling it.
Since Windows 2008 R2, Remote Desktop Services is combining 2 technologies/concepts. Remote Desktop Services (RDS) is mainly known for its presentation layer capabilities (ie. Installing applications on a Terminal Server and make them available to the users through the remote desktop connection tool). Remote desktop services is also providing VDI infrastructure solution. RDS offers the possibility to deploy virtual desktop to users.
Windows 2012 and later has been redesign to offer a more convenient way of managing your virtualization solution. In the past, to manage and control your RDS infrastructure, you needed to use multiple Management console. In windows 2012, a single console has been created for the most of the features and roles used by the Remote Desktop services.
In this post, we will provide a quick overview of what you can expect from RDS features. In the next post, we will start describing the roles services that can be deployed through your network.
Meet the new Remote Desktop Services Role !
The following illustration summarize what Remote desktop services has to offer you.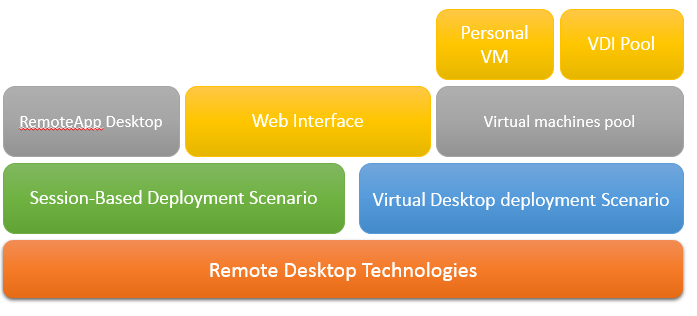 As you can see, by simply installing the RDS role on your Windows 2012 R2 server, you will have the choice from 2 deployment scenarios.
Session based deployment scenario
Virtual machine deployment scenario
Session based Deployment
You can either go for the traditional way of using Remote Desktop services (RDS) by simply enabling Terminal Services capabilities. This scenario will allow a user to either connect to full desktop session on the terminal server or you can go for a more convenient way by publishing the applications via the RemoteApp functionality. .
A RemoteApp is simply a program that has been published through the terminal services. Instead of access a full desktop, you will only access/see the published applications you have been granted access to. Access to the remote application will be performed either through a Web Interface or by pushing the applications on the user desktop through a technology called Webfeed.
Virtual Machines based Deployment
Because VDI has gain in popularity, RDS solution also offers a convenient way to connect to virtual desktops. Microsoft is not really using the term VDI to market the RDS capability. However, by combining Hyper-v technology and Remote Desktop Services Technology, Microsoft has found (at least we think) an interesting way to enter into the VDI solutions market.
Think about it ! By using only Microsoft technologies, you can quickly setup your VDI infrastructure. Main reasons for a customer to use RDS for VDI solution is that the learning curve is quite quick. Technical staff knows about Hyper-v and Remote Desktop Services.
In such scenario (see illustration above), you can create 2 types of Virtual machines scenarios. You can decide to create a pooled VDI Infrastructure or Personal Virtual Desktop. In the Personal Virtual Desktop scenario, we will assign a specific user to a specific virtual machine. In the Pooled scenario, a user will be connecting to an available Virtual desktop from the pool. Once the session is complete, the VDI will be recycled (rollback) .
Why using RDS technology ?
As we have already seen, RDS integrates VDI capabilities. If you company is looking for VDI solution, you might want to evaluate Microsoft solution and see if such solution might fit your needs. Do not forget that the RDS/Hyper-V does not come for free. You will have to foresee licensing costs in your VDI Project. You might want to review the RDS licensing pricing info before implementing it in production.
Another scenario where RDS could be used is for consolidations and centralization of some of your applications. In this scenario, we might want to centralize a bunch of applications on our new terminal server and grant access to these applications trough the rdp protocol. The advantage here is that you can consolidate your applications and you can get more easily updates your software if located on the same server or servers. You could compare the session-based deployment solution to the Mobile Application store concept (Windows Store, Google Play Market,…) where your users will be able to consume the applications your are making available.
Here again, you should take into account licensing costs for the applications you wanna publish and the RDS licensing costs. Hardware sizing and reliable network infrastructure would provide a better user experience but might add additional costs to your RDS project.
Final Notes
That's it for this post ! We are starting a new series of posts related to Remote Desktop Services Technology. The RDS covers session-based deployment as well as VDI solution. Remote Desktop services can be used to centralize either VDI or Applications and provide a more efficient way to manage your infrastructure. However, you should carefully plan and design your RDS solution and take into account additional costs you might encounter such as Licensing costs, extra hardware costs and extra costs for the network infrastructure. If your RDS solution provides reduces costs ad provide a better services to your customer, you might wanna implement such solution.
In the next post, we will start looking at the Remote Desktop Roles available in Windows 2012 R2.
Till Next Time
See ya