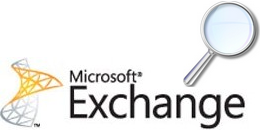 Hello World,
This will be a really short post. I'm working more and more on Exchange infrastructure.  Because of this situation, I'm facing more unexpected behaviour from Exchange 2010.  Because I'm getting older, I'll be starting documenting these behavior so I can quickly (hopefully) retrieve them and fix this issue.
The situation
I was working on Exchange 2010 through the Management console and I was trying to retrieve the result of a query I was performing.  Suddenly, I received the following error message
Active Directory operation failed on <DC Name>. Additional information: Active Directory rejected paged search cookie because a cookie handle was discarded by a Domain Controller or a different LDAP connection was used on subsequent page retrieval. Paged search needs to be restarted and will succeed.

Click on picture for better resolution
Note :
The same error would appear if I would have used the Exchange shell command 
The solution 
I was wondering what was happening. I had to google a little bit to find the solution.  The problem is not the Exchange server but it's the Domain controller it's trying to query. There is a KB (check out here)  describing a similar problem (and obviously the solution).   After reading this kb, I was not really sure that this fix would fix my Exchange 2010 problem.  Indeed, there is not mention about the Exchange 2010 problem I was experiencing.
After some additonal search, I had a kind of confirmation that this was the solution of my problem.  this link was describing exactly my problem and redirected me to the MS KB about the fix for windows 2008 R2
Final Notes
After installing the hotifx, my problem was solved and I was able to proceed with my work.  I hope that this post my help some others people out there
Till next time
See ya