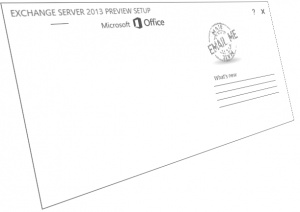 Hello World,
Just back from Holidays (a few days only). So, I have to start blogging again.  We will start with an "easy" post.  Today we will speak about Exchange 2013 Preview.
Let's do this !
Overview
As you probably know, Exchange 2013 Preview  has been released and people can get their hand on the new iteration of Exchange 2013.  Because I have to work quite often with the product, I have to start having a look at it.  This release will bring some important changes.   I will not give you a detailed description of  this releases.  If you look on the web, you will see that plenty people have been already blogging about that.
I've installed the Preview version and I've started performing some basic tests.   What's surprising with this release it that the new interface give the feeling of a simple to use product. However, under the wood, there are some important changes. Don't fear !  If you have experience with the previous releases of Exchange, you will quickly get used to the new "Cloud Ready" Exchange version
For people interested in testing this new release, you can get your copy here
Some Changes you should be aware of
EAC – Web based administration Interface
Exchange 2013 has no MMC management console. Well, this is not totally correct.  The management of the Exchange Infrastructure is done via a web interface (Exchange Admin Center).  However, you still have to use an MMC console to access the toolbox options of Exchange.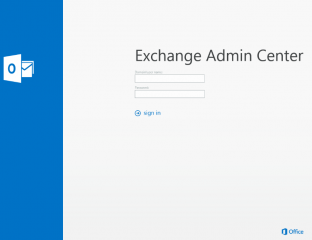 Click on picture for better resolution
This is a great improvement over the previous versions.  You do not need to install anymore administrative tools to manage your infrastructure.  You will be able from any machine to connect to your management interface and perform your day to day activities. You could also allow access from Internet to the Web Interface and perform efficient remote support from any location.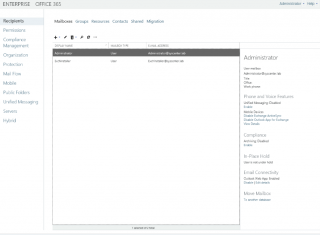 Click on picture for better resolution
Server Roles
This is a funny one.  In Exchange 2007/2010, Microsoft has introduced the Exchange server Roles (CAS,MBX,HT,Edge Server, Unified Server).  In this release, Exchange 2013 has only 2 servers roles.  These 2 servers roles are MBX and CAS.  This reminds me the Exchange 2003 Front-End/back-end configuration.  Basically, Microsoft has consolidates the previous roles into these 2 server roles.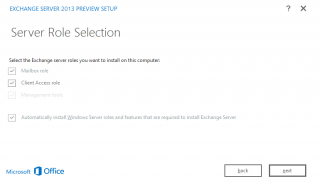 Click on picture for better resolution
An interesting point here is that the Client Access Server role has changed a little bit.  The server will simply proxy or redirect request to the correct mailbox.  The interesting point here is the fact that the CAS server will be handling stateless connections. This will probably have an impact on the way you will load balance Client Access Servers.  If I got it right, you could use
DNS Round Robin
NLB (Network Load Balancer)
Hardware/software load balancer
to achieve high availability for your Client Access Server infrastructure.
Apparently, you can still create CAS Array but I'm wondering if this would still make sense to create such object. Finally, you should note that there is "at the moment" no edge transport server.    It's unclear if Microsoft will release this role with Exchange 2013. You can still use an Exchange 2010 Edge server.  Some people suggest that Microsoft will replace the Edge Transport server role by a Cloud service. Some other people says that this role will come at a later stage. We will see…..
Outlook and MAPI Connections
An interesting change is also related to Outlook. For so long time, Outlook has been using MAPI connection to get access to the mailbox store.  Now, MAPI has been dropped (not totally).  Outlook will be using HTTPS protocol to access a mailbox. Actually, the MAPI protocol is still there but it will be encapsulated (i.e. RPC over HTTP).  Note also that Exchange 2013 will be accessible to Outlook client 2007 and later.  No more Outlook 2003. 
I've installed already in my lab an Exchange 2013 with Outlook 2010.  Because there is the autodiscover feature, you do not really need to configure the Outlook rpc over HTTP settings.  Everything will be connected automatically for you.  However, you might need to learn to configure rpc over http for custom situation where autodiscover might not be used.
Coexistence with previous Exchange versions
With the Exchange 2013 Preview, you cannot have coexistence with previous version of Exchange software. However, this will come at a later stage.  So, if you want to install and test the Exchange 2013 Preview version, you will need to install within an AD with no Exchange server installed.  Finally, note that only Exchange 2007 and later will be able to coexist with Exchange 2013. No more Exchange 2003.
Public Folders
This is a nightmare !  Public Folders are back.  You thought that you will not see them.  Wrong ! They are back and alive. The public folders have been completely re-engineered. I'm just starting my journey with Exchange 2013 and I've not checked yet this feature.  Based on my quick readings, Public folders hierarchy are now stored in a mailbox. In fact, when you create public folders, you will first need to create a Public Folder mailbox. When this mailbox is created, you can start creating your public folder structure.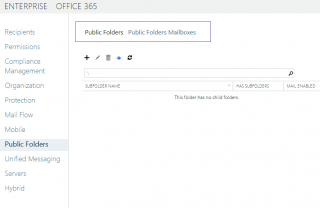 Click on picture for better resolution
Yes, you have read it correctly, the Public folders are now considered to be a mailbox.  The good thing about that is that you can use the DAG Technology to also protect your public folders structure.  Obviously, Microsoft has already provided documentation about how to migrate Public folders from previous versions (check out this)
OWA or Outlook WebApp
OWA or Outlook WebApp interface has been re-worked as well. And Honestly, I really like it. It simpler, clearer and more intuitive.  The offline feature of OWA has also one of the most noticeable changes in this new release.  However, to benefit of this feature, your browser has to support HTML5.  This means that on Windows platform you will need to have IE 10 installed to be able to benefit from it.  Another option would be to use the Chrome browser and have access to the offline mode in OWA.

Click on picture for better resolution
I've not played yet with this feature but I'm assuming that only a subset of the mailbox will be available offline. So, don't be super excited. There are probably some limitations to this.
Integration with SharePoint 2013 and Lync 2013
That's the strength of Microsoft. The ability to integrate products to each others and in this ways provided added value in their solutions.  Exchange 2013 will be able to use and better integrate with SharePoint 2013.  This release introduces the site mailboxes. These mailboxes are shared mailboxes where the storage for document is provided by Sharepoint 2013 and the access is done via Outlook.    To have this, you will need to deploy Exchange 2013, Sharepoint 2013 and Outlook 2013.
Final Notes
There are plenty of new changes with this release.  I have covered only a small subset of them.  I'm excited about this release.  The product seems really cool.  The concept behind the product is still the same (i.e. mail flow, CAS, DAG,..) but the new design and interfaces makes the product really attractive ans give the feeling of simplicity in the use, simplicity in the administration of the infrastructure.
In a coming post, I'll be describing how to perform the installation
Till Then
See ya
For more Information, Check this link :  http://technet.microsoft.com/en-us/library/jj150540(v=exchg.150).aspx