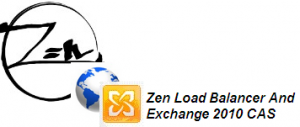 Hello world,
In the part I of this post, we have configured and setup our Exchange 2010 infrastructure in order to achieve high availability for Client Access Server (CAS) through the CASarray approach.  In this part of this post, we will briefly describe how you can configure your Zen load Balancer in order to effectively provide load balancing capabilities to Exchange 2010 CAS.
Let's go…..
Configure Zen load balancer for Exchange
Note :  A step by step guide on how to install Zen load balancer can be found here
It's time to configure our Zen Load Balancer. We have updated a little bit the initial drawing and we have added the port that would need to be load balance via our Zen software.  We will use this information to create our Farms within the Load balancer appliance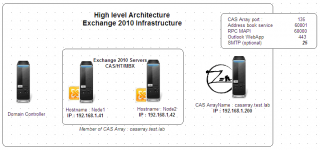 Click on image for better resolution
We will create 5 Farms within the Zen Load Balancer (one farm for each port to be load balanced).  To create a farm, you will need first to connect to the management console of the Zen box.  This is easily done via a web browser and using the following url 
    http://IP_Address_LoadBalancer:444/
You will be prompted for credentials.  If you have not change the defaults, you will need to use the following information
User : admin
Password : admin
Step 1 – creating your Farms
Go on the Manage:: Farms page (click on the bar menu > Manage > Farms. You will be presented with a screenshot similar to the one below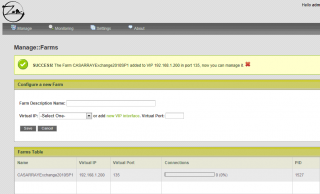 Click on image for better resolution
In the Configure a new Farm,  provide the requested information
Farm description Name
Virtual IP
Port
The screenshot (above) shows that we have created a farm called CASARRAYExchange2010SP using the virtual IP 192.168.1.200 and the virtual port 135. We have to perform the same actions for each services/ports that needs to be load balanced. The final result should look like the following screenshot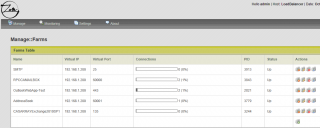 Click on image for better resolution
Step 2 – associates target servers to your farm
After creating your farms, you will need to tell the load balancer where the redirect the traffic it will receive.  You will need to perform this action for each farm you have created.
To associate the target servers to a farm, you will simply go to the manage::Farms page. In the farm table, select the farm that you need to configure and click on the edit icon (in the action column).
You will be redirected to another page, where you can configure some settings regarding the load balancer. And just below that, you will see a table where you can add the real IP addresses of the servers that need to be load balanced.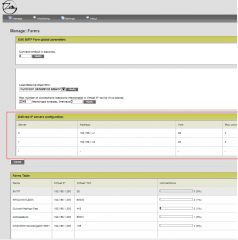 Click on image for better resolution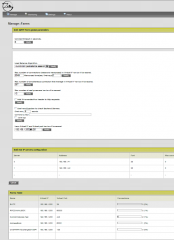 Click on image for better resolution
That's it. You have configured the Zen Load Balancer to provide Load balancing capabilites for Exchange 2010 CAS. That's so easy 🙂
Testing your configuration
To validate your configuration, you will need to configure your Outlook client to connect to the Exchange cas array object. Remember that we have created DNS entry for that.  When your outlook is correctly configured, you will have to check that the connection is performed against the CAS Array object.  To check that, you will simply  Hold down CTRL while right-clicking on the Outlook icon in the systray in the lower right corner. Select Connection status in the context menu and you should see the following windows displaying information about the CASArray you are connected to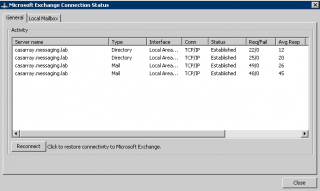 Another simple test to check that the CAS Servers are load balanced consists of bringing down one of these servers and connects to the casarray exchange using Outlook WebApp, you should then be able to access your mailbox.
Final Words
These 2 part post has shown that an open source solution such as ZenloadBalancer could be used to provide load balancing capabilities to Exchange 2010 CAS Array. In this post, we have provided really a basic and minimal configuration demonstration (but it's working).  I'll definitely use this software for my test lab and for demo purposes at customer location.
What's your take on that ? Have you tried to perform such configuration (with exchange 2010) ? If you have tips and tricks, let us know…..
Till Next Time
See ya