Hello World,
As you have probably know by now, Canonical has released the Short Term Release (STR) Ubuntu 21.04 in April 2021, 22. STR means that this release will be supported for next 9 months. Interim Releases help in preparing Long Term Support releases by testing and integrating new features. It provides a good peak preview of what the next Ubuntu release will look like.
As we do not want to repeat everything that has been said about Ubuntu 21.04 on the internet for the last weeks, we will try to keep this post quite short. We will not enumerate all the new features that are shipping with this release. We are usually more focusing on impact that a new release might have on our xrdp installer script but also on the new GDM change background login screen script…
So let's see what to expect !
Quick Tour !
Installation
Installation Wizard (Ubiquity) didn't change much and the process to install Ubuntu 21.04 is really similar to previous version which makes users feeling at home. Actually, we found the wizard install really familiar and comfortable through the color usage. It simply works. Canonical has announced that they are working on a new installer based on flutter but this new feature is not included in this release.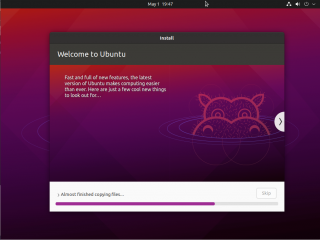 Click on Picture for better Resolution
Look'n feel…
Some minor improvements are present also here and there…which again makes Ubuntu looks better at each iteration. Gnome Version is the 3.38 and not the new version 40 which brings some additional improvements. Ubuntu 21.04 Desktop interface is really based on Ubuntu 20.04 and simply introduces small changes that helps Ubuntu to be recognizable at first sight and look good and modern.
21.04 ships with some improvements in the Yaru Theme. A redesigned dark theme is now available which really provide dark mode everywhere. This is a really pleasant improvement since this introduce a really consistent look and provide really a pleasant working interface. As shown in the screenshot below, when you enable dark mode, all elements of the interface will be touched accordingly

Click on Picture for better Resolution
Wayland is the default Display Server
This is the second attempt from Canonical to use the modern Wayland display server. The first attempt was with the Ubuntu 17.10 release. Ubuntu 21.04 will be using Wayland as default display server which brings probably significant security improvements compared to the aging X11 Display server. It look's like again that Canonical is using this STR release to test Wayland and see if it's ready for prime time.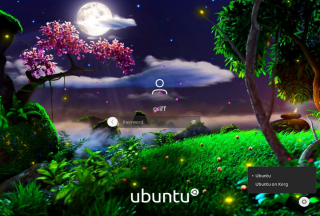 Click on Picture for better Resolution
Most of the applications should be running under Wayland Server. However, if some applications cannot take advantage of this new display server, it's always possible to revert back to X11 server as required. One of these applications might be VNC Viewer that still quite popular in some organization.
Active Directory Integration
In some previous posts, we have described how to join an Ubuntu machine into an Active Directory Domain. You can find information about that in the following two posts
Ubuntu 20.10 allows you to join Active Directory domain during the setup through the installation wizard. This is a smart move from Canonical since more and more organizations are using non Microsoft operating system on their network. This feature really helps the adoption of Ubuntu machines in enterprise environment.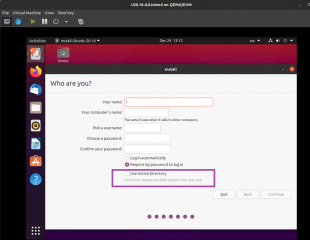 Click on Picture for better Resolution
Ubuntu 21.04 still provide the ability to join ubuntu into Active Directory. We haven't got time to play around with this feature on Ubuntu 21.04 but we will definitely test it and see if any improvements have been made at that level. For us, this feature is really worst checking because we have more and more requests coming from customers asking to replace either aging Windows 2008 Server/Windows 7 with an Ubuntu alternative.
Private Home Folders
In modern environments, security and hardening systems have been mandatory activities. Ubuntu 21.04 introduces a security change in the home folders. By default, home folder for a user will become private (i.e. accessible only to that user). In previous releases, this was not the case, Home folders could be accessed by all other users created on the system. This change is important and welcomed by a lot of organizations and even users. They know that their data cannot be accessed anymore by other users…

Click on Picture for better Resolution
However, there is a catch with this feature. This feature will be enabled by default if you perform a fresh installation. If you upgrade from previous Ubuntu releases, the private home folders will not be enabled. If you perform an upgrade, you can enable this feature by changing permissions on the home folders. On the other hand, if you have installed Ubuntu 21.04 but you do want to disable private home folders feature, this is also possible…
We might write some posts about this feature in the future since we think this one is an important addition to the Operating system…..
Ubuntu 21.04 & xRDP software
If you are a regular reader of this post, you know that we have a special interest in the xRDP software and how any new release of Ubuntu might impact the installation or functionality of the xRDP package. As a reminder, xRDP software allow users to remote connect to Linux machines using the Microsoft Remote Desktop client and based on the RDP Protocol. The solution is far from being perfect but it's provide a really free and good solution to remotely manage Linux Machines.
We are publishing and releasing on regular basis a script (latest version of the script available at https://www.c-nergy.be/products.html) that ease the installation of the xRDP package on Ubuntu machines and perform post-configuration actions that ensure that the look'n feel look really similar while remotely connected to your Ubuntu machine. Each time a new Ubuntu release is published, we are spending quite some time in updating the script and ensuring that the new release is not breaking the installation nor impact the functionalities.
Ubuntu 21.04 is shipping with the same xRDP package version as the one delivered in Ubuntu 20.04 (i.e. 0.9.12) and we are not expecting major issues with our script and the way Ubuntu 21.04 would interact with xRDP software. The Wayland Display server should not prevent xRDP software to be running since the xRDP software will revert back to X11 Server.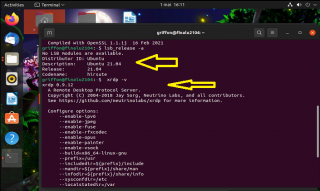 Click on Picture for better Resolution
Ubuntu 21.04 & GDM Login Screen Changer script
A few months ago, we released a small script that could be used to customize the background picture or color presented to you at login screen. The script goal is to provide an easy way for users to customize their login screen background in Ubuntu 18.04, Ubuntu 20.04 and Ubuntu 20.10. The latest version of the script is set to version 3.1.
Since the Yaru theme has been redesigned, the Change-GDM-background script will not work at this stage. We will need to update the code and we will be releasing soon a new version that would provide support for Ubuntu 21.04.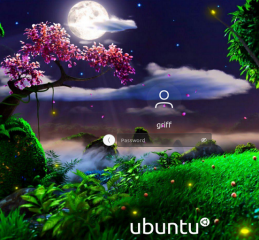 Click on Picture for better Resolution
Should you Upgrade ?
Based on the latest information we've got, it's seems that there is a problem with the upgrade process of Ubuntu 21.04 which means that the upgrade notification will not be displayed. However, it's still possible to upgrade using command lines. Moreover, some issues with NEXTCLOUD software have been detected (which should be fixed by now).
So, should you upgrade now, wait a little bit or skip this version ? The choice is up to you. If you have Ubuntu 20.04 running, you should stick to this release because it's a long term support release. If you are working in a corporate environment, chances are that no upgrade will be performed and that your organization will either stick to Ubuntu 18.04.x or upgrade to Ubuntu 20.04 because it provide a stable platform and offers more time to organization to prepare for the next big LTS upgrade…..
If you are running Ubuntu 20.10, you could upgrade already or you can decide to wait a few weeks while Canonical is fixing some of the issues discovered in Ubuntu 21.04. Ubuntu 20.10 is still supported till July 2021. Ubuntu 21.04 is an interim release that provide a peak preview of the future LTS release. If you upgrade, you will benefit from only 9 months of support. After that, you can decide to move to the next interim release (21.10). You will need to keep doing this till Ubuntu 22.04 which will be the next LTS release version. This "rolling" approach is possible but might be time consuming.
Again this is up to you !
Final Notes
This is it for this post !
Ubuntu 21.04 is continuing its journey and each releases brings improvements and stability and usability. We can hear that this release is not really exciting and does not bring really many new features. That might be true but on the other hand the release is more focused on stability, usability and continuity. Active Directory integration can really help in deploying more and more Ubuntu machines in enterprises. It seems that Canonical is more proactively addressing corporate market with feature like Active directory integration and SQL support on Ubuntu…
We still have to do some work on our xrdp-installer script in order to add support for Ubuntu 21.04. We will also need to update our script used to change the GDM Login background image since Ubuntu 21.04 has also introduced some changes that makes version 3.1 is not useable.
So, in our next posts, we will probably release a new version of xrdp-installer script
Stay Tuned
Till next time
See ya