Hello World,
Today, we want to bring some focus on Ubuntu Studio and their recent efforts to keep the distribution alive and attract possibly more users looking for multimedia content creation software. Ubuntu Studio distribution didn't evolved much in the previous years. Ubuntu Studio team has made the same assessment and a new initiative has been started to bring new life into the distribution.
Ubuntu Studio is not the day to day Ubuntu distribution that most of the users would use and you will not find the usual software average users would get used to use. Ubuntu Studio distribution goal is to provide a complete open source multimedia software that can be used by creative people such as musician, photograph, digital artists…Ubuntu studio include Audio,video,publishing, photography, graphics, music software ready to be used.
Ubuntu Studio has a new website
Ubuntu Studio might be the most popular multimedia distribution software. Ubuntu Studio didn't evolved much between Ubuntu 16.04 and 18.04. The Ubuntu Studio team was using an outdated website and gave the feeling that not much was happening anymore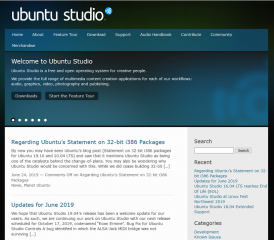 Click on Picture for Better Resolution
Things are changing in the right direction as Ubuntu studio team has recently revealed their new website which provide a really sexy and modern look'n feel. This already indicates that the distribution is alive and people still have an interest in this amazing distribution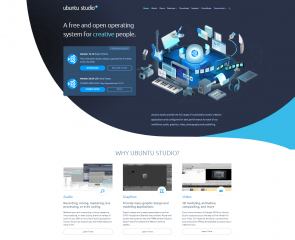 Click on Picture for Better Resolution
Ubuntu Studio Wallpaper Contest
Ubuntu Studio team also organized a Wallpaper contest which has brought some attention on the Ubuntu multimedia distribution. The contest is closed now. However, it was possible to select from 17 wallpapers. The 10 most popular wallpaper will make their way into the Ubuntu Studio 20.04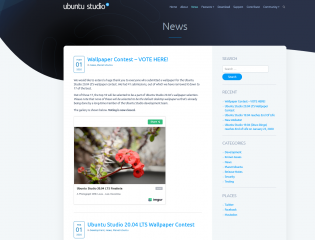 Click on Picture for Better Resolution
Ubuntu Studio 20.04 is coming !
Ubuntu studio team is already working on the next release of Ubuntu Studio which will be based on Ubuntu 20.04. Ubuntu 20.04 is still in development phase and will be made available in april 2020. Ubuntu 20.04 will be the most polished and most robust Ubuntu version available and Ubuntu studio will be able to benefit from that. Ubuntu 20.04 will be a LTS (Long Term support) release which means that extend support is expected.
There is not yet an Ubuntu Studio 20.04 "beta" version available for downloads. We can expect that the download will be made available when Ubuntu 20.04 will be officially released in April 2020.
Final Notes
We are really happy to see that Ubuntu Studio will have a nice and bright future.
Team behind this amazing distribution seems to be ready to face new challenges. Initiative like new web site, wallpaper contests, visibility through blogs and internet news shows that the distribution is alive and actively maintained. All these actions and initiatives are bringing a new life into the project and also give the feeling that Ubuntu Studio is a modern multimedia and open source solution.
Ubuntu Studio 20.04 is on its way and we want to wish success, long life and success to the Ubuntu Studio team.. Keep the good work
Till next time
See ya