Hello world,
We have been quite busy the last weeks and didn't get much time to publish information about our favorite topics… We are trying to catching up but given the amount of work coming to us, it might be difficult for us to keep up. Today's post is about the coming release of Ubuntu 19.10. Beta version has been made available a couple of days ago so people can test it and see what's new in this release. This release seems like important because this is the last interim one before the next LTS release (i.e. Ubuntu 20.04) would be made available. Ubuntu 20.04 could help people moving away from old Ubuntu releases (Ubuntu 16.x or Ubuntu 18) if performance, stability and usability are met.
Ubuntu 19.04 has been an interesting interim release because of the improved performance. This is not just a feelng, this is noticeable. This improvement only has pushed some people to upgrade to Ubuntu 19.04. Within our organization, we have been upgrading some machines to Ubuntu 19.04 and we are looking into upgrading them to Ubuntu 19.10 to see how it behaves. Our interest is to see how Ubuntu 19.10 might affect xrdp installation process. This is important to us as we might need to update our famous installation script….
So, let's see what's to expect….
Overview
If you look around on the web, you will see that there are already a lot of post about Ubuntu 19.10 and what to expect with this release. This post is not about checking all the new great features that Ubuntu 19.10 might bring.
When a new release comes out, we usually check if the installation process has changed or not, and mainly if the xRDP package will be still working with this specific release. We know, by experience now, that each new release can bring nice features but can slightly affect some installation procedure that used to work in the previous version but broken with the latest version…
Release Date and phases
Final Release of Ubuntu 19.10 should be made available on October 17, 2019. As the previous version, there is no more alpha version released only beta version. The beta version has been released on September 26, 2019 and the coded name is Eoan Ermine. The beta version can still be modified and modification can still occur till 10 of October… October 10, 2019 would be the freeze date and developers should be ready to release the next iteration of Ubuntu
Installation process
If we look at the installation process, we do not see much changes… The installation wizard is quite straight forward nowadays. You simply provide a bunch of answers to a really small sets of questions and you are ready to proceed with the installation. The beta release even includes the mascot logo and maybe some subtle color scheme changes….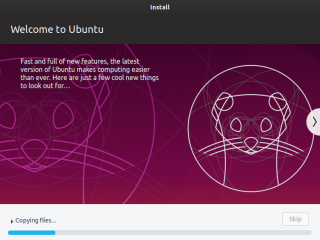 Click on picture for better resolution
Faster boot Process
Ubuntu 19.10 should bring some improvements in the boot process and speed it up (thank to compression protocol for boot files). We have installed Ubuntu 19.10 on a virtual machine and we didn't really see a faster boot process… This might be subjective feeling. Boot process has been always slow in our virtual environment and again no major changes noticed here…..
Improved Gnome desktop performance
Ubuntu 19.04 was the first release to introduce noticeable performance improvements and usability on Ubuntu Gnome Desktop. Search are faster, the system is responsive and compared to previous versions of Ubuntu, this is really something you can see…This is not just an impression… Ubuntu 19.10 should be providing the same kind of experience to users. The performances are good and again noticeable to anyone who has used previous version of the operating system. The beta version is still relying on Gnome shell 3.33 and the final version should ship with version 3.34 that should bring some changes as well… So, wait and see and we would be able to check out when final release arrives…
Visual Changes
A new login screen color theme has been made available. Background color has changed a little bit and the orange background when selecting a user has been changed to a light purple color. This change is kind of welcome and seem to make sense in terms of visual consistency.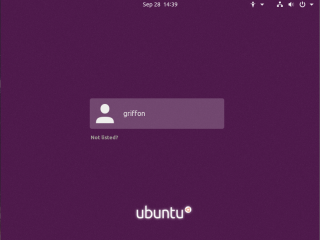 Click on picture for better resolution
At the credentials prompt login page, there is also some minor visual changes. Buttons are colored with pink and green. Not sure is this is really the best color combination. We have the feeling that again visual aspect does not provide consistency. The grey color scheme for the cancel button would have our preferences….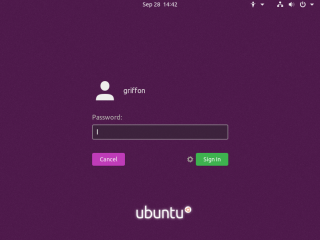 Click on picture for better resolution
During the first login, you still have the welcome wizard that starts and allows us to connect to your online accounts, set your privacy preferences and install additional software right away… Nothing new here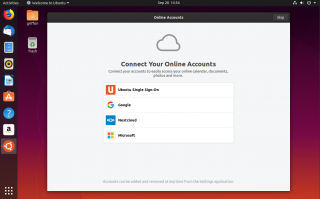 Click on picture for better resolution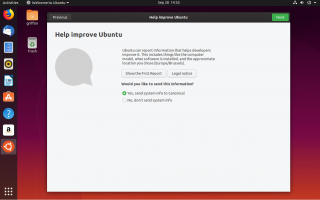 Click on picture for better resolution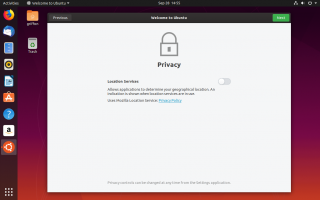 Click on picture for better resolution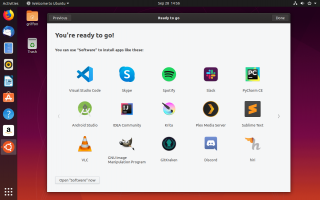 Click on picture for better resolution
We are missing the transparency settings that were available in the previous version of Ubuntu. Again, we understand the reason why developers made these changes but It would have been nicer to set the changes but still offer a clear option to set back transparency for the Dock or to be able to change the scheme color for the authentication prompt.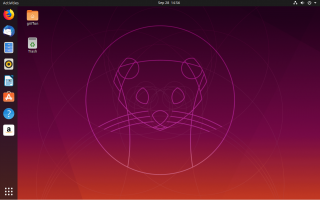 Click on picture for better resolution
We are not big fan of the white dialog box. The black version and the one with some transparency seems to us more eye appealing….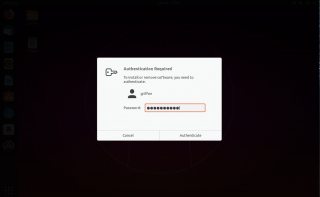 Click on picture for better resolution
Please note that we do like the work performed at the visual level through the different iteration of Ubuntu. The visual aspect (we think) is really important and having a sexy desktop look can attract more users. Transparency feature is one of the eye catching elements that make users excited… We simply think that removing such features with no option to re-enabled them in an easy way is a pitty…
xrdp package version
In Ubuntu 19.10, xrdp version that ships is the one labelled 0.9.9. The most current version is 0.9.11. This shows that Ubuntu try to keep up with the latest version of the software..This was not the case in previous versions (i.e. Ubuntu 16.04.x) as the software version shipping was an obsolete one (version 0.6.x)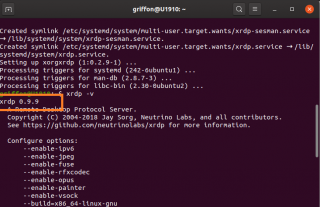 Click on picture for better resolution
We have performed a manual installation which didn't return any errors. We have then tried to perform a remote connection. the xRDP login screen showed up. The infamous managed color popup came along. After providing the credentials, we ended up with this first time seen error message….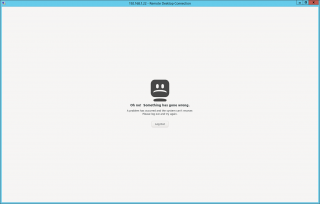 Click on picture for better resolution
Hmmm, even if this release is the beta version…This does not look promising… We will need to investigate a little bit to see what's failing at this stage…. more work to do for us to update the famous installation script….
Final Notes
Ubuntu 19.10 is the last interim version before the most expected LTS release of Ubuntu (i.e. Ubuntu 20.04). Since Canonical moved away from Unity Desktop, a bunch of changes and improvements have been made which have been accepted by the user base. Ubuntu 18.04 was the first release shipping with the new Gnome Desktop which was actually well received by Ubuntu users. Canonical has made the transition easy from Unity to Gnome. Ubuntu 19.04 showed that better performance good be achieved and made Ubuntu more usable than ever. Ubuntu 19.10 should be a preview of what to expect in Ubuntu 20.04. We like the visual aspect of this release (minus some color combinations that we think might not be the best). The Desktop is still usable and performance gains are still present compared to previous version (i.e Ubuntu 18.04.x).
We have been testing the beta version and we have found that tweak tool does not seem to work and crashes the system. the xRDP packages can be installed but when trying to login, it fails (and we do not know why yet). So, Canonical has still some 2 to 3 weeks to polish this release and fix any possible issues discovered.
All in all, we do not think that this release will as exciting as the coming one but we might see what the future could be…
We will wait for the final release, update the consolidated script and check that xRDP can be running on top of Ubuntu 19.10…
Stay tuned
Till next time
See ya