Hello World,
!! Better fix for xRDP issue in Ubuntu 18.04.2 !!
Recently, we have discovered an issue with the xRDP package when installing it on top of Ubuntu 18.04.2. The problem is related to some "incompatible" packages. xRDP when trying to install will not install the xorgxrdp packages because of the presence of additional new version of xserver-xorg-hwe-18.04 packages. You can find more information in the following post
We have provided a quick fix (and dirty fix) through our standard scripts (see links below). This patch was really a quick way to restore the xRDP functionality….
This fix was really a quick and dirty fix as we have to downgrade some of the Ubuntu 18.04 packages. This situation might not be acceptable or working for some users. Luckily, since today (I think), thanks to Thiago Martins, a new "unofficial" xrdp package has been generated which can be run on top of Ubuntu 18.04.2. The package has been rebuilt and take into account the fact that newer xserver-xorg-* packages exists on Ubuntu 18.04.2.
Get Unofficial packages
Manual Installation Process
Thiago Martins has recompiled xrdp and xorgxrdp packages and has setup a ppa repository from which you can download these updated version of the packages. If you want to install the version 0.9.5 of xRDP on your Ubuntu 18.04.2, you can visit this page (https://launchpad.net/~martinx/+archive/ubuntu/xrdp-hwe-18.04) where the instructions to get the new packages can be found.
Based on the instructions provided, you will need to issue the following commands in your Terminal Console
sudo add-apt-repository ppa:martinx/xrdp-hwe-18.04
sudo apt-get update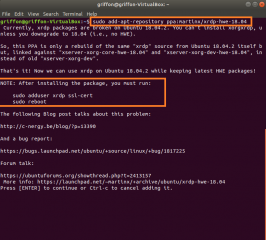 Click on Picture for Better Resolution
When this is done, you can try to install the newly available package by issuing the following command
sudo apt-get install xrdp xorg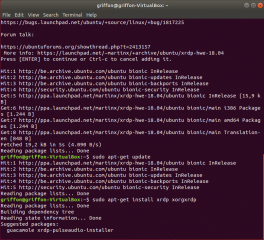 Click on Picture for Better Resolution
If everything is fine, you should be able to perform a remote connection with no other actions (even if the first screen ask you to perform some additional actions).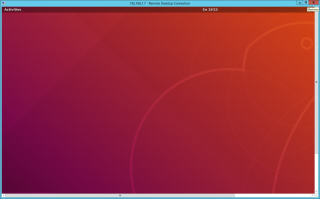 Click on Picture for Better Resolution
Here, we have performed a manual installation. This means that all the post installation actions performed by the script (Std-Install-Xrdp.sh) are not processed and you will need to perform the post installation actions manually.
Using Std Installation script with these unofficial packages
If you want to still benefit from the script, you could possibly, perform the following actions
Step 1 – configure your system to look for the unofficial xrdp packages
sudo add-apt-repository ppa:martinx/xrdp-hwe-18.04 -y
sudo apt-get update
Step 2 – Run the script version 0.5.1. from the command line
After updating your repositories, you can try to re-run the previous script version (Std-Install-xrdp-0.5.1.sh) with or without parameters.
So, you will have to download the script first from here.
Extract the .sh file from the zip file
Mark the script as executable (using Terminal Console issue the following command chmod +x <%Path_for_the_script%>
execute the script using one of the following options

./Std-Xrdp-Install-0.5.1.sh
./Std-Xrdp-Install-0.5.1.sh -g yes (to fix some look'n feel issues)
./Std-Xrdp-Install-0.5.1.sh -s yes (to get sound redirection)
./Std-Xrdp-Install-0.5.1.sh -g yes -s yes (combination of both options above)
This should take care of most of the customization process (no guarantee because we have not tested this approach fully – so you might still have some manual actions to perform….)
Note :
If you want to use the latest version of xRDP on top of Ubuntu 18.04.2, Thiago has also compiled xRDP from source for the version 0.9.9. The same principle would apply. Add the repository on your system and perform the installation. You can download the "xrdp-next" package version (i.e. 0.9.9) at this location
Final Notes
This is again a quick published post with a quick fix. We are really hesitating in publishing a new version of the script (Std-Xrdp-install) as the new Ubuntu 19.04 will be released shortly. Based on our first experimentation with Ubuntu 19.04, a simple standard xrdp installation will work. However, the sound redirection feature will not work because some of the packages used by the scripts are not (yet ?) available on Ubuntu 19.04 repositories.
We really would like to thanks Thiago Martins for acting really fast and providing updated xRDP packages that works on Ubuntu 18.04.2. We hope that this package will make its way in the Ubuntu repository and become the official ones. We really appreciate the help provided by all the people on this specific topic…
Till next time
See ya