UPDATE : THIS INFORMATION IS OUT DATED. THE RDS Host session is back in Windows 2019 Server Build 17650 – Check this post for more info
Hello World,
This should be a quick post and is related to Windows Server 2019 (Insider Preview) and RDS (Remote Desktop Services) 2019. Windows 2019 preview has been recently made available and can be downloaded from Microsoft Web Site. Based on this info, a decision was made to download and perform a basic installation of the Windows 2019 server Edition.
So, Let's go and check what we found out !
Download the correct version
To download the Windows 2019 Server Preview version, you will need to register to Windows Insider Program. Once this is performed, the download page will be displayed. The page will display multiple download options. Select carefully. Choosing the Semi Annual Channel (SAC) version will get you a GUI-less server version (no RDS possible). To grab a Windows 2019 with Desktop Experience, move to the section called Windows Server vNext LTSC Preview 17630, choose the correct language and a download link would be made available.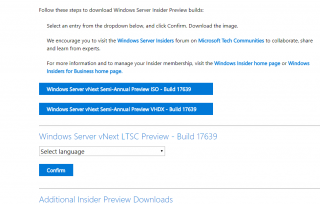 Click on Picture for Better Resolution
The installation process of Windows 2019 Server is similar to previous version of Windows Server. After performing the installation, the computer has been joined into the domain. This preview version look similar to Windows 2016 (look 'n feel) but some new features and improvements are available. As we were preparing some RDS project, we decided to have a look to the new RDS role in Windows 2019 Server…
RDS Installation failing in Win 2019 Server
Quick Installation Overview
The installation process of Remote Desktop Services in Windows 2019 Server should be really similar to the process that existed in Windows 2012 R2 or Windows 2016 Server. To perform the installation, we have open the server Manager Console, Select the Add Server Role and we have selected the Option Remote desktop Installation Type

Click on Picture for Better Resolution
In the deployment type, we have selected the Quick Start option so all the roles would be installed on a single server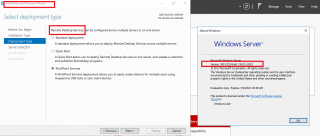 Click on Picture for Better Resolution
During the setup, the Wizard will confirm that the mandatory RDS Roles will be installed (i.e. RDS Host Session, Remote Web access and RDS Connection broker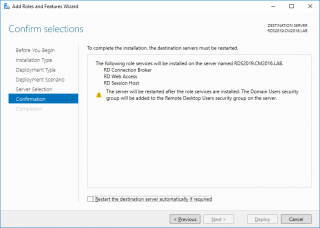 Click on Picture for Better Resolution
When the installation proceed, an error will be displayed in the Wizard page indicating that the RDS host session role is not available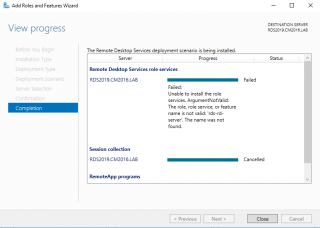 Click on Picture for Better Resolution
After the failed installation, the wizard closes automatically. This could be due to the fact that this version is a Preview release (so errors can happens). Because the installation failed, we decided to remove the RDS Roles. in the Server Manager > Remove Server Roles > we can see that actually the error should be expected as there is no RDS Host Session roles available anymore in Windows 2019 Server Edition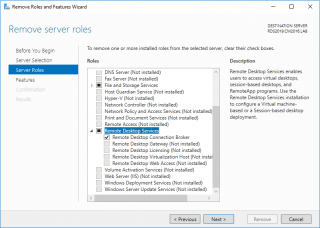 Click on Picture for Better Resolution
RDS Host Session in Windows 10 ?
After googling and reading about this issue through the web, it seems that this behavior is expected in Windows 2019. This is a new Microsoft decision not to include the RDS Host session role in Windows 2019 Server. The Microsoft strategy becomes really confusing here. The message is that RDS is a great solution that's used by other companies (like Citrix and Vmware) but the role will not be included in Windows 2019 (so far).
Actually, Microsoft recognize the fact that RDS is extensively used and say that the RDS solution will still exists in Windows 2019 but possibly in a different form. Based on my readings, some people are saying that the RDS Host Session role would be moved to Windows 10 and not on the server. The logic behind would be that more applications are supported in Windows 10 client than Windows Server editions. On the other end, maybe companies would like to have a standardized RDS infrastructure based on Server roles…. Another option/scenario would be to have the RDS host session role available in Azure infrastructure. This might work for some organization but not everybody is using Azure infrastructure….
Workaround to install RDS 2019
If you really want to test RDS functionalites in Windows 2019 server, there might be a temporary workaround. The approach would be to perform a standard installation and use a Windows 2016 server Edition as RDS Host Session server. When adding Windows 2016 server as RDS host Session, the installation completes successfully.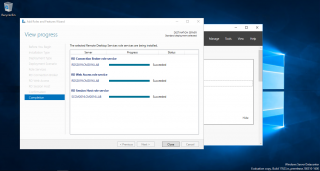 Click on Picture for Better Resolution
As you can see, It's possible to have RDS Infrastructure when mixing Windows 2019 and Windows 2016 server edition.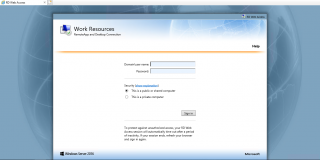 Click on Picture for Better Resolution
Final Notes
So far, Windows 2019 server edition cannot run a Full RDS architecture because this version of the operating system does not ship with the RDS Host Session role (which is mandatory to have RDS installation). Rumors are saying that RDS host session would be shifting from Windows 2019 server to Windows 10 client edition. The reason behind would be to have a better applications integration with the Operating system.
What about licensing ? Windows 10 allow only one RDP connection. What would be the strategy here ? Is Microsoft about to remove this limitation and allow multiple RDP connections against Windows 10 client ?
To us, it would seem awkward to mix Windows 2016 server and Windows 10 client within an RDS Architecture. In our experience, most of the applications can be running on a Server editions. We have encountered some exotic applications where installation on servers was not perfect but we always found workaround to make them working…
We are looking forward to discover what Microsoft will come up with new idea/concept/Solution to support RDS Architecture…
Till next time
See ya