Hello World,
It' has been a quite long time since I've been posting some news. Now, you probably know I'm kinda busy with IT projects and this does not let me enough time to blog over Proxmox VE.  So far,I've been mainly discussing on how to install Proxmox VE software and get your infrastructure up and running. In a previous post, we quickly provide some basic information on how to create kvm virtual machines.  Today we will go a step further and will see in more details which options are available to you when creating kvm guest machines.
Let's start our journey !
Which settings when creating kvm Guest in ProxMox VE ?
Note : we assume that you are already familiar with the Proxmox VE product and you have already some working experience.
Let' start from the beginning !  When you want to create a new virtual machine, you will within the Proxmox VE console use the left menu (in the VM Manager section) click on the virtual machine.  In the Virtual machines screen, you will see 3 tabs : list, create, migrate.   Because we want to create a new virtual machine, we will click on the Create tab and you will be presented with a web page similar to this one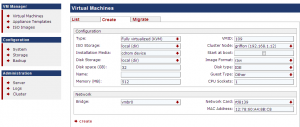 Click to enlarge picture
In this web page, you can specify the characteristics of your virtual machine (name, memory, disk size, guest type…).  You can accept the default settings and create right away your virtual machine if you want to.  You can also have a look to some of the options that are presented to you and modify these settings to better fits your needs or to improve performance of your virtual machines.  In this post, we will have a look to the following settings :  the image format and the disk type
Image Format supported in ProxMox VE
The following screenshot shows that Proxmox VE support multiple image format.

Click to enlarge picture
If I remember correctly, when I started using proxmox ve (versio 0.9), only one image format was supported. that was the qcow2 format.  Nowadays, Proxmox VE is basically offering 3 different type of image format  :
The choice will depends on your needs.  I have not seen any detailed information about image format differences.  However, looking around in proxmox forum and googling, I have found some useful tips about the different image format. This information is summarized hereafter :
The raw format

provide better performance than qcow2.

When creating a raw disk, the full size will be provisioned on the proxmox host server (It's similar to thick disk).  If you specify a disk size of 10 GB, an 10 GB raw file will be created on the Proxmox Host.
The qcow2 format

offers snapshot possibility

when creating a qcow2 disk, the full size will not be provisioned (similar to thin provisioning).  If you create a disk sized of 10 GB, the qcow2 file on the host will be smaller than 10 GB and will increase with usage till it reaches the maximum disk size (here 10 GB)

You can use copy on write technology (I think that something similar to differential disks concept)
The VMDK format

The VMDK format will be based on thin provisioning as well. In other words, if you create a 20 GB disk virtual disk in vmdk format, the size on the ProxMox Ve host will not be 20 GB but less.  The size of the file will grow as needed until it reaches it maximum (here 20 GB)
Using the vmware disk format makes the proxmox ve and vmware infrastructure compatible with each other.  I'm assuming (I have not tested yet this) that you could create a virtual machine on vmware and move this virtual machine to a Proxmox VE infrastructure quite smoothly
'Note: So far, I've been using only raw and qcow2 format. I've not  test yet the vmdk format in ProxMox VE.  This will probably the subject of another post… : -p
Disk Type supported in ProxMox VE
As with the Image format, if you look at disk type, you can select from 3 different types (see screenshot)

Click to enlarge picture
When creating a new virtual machine, you can select from the following disk type options :
IDE Disks :

This is the standard setting when creating a virtual machine. The IDE Disks is widely spread within Operating systems.  If you choose this option, you will be quite sure that your OS installation will recognize the disk and perform the installation easily
SCSI Disks

I rarely used this type of disk. I've tested time to time with Windows Operating system and the setup routine was able to recognize the disk. In real world, SCSI disks would provide better performance than IDE disks.  In a virtual world, I'm not sure.  because both disks are "virtual", I'm assuming that performance would be similar.
Virtio Disks

Based on the Proxmox VE documentation, you should use this type of disk to get better performance within your Virtual machine.  In order to be able to use this disk type, you will need to download additional "paravirtualized" drivers.   These drivers are specifically designed to improve performance of virtual machines. I would compare them to the vmware tools or Hyper-v integration services.
Important Note !
If you plan to use virtio disks, you will need to download these paravirtualized drivers. You can download these drivers here.   The Fedora project has created and maintains iso images of the virtio drivers.

Click to enlarge picture
You need to download these drivers because windows operating system does not know this disk type.  During the Setup of the Operating system, you will need to present these drivers in order to the setup routine to detect the disk and proceed with the installation.
Note : In a future post (coming soon), we will show you how to create a windows kvm guest using virtio drivers
Network Card Type  supported in ProxMox VE
ProxMox ve offers also the possibility to customize the network type you want to use.  If you need something that will always work, you should select the network card e1000.  This setting ensure that your network card will be recognized and will be useable immediately.  Again, if you want to improve the performance of your virtual machine, you can decide to select the virtio drivers.  This is not a default driver available within Windows operating system.  Again, you will need to get access to the virtio drivers(here) and perform the installation within the operating system.
In my case, I use mainly Virtio drivers when I create Virtual machines because this would be the better option performance wise

Click to enlarge picture
Additional Configuration Settings on Virtual machines
In the previous section, we have quickly seen the options available to you when creating a virtual machine.  However, you have to know that some additional settings are available to you if you need to tweak your system a little bit more.  I have to say that I rarely change some of these settings but I prefer to show you them so at least you know that they exists..
General Settings (that everybody knows)
Assuming that you have created a windows virtual machine, you should see this virtual machine in your ProxMox Ve web interface. (On the left menu, click on Virtual machines).  In this screenshot, you see that we have created some virtual machines.  We now want to check the configuration and perform some additional configurations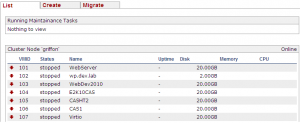 Click to enlarge picture
If you click on one of the virtual machine listed there, you will be able to more information about the selected virtual machine.  The following screenshot show you the basic configuration settings of your virtual machine. You can see the Guest Type, the RAM size, the VMID (sort of guid identifying your virtual machine), CPU socket,….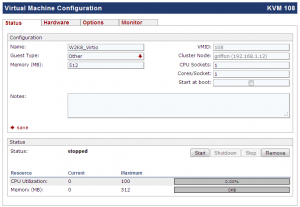 Click to enlarge picture
If you click on the Hardware tab, you will be able to see the information related to the disk type, network card, and cdrom. In the screenshot below, you can see that I'm using Virtio drivers for disk type and network card.   For network card and Disk type, the only available options here are remove the device or add a new device.  You cannot edit the settings through the web interface for these items.  If you click the red arrow next to the cdrom device, you will see that you can here edit or delete the device.  If you click edit, you will be able to choose which iso file needs to be mounted on the cdrom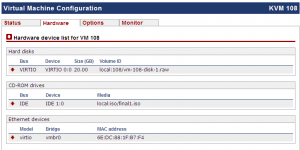 Click to enlarge picture
Advanced Settings
If you click on the Options tab, you will be presented with the following web page (see screenshot below).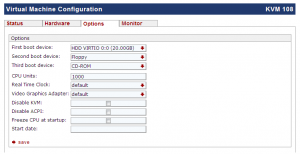 Click to enlarge picture
This screen allow you to configure the boot order for the virtual machine. You can choose to boot from cdrom, network,hard disk and floppy. Note that you will need to perform some additional configuration before you will be able to boot from a floppy.  The web interface does not provide a way to mount a floppy image.  This operation needs to be performed manually.  We will discuss this topic in another post…
I'm pretty sure that everybody knows about the boot order options. However, in the same screen, you can configure settings that nobody never look at.  Default settings are sufficient most of the time. However, if you want to experiment or change some of these settings, you should know that they exists and what's their purposes.  These settings are not very well documented.  I've found piece of information mainly in the ProxMox Ve Forum.   Let's have a look at this additional settings.
In the option tab, you will see the following options
CPU units :  You should not changed this value if you do not need to. Basically, this setting allow a vm to get more CPU time than another virtual machine if you increase the value.  It's not clear to me if this value is used by kvm and OpenVz container or only by OpenVz container.
Real Time clock :  This is used for time synchronization for the Virtual machines (I think).  Changing this option will probably affect the time settings in your virtual machines.  So far, I always used the default settings and didn't notice time discrepancies.
Video Graphic Adapter:  I've never changed this setting.  From the drop down menu, you can change the VGA Adpater.
Disable KVM :  You should not change the default settings.  If you disable kvm "feature", you virtual machine will be using only qemu emulation.  If you use qemu emulation, this would mean that you cannot use hardware virtualization support. If you are using Virtio drivers for disk, and you disable kvm, I'm assuming that you will get a blue screen and the operating system will not boot.
Disable ACPI :  You should not change from default settings.  Modern operating system have support for ACPI (Advanced configuration and Power Interace).
Freeze CPU at Startup :  With this option, when you start a virtual machine, the vm will freeze the boot process.  To resume the boot process, you will need to go to the monitor tab of the virtual machine configuration and press c then enter (see screenshots).  This can be useful for debugging or if you need to access some other settings (such as recovery console or F8 options)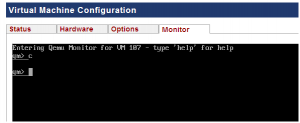 Click to enlarge picture
Final words
As you can see, creating a kvm virtual machine is not really complex.  If you stick with the default settings, you are good to go.  However, if  you want to tweak a little bit your system and get better performance from your virtual environment, you might considered deviating from defaults settings and adapt (based on your needs) your kvm configuration settings.  If you are mainly working with Windows virtual machines, you should use the virtio drivers to improve the performance of your virtual machines.  Regarding image format, I have to say that I'm using a mix of all format and cannot really choose between a preferred one.
This conclude this post.  I'm already preparing the next one and will explain how to use paravirtualized drivers…
Till then
See ya