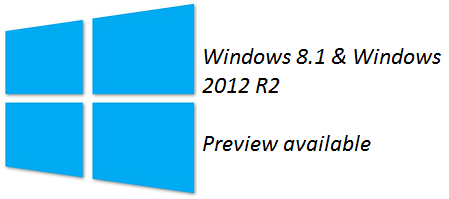 Hello World,
As you have noticed probably, I didn't post much lately. I've been really overloaded by work plus I'm starting to get tired which means I might need to take some holidays. Anyway,  I've managed to get some time to blog about the Windows 8.1/Windows 2012 R2 coming releases.
I'll will not explain what's new ! You can find plenty of web sites that will explain that better than I would do.
Download your version today !
If you want to already tested the improvements that Microsoft has bring into their Windows 8 Operating System, you can start downloading the Windows 8.1 (code name Windows Blue) from this location
http://windows.microsoft.com/en-us/windows-8/preview-download
If you are  more like me working with the Server edition, you will be pleased to know that a preview version of the next Operating System version is also available.  This release will be called Windows 2012 R2.  If you wanna see the new features and improvement of Windows 2012, you can already download the sources files from this location
http://technet.microsoft.com/en-US/evalcenter/dn205292?WT.mc_id=Blog_SC_TEE_WS12R2
From the link mentioned above, you will also be able to download  system Center 2012 R2 preview version and the SQL 2014 preview code as well.
Final notes
This is it for this post !  I know this is a short post but as soon as I have more time I start publishing again some posts about MDT, Windows 2012/R2 and Powershell Script.
Till Next Time
See ya