Hello World,
As you probably know (or as you should know), Ubuntu 16.04.x is reaching End of (standard) support in April 2021. More specifically, Ubuntu 16.04.x is entering in Extended Security Maintenance (ESM) support. If you are still using Ubuntu 16.04 for whatever reasons, it might be time to look at what you would need to do to prepare the future….
Let's see what's your options
Overview
We have transition since a long time from Ubuntu 16.04 and we are developing our infrastructure on most recent LTS version of Ubuntu (i.e.Ubuntu 20.04). However, in some cases, it might be not possible to migrate from Ubuntu 16.04. Some companies might be running a really specific piece of software that would not be compatible with most recent version of libraries shipped with higher version of Ubuntu…
Canonical has taken into account such scenario and has basically extended the support of Ubuntu 16.04 till April 2024. Yes, you read it clearly, Ubuntu 16.04 will be supported till April 2024. So why everybody is claiming that Ubuntu 16.04 has reached end of life ? Actually, you have to be aware that Canonical is basically offering different support policy for their OS. You have the standard (and free) support policy which is provided during the 5 first years of the product. And then, you have a 3 years extended security maintenance (ESM) support policy (for Ubuntu 16.04) which is not free anymore.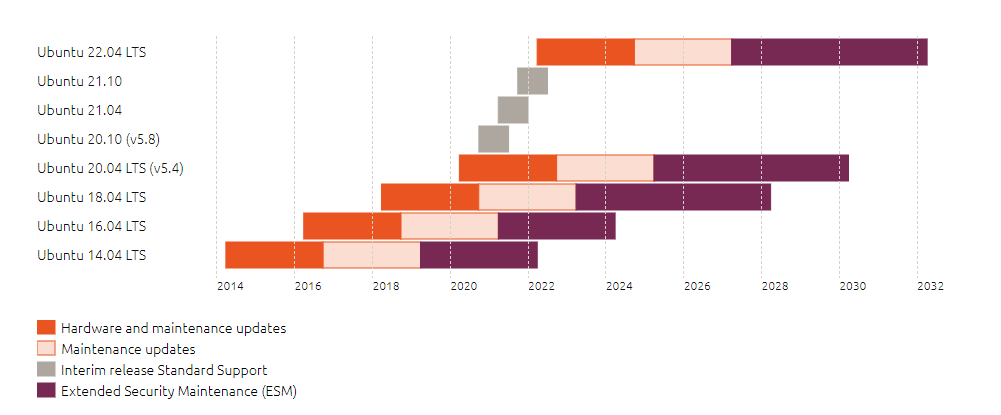 Picture from Ubuntu Web site
This means that in order to obtain additional updates after April 2021, companies still running Ubuntu 16.04 will need to subscribe to some sort of support contract (i.e Ubuntu Advantage). Ubuntu Advantage subscription is free for personal use and with a maximum of 3 machines. If you have more than 3 machines, you will need to pay per machine a yearly fee
What Now ?
Based on the provided information, organizations and companies can basically choose between three different approaches
Option 1 – Obtain ESM
If you organization really relies on Ubuntu 16.04 and that you do not have a short term solution to migrate or transition to another platform, it would be highly recommended to move to the ESM support solution. This would ensure that any critical security vulnerabilities would be tackled and that security updates would be made available for the operating system.
Option 2 – Upgrade to newer version
As Ubuntu is reaching end of standard support, it might be the perfect moment to migrate your currently running Ubuntu 16.04 machine to Ubuntu 18.04 which will get standard support till April 2023. If you want to move to Ubuntu 20.04, be aware that there is no direct upgrade path. You will first need to migrate to Ubuntu 18.04 and then to Ubuntu 20.04. Upgrading to a newer version will ensure that updates will be made available.
Option 3 – Migrate to Ubuntu 18.04 or 20.04
You can also decide not to upgrade your existing Ubuntu 16.04 but instead perform brand new installation of Ubuntu 18.04 or later and migrate data and applications. Based on your infrastructure and processes, this approach might be the preferred one as you are basically starting from a fresh base.
What about xrdp-installer script ?
If you are a regular visitor of this blog, you probably know what's the xrdp-installer script. For the others, a quick summary is provided hereafter….
What's the xrdp-installer script ?
The xrdp-installer-xx.sh script ease the installation and post-configuration actions of xRDP on top of Ubuntu Operating System. xRDP is the linux alternative to Remote desktop solution. We have been providing such script from some years now. Through the years, the script has grown, improved and reached a certain level a maturity. We are releasing updated versions of the script on regular base. In fact, we are following the Ubuntu Release Cycle.
xrdp-Installer script & ESM
The current version of the script (ver. 1.2.2) include support of the following Operating system version
Ubuntu 16.04.x
Ubuntu 18.04.x
Ubuntu 20.04.x
Ubuntu 20.10
Since Ubuntu 16.04.x is reaching standard end of support, the next iteration of the xrdp-installer script will be updated and we will remove support for Ubuntu 16.04.x. When Ubuntu 21.04 will be released, a new version of the script will be made available which will be useable against the following operating systems
Ubuntu 18.04.x
Ubuntu 20.04.x
Ubuntu 20.10
Ubuntu 21.04
If you still need to support Ubuntu 16.04.x in your organization, home, network and you need to have xRDP installed and configured accordingly, please use the archive repository and use the latest version of the script that support Ubuntu 16.04.x. The latest version of the script supporting Ubuntu 16.04 is xrdp-installer-1.2.2.sh. Use this script at your own risk as we will not provide any updates for Ubuntu 16.04.x !!!
Final Notes
Ubuntu 16.04 has reached end of Standard support and will enter in Extended Security maintenance mode in April 2021. Ubuntu 16.04 has not yet reached end of life. However, you should have a really good reason to still have this ubuntu version running within your network. If you really need to have Ubuntu 16.04 running in the coming months, we would advice you to look into ESM support in order to keep your system up to date and secure
As Ubuntu 16.04 is reaching end of standard support, and since our xrdp-installer script follow the Ubuntu standard support policy approach, Ubuntu 16.04 support will be removed from the next release of our script.
Till next time
See ya
Reference :
https://ubuntu.com/blog/ubuntu-16-04-lts-esm-migration-path