Hello World,
Today, we are publishing a quick post about Ubuntu Release Cycle and more specifically Point release for Ubuntu 18.04.4. In February 2020, Canonical has released the next Point Release for Ubuntu 18.04 LTS edition.
Ubuntu 18.04.4 Released
What's a Point Release ?
A Point release consist of generating a new iso image of Ubuntu 18.04 that includes all the OS fixes and improvements released so far. This means that if you are running Ubuntu 18.04 and you have been updating the operating system version regularly, you are already at level 18.04.4. You can simply check by issuing the following command to check which version of Ubuntu you are currently running
lsb_release -a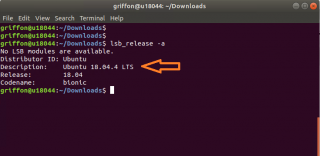 Click on Picture for Better Resolution
If you need to perform a fresh new installation of Ubuntu 18.04, you should download the new iso image for Ubuntu (i.e. 18.04.4) which will reduce the number of updates you will need to perform if you were using one of the old iso you've downloaded some time ago
Ubuntu 19.04 – End of Support
End of Support
The other news that has been also extensively relayed through internet was the end of support for Ubuntu 19.04. Ubuntu 19.04 was an interim release made available on April 2019 with only 9 months support. The nine months are gone and this version of Ubuntu 19.04 should not be used anymore even if this specific version blow mind away because of major and tangible performance improvements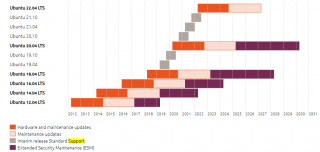 Click on Picture for Better Resolution
End of support means that no more updates,patches or improvements will be provided to Ubuntu 19.04. If you have installed an interim release version of Ubuntu, the next logical step is to upgrade it to the next available and supported release. So, you can decide to upgrade to Ubuntu 19.10 which is also an interim release while waiting for the next promising Ubuntu 20.04 LTS.
To check if you system is still supported, you can run the following command
ubuntu-support-status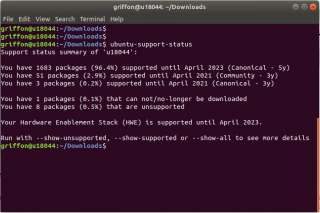 Click on Picture for Better Resolution
Why do we care ?
As mentioned earlier, the information about Point Release and End of Support has been already published and extensively relayed on the internet and nowadays everybody familiar with Ubuntu knows about it. So, why do we care ?
As we are publishing and maintaining the xrdp-installer script, we usually need to ensure that each new Ubuntu release (incl. Point Release) does not break or change the installation process. Ubuntu 18.04.4 includes the updated package for Hardware Enablement Stack (HWE) which can cause some issues with xRDP installation process. If you remember, Ubuntu 18.04.2 release cause some issues when trying to install xRDP package (even manually) because of the HWE updates that was included in this Point Release (see here for more info). Ubuntu 19.04 being out of Support, the xrdp-installer script will need to be updated as well to remove reference to Ubuntu 19.04.
Final Notes
Based on users and readers feedback, it seems that the xrdp-installer script does not provide the expected results anymore. The script run accordingly and no errors are detected. However, users are not able to perform the remote desktop connection. After running the xrdp-installer script, the xRDP login screen is displayed. When the credentials provided are correct, the connection is performed to a black screen and then we are immediately disconnected….
So, our next step/post is to investigate this issue and try to provide a quick fix again……
Stay tuned
Till next time
See ya