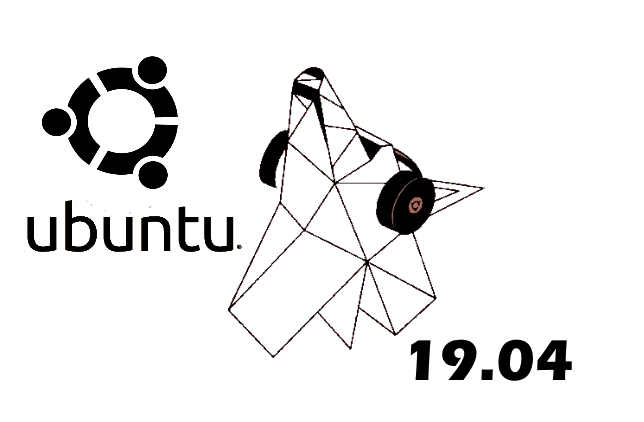 Hello World,
As you have probably read everywhere, Ubuntu 19.04 has been recently released and general feedback is quite positive. Ubuntu 19.04 is an interim release and will only be supported up to nine months. This release is not introducing really new features or major changes within the Operating system and lot of people have described this release as not really existing. We have been positively surprised by this new release. Ubuntu 19.04 is providing a kind of peak preview on what the next LTS release of Ubuntu would look like (i.e. Ubuntu 20.04)
The standard recommendation is to stick to LTS version for production environment. So, if you are running Ubuntu 18.04 edition, it would be wise to stick to it and yet for the next LTS release which should be available in April 2020. However, if you feel that your company is agile and eager to test all the latest features and technologies, you might want to upgrade to Ubuntu 19.04. Upgrade decisions depends of the style of the company and workload that such upgrade could cause…..
Lately, we have been quite busy (at work and outside work) and we have not been able to publish as much info as we would like to. A small bug in Ubuntu 18.04.2 has kept us busy as new version of the standard and custom installation script have been published. The problem description and possible solutions for Ubuntu 18.04.2 issue have been described in the following posts.
As we are preparing an updated version of our famous xRDP installation scripts (Standard and custom installation scripts), we have installed Ubuntu 19.04 in our lab and we have noticed that some changes have been introduced in this release. These changes are affecting slightly our scripted installation of xRDP and we will need to integrate these modifications into the new version of the scripts… But this is for some other future posts. Today, let's see what to like and/or dislike in Ubuntu 19.04
Let's start ! ….
Overview Ubuntu 19.04 Features & Improvements
We will not go through all the new things of Ubuntu 19.04. You can probably find better information through internet. In this post, we simply outline some of the most interesting improvements made in Ubuntu 19.04 but also some of the changes we do not really like. This post is also quickly looking at the xRDP packages and how this could change the installation process we have used in Ubuntu 18.xx.
Performance
The major change is the improvement in the performance which is really noticeable in this release. Apparently, Canonical and the Gnome community have been working together to release a really enjoyable user experience. Ubuntu 19.04 ship with Gnome 3.32 and provides a really nice experience with new animation and performance tweaks. When searching with Nautilus, results are shown almost immediately while using Ubuntu 18.04 you can really perceive a lag in returning results. Positively surprised by these improvements. It's really a smooth experience (the best we ever had actually) and this confirm that Canonical has made maybe the right choice in dropping Unity Desktop.
Look n' Feel
Yaru theme finally ready for prime Time
The General Look'n Feel in Ubuntu 19.04 is really pleasant. The color are brighter but not aggressive and the visual aspect is simply more consistent. The Yaru theme has been around for some time now but this release finally provide a ready to use theme for Ubuntu. This version of the theme provide better support for application icons and try to provide a consistent working environment. Comparing Ubuntu 18.04 visual aspects and Ubuntu 19.04, you can notice immediately the difference and you should see that Ubuntu 19.04 is really more appealing.
Ubuntu 18.04 visual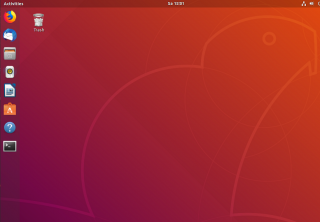 Click on picture for better Resolution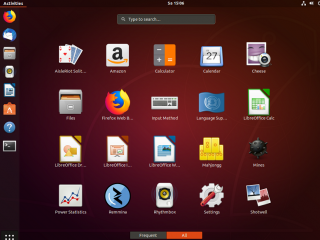 Click on picture for better Resolution
Ubuntu 19.04 Visual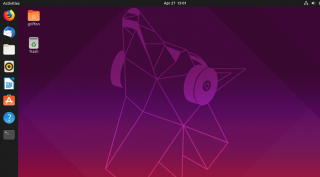 Click on picture for better Resolution
Notice the finer details in icons and the transparency and light border in the search box…..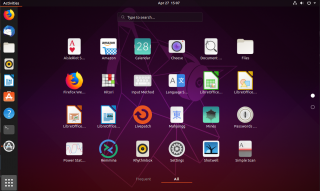 Click on picture for better Resolution
GDM Login screen back to normal colors in Ubuntu 19.04
What we like also is the fact that the GDM login background screen has also been revisited between Ubuntu 18.10 and Ubuntu 19.04. The following screenshots show the differences.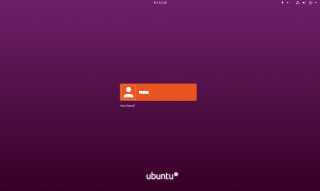 Click on picture for better Resolution
The flashy color in Ubuntu 18.10 was not really the best choice (I think) but this has been fixed in Ubuntu 19.04 and we hope that this neutral color will be kept for the future releases (as long as no GDM login major changes are not introduced by the Gnome Desktop community – see here).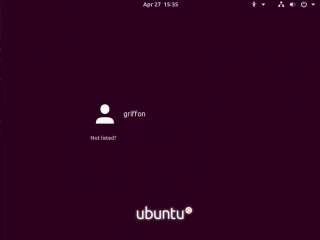 Click on picture for better Resolution
You can always customize the background image if you want to (see this link or this other link)
New version of XRDP packages
Ubuntu 19.04 also come with the latest version of xrdp packages. Version 0.9.9 of xRDP is available in the Ubuntu repositories. We have performed a manual installation and we have checked the version by issuing the following command in a terminal console
xrdp -v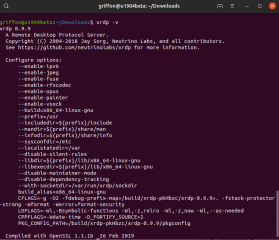 Click on picture for better Resolution
You can see in the screenshot that a lot of options have been selected in order to compile the xrdp package for Ubuntu. This might indicate that indeed xrdp is becoming a really important software as it provides inter-operability between Windows and Linux world.
We have also checked the xorgxrdp package version by issuing the following command
dpkg -l xorgxrdp
The screenshot shows that the latest version (0.2.9) of the package is indeed installed on the system which includes some noticeable fix and improvements in regards of drive redirection.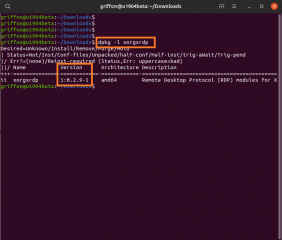 Click on picture for better Resolution
New Sound settings control panel
While performing the xRDP installation, we have also noticed that a new interface for all the Audio settings has been made available in Ubuntu 19.04. This is definitely a minor change but worth noticing. These changes just demonstrate that work is being done in providing a better look'n feel to Ubuntu. Visual aspect and usability is probably the most important element that can attract users to Ubuntu and/or have user acceptance in using something new (as long it's fun and nice)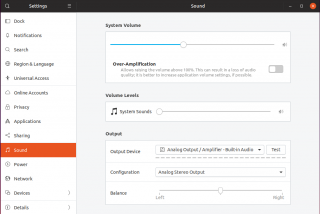 Click on picture for better Resolution
The screenshot below is a visual of the sound settings in Ubuntu 18.04. The new interface integrates better into the system settings control panel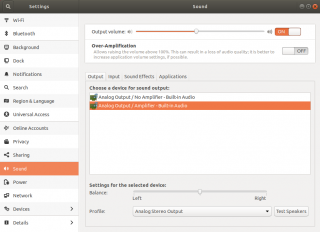 Click on picture for better Resolution
Some features we do not like….
Loss Transparency Top Panel
One of the change we do not like is the loss of the transparency for the top panel in Ubuntu 19.04. The reason behind this move is the fact that based on the background selected, texts in the top bar might not be readable. Again, we kind of understand the logic behind this move. But on the other hand, it's kind of a step back in the user experience and visual aspect. Nowadays, visual aspect is really important to have user adoption. Transparency feature is really eye catching and help gain a nice and modern visual interface. In Ubuntu 19.04, top panel and dock have a black background. This change make sense and visually it's still pleasing but we think that transparency was a better option…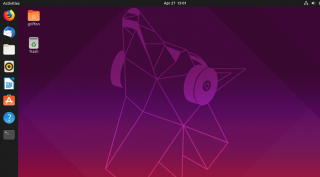 Click on picture for better Resolution
We really liked the transparency feature. Luckily, you can get this visual effect back using some gnome extensions (we have not checked but we will try to find it and test it in a future post)
White Background Power Dialog Box
What we don't really like in Ubuntu 19.04 is the power off dialog boxes and authorization boxes. We understand the idea behind the choice of bright background color selected by the gnome community. They wanted to have these popups or dialog boxes to be immediately visible.

Click on picture for better Resolution
However, we prefer the dark background color scheme as they would integrate better in the theme and color scheme used by Ubuntu theme. There is no option (out of the box) to change this. Maybe an option to select the scheme color should be made available in the system settings.

Click on picture for better Resolution
Note :
Changing Yaru theme to Yaru Dark will not change the background color of the power off dialog box. You would need to modify the gnome shell in order to get a different background. We will try to cover this aspect in a future post….
Xrdp-pulseaudio-installer package missing
While testing xRDP installation on Ubuntu 19.04, we discovered that the sound redirection was not working as expected. After a quick investigation, we have discovered that one of the packages used to compile the xrdp sound redirection modules was missing from the Ubuntu Repositories (see screenshots)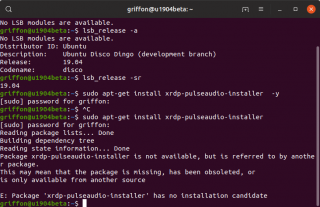 Click on picture for better Resolution
The final release of Ubuntu 19.04 is still missing this package in the repository. This package is still available in the in repositories for Ubuntu 18.xx and you can still download it and have it installed on Ubuntu 19.04. This would be a quick workaround to have the sound redirection feature working in Ubuntu 19.04 while remotely connected to your system.
Our xrdp installation scripts were using this package to enable sound redirection when using xRDP solution. This package being not available anymore in Ubuntu 19.04, we will need to decide how to perform the installation of the xrdp sound modules on Ubuntu systems. We have basically two options
either using old xrdp-pulseaudio-installer package from Ubuntu 18.xx
compile from source and generate xrdp sound modules for Ubuntu (any version)
As we are updating the installation scripts for xRDP, we will see which of these options would be the best in order to easily maintain and update those scripts…..
Final Notes
A lot of people consider this release as not really exciting (nothing really new). On the contrary, we think that this release is quite interesting. Performance improvements, modern visual aspects, improved hardware support are great and makes Ubuntu look like (more and more) a modern operating system and a real alternative for enterprise. We have seen users accepting an Ubuntu machine more easily because the overall look n feel was pleasant.. We have the feeling that this release is the best release so far and this is increases our expectations for the LTS version that would be release in about 1 year (i.e Ubuntu 20.04).
This release also introduces some minor changes with valid motivations like Loss of transparency or power off dialog box background colors which will not please all users but still make the user experience quite pleasant. These changes can be revert back if you really want to using some additional gnome extensions or new shell.. All in all, this release is really providing a consistent look n feel from login screen till the icons used in the gnome shell interface…..
Finally, this release introduces also a number of small changes at xRDP level. These changes will affect the installation procedure we have been using for a long time now. This also offer us an opportunity to revisit our code and to try to improve it and make it better…. The next release of the script might introduce some noticeable changes (code level) but still provide an easy to use experience….
In the coming weeks we will be really busy updating information about xRDP and Ubuntu 19.04…
So, Stay tuned if you want to find more…..
Till next time
See ya