Hello World,
In a previous post, we have mention that Exchange Service Pack 2 was available for download.  This Service pack introduces a new feature called Address Book Policies (ABPs).  I was particularly interested in this feature because in one of my project, there was a need to divide the organization into multiple virtual entities. When we've started the deployment of the Exchange infrastructure, we were using Exchange 2010 SP1 and at that time there was no way to segregate Address Lists.
So, in this post, we will have a quick look on how to use this ABP feature. Let's Go !
Understanding ABPs
Note : In this post, we assume that you have already installed the service pack 2 within your organization.  If not, have look here to see how to install SP2
Address Book policies offers a way to segment Global Address list and to present different address lists to different entities within your Exchange 2010 Organization.  In order to implement this GAL segregation, Address Book policies approach consists of creating custom Address List objects.  In fact, you should know that a ABP is a combination of the following elements :
A Global Address List (GAL)

An Offline Address book (OAB)

One or more Address lists

One Room Address list
 When deploying ABPs, you should keep in mind the following Microsoft recomendations :
To successfully implement ABPs, users mailbox need to be on an Exchange 2010 SP2 server

You cannot use HAB (Hierachical Address Book) and the ABPS at the same time

All ABPs must contains a room address list.  If you are not using this feature, you can always create an empty one and associated it to the ABP you are creating.
It's important to understand that the ABPs will not prevents users within one virtual entity to send mail to other users located in a different virtual entity.  You can implement this restriction through Transport rules.  Note also that you can enforce ABP in your Lync client (for more information see source link at bottom of the article).
When implementing ABPs, Microsoft recommends to use custom attributes (1-15) instead of the standard Active directory Attributes.  The reason behind this recommendation is that the custom attributes have been created to allow customization of your environment but more importantly not all Active Directory Attributes are available to all exchange objects.
Another recommendation is also that you should prefer filters instead of using the Included Recipients. The recommendation is to create filters in order to generate your Address lists that will be included in your ABP.
Our (Simple) Scenario
We will quickly describe our scenario to test the ABP and the steps that are needed in order to successfully implement this feature.
Creating your virtual Organizations 
In our scenario, we have a centralized Active Directory and Exchange infrastructure.  This infrastructure is basically hosting 2 entities that would need to have a different Global Address list.   Within the Active directory, the virtual entities have been mapped to organizational Units.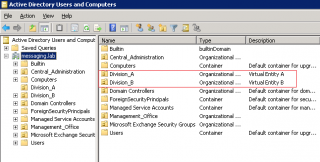 Click on image for better resolution
Based on the MS recommendation, we will use a custom attribute (in our case Custom attribute 1) to set the value DivA or DivB. So, recipients located under the OU division_A will get the custom Attribute value set to DivA. recipients under OU Division B will get the value DivB.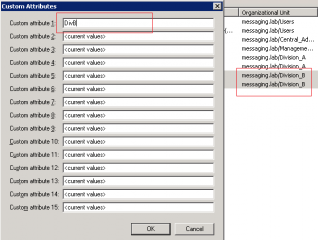 Click on image for better resolution
Creating  Address Lists Objects to be used within the ABP
Because we have 2 entities, we will create 2 address Book Policies. However, before doing this, we will first need to create the different address lists "objects" that will be used by the ABPs. In our simple example, we will need to create the following objects
| | | |
| --- | --- | --- |
|  Object Type |  Division A |  Division B |
| Global Address List | Gal_DivA | Gal_DivB |
| Address List | DivA | DivB |
| Offline Address List | OAB_DivA | OAB_DivB |
| Room Address List | Room_DivA | Room_DivB |
The next section will briefly explain how to create these address lists objects and how you can combine them in order to create you Address Book Policies.
Implementing Address Book Policies
Before being able to create address book policies, we will need to create Address list object based on your requirements and how you have segragate you organization.  Based on our simple scenario, we know that we need to create the address list objects defined in the table above.  So, let's do this…..
Creating Address List per divisions 
We will first create address lists for both Divisions.  You can use the GUI or using the Command shell to create additional Address Lists.  In this example, we will be using the GUI. Under the Organization Node, click on the Mailbox Node and in the mid pane, click on the Address List tab.

Click on image for better resolution
Right-click on an empty zone and select the option New Address List.  The New Address List Wizard Starts.  Provide the name for the Address List (in this example DivA) and Press Next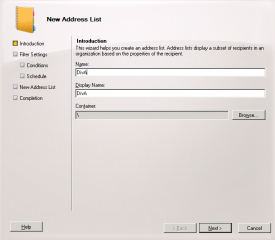 Click on image for better resolution
In the filter page, specify objects you to want to include in your Address list and Press Next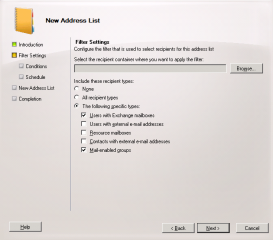 Click on image for better resolution
In the Conditions page, Select the CustomAttribute1 and select the value to be used.  You can check that your condition is correct by clicking on the Preview button.  When ready, click Next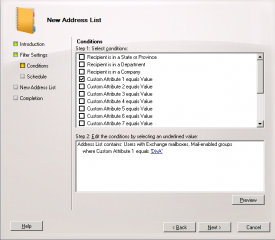 Click on image for better resolution
In the Schedule Page, Select the Option immediately and Press Next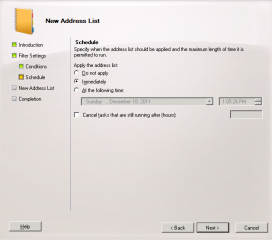 Click on image for better resolution
In this screen, check that everything is OK and press the New button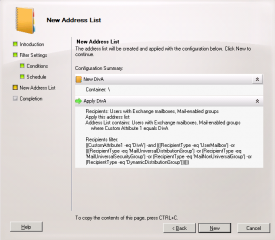 Click on image for better resolution
In the Complete page, you can simply press Finish if the operation completed successfully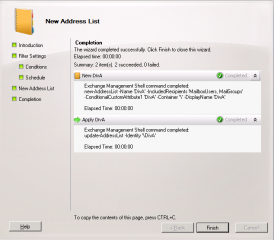 Click on image for better resolution
You've just created the address list for Division A.  You need to perform the same for Division B
Creating Room List per divisions
In this example, we will simply use the default room list that already exists within the Organization.  Both divisions can book the same rooms if needed.  If you want to assign dedicated room list for each division, you will need to create additional address list containing only room mailboxes you want to use.  (I do not do it here because you will get too much screenshots).  The other option is to simply create empty room list using a powershell command.
Creating Offline Address List per divisions
Almost there ! We need to create our Offline address book as well.  This is quite easy.  Again, within your Exchange console, you click on the Organization configuration, select the mailbox node and in the middle pane, click on the tab Offline Address Book.
On the right pane, click on new Offline Address book and the Wizard will start.  In the first page, simply provide the name for the OAB, the generation server and which Address List should be included in this OAB. When Done, Press Next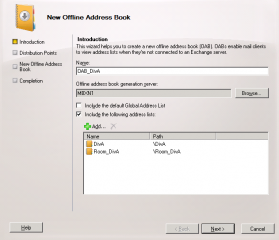 Click on image for better resolution
Then choose the way to distribute your OAB (using public folders or Web Distribution mechanism). When Done, Press Next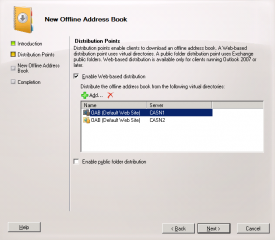 Click on image for better resolution
In the completioin page, review the info and press Finish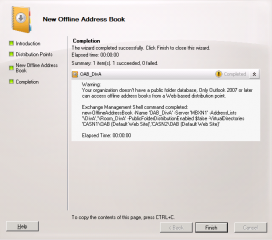 Click on image for better resolution
You have to perform the same operation for both divisions (in my example). When this is done, you can move the the next step
Creating GAL per divisions
You will need to create 2 additional GAL in this scenario.  You cannot create them using the GUI, you have to use the Shell.  Simply type the appropriate command and check that GAL are created within your Exchange Console.

Click on image for better resolution
At this stage, you should be ready to create you Address Book Policy.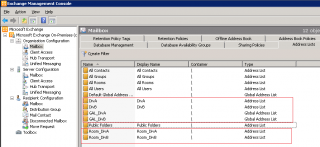 Click on image for better resolution
The steps needed to create the Address book will be explained in part II . I have the feeling that the article is becoming too long….
Till next Time See ya
Source : http://technet.microsoft.com/en-us/library/hh529948.aspx